Occasionally, I find myself compelled to drift into the past, seeking older words of wisdom. I was therefore drawn to Kenko, a Japanese Buddhist priest who wrote these words some 700 years ago: "The pleasantest of all diversions is to sit alone under the lamp, a book spread out before you . . . " How true!
In these Essays, he leads with repeated cautionary admonitions: "The most promising thing in life is its uncertainty," following that later with "A man is more likely to seem a true master of his art if he says, 'I cannot tell for certain.' "  And he concludes: "The one thing you can be certain of is the truth that all is uncertainty." Yet today how often do we hear politicians, commentators, and ourselves state "absolutely," "exactly," "emphatically," "certainly," and unequivocally." So much for uncertainty …
Here are a few more delicious Buddhist quotations:
"People tend to exaggerate even when relating things they have actually witnessed, but when months or years have intervened, and the place is remote, they are all the more prone to invent whatever tales suit their fancies, and, when these have been written down, fictions are accepted as fact."
"What a foolish thing it is to be governed by a desire for fame and profit and to fret away one's whole life without a moment of peace. Great wealth is no guarantee of security. Wealth, in fact, tends to attract calamities and disaster. Even if, after you leave enough gold to prop up the North Star, it will only prove a nuisance to your heirs . . . . The intelligent man, when he dies, leaves no possessions."
"If you trust neither in yourself nor in others, you will rejoice when things go well, but bear no resentment when they go badly. You will then have room on either side to expand, and not be constrained."
"In everything, no matter what it may be, uniformity is undesirable. Leaving something incomplete makes it interesting, and gives one the feeling that there is room for growth."
So this brief comment is deliberately left incomplete, to encourage you to try Kenko!
Editor's Note: Kenko, "Essays in Idleness," from The Tsurezuregusa of Kenko, (1332?), as edited and translated by Donald Keene, is published by Columbia University Press, New York, 2nd edition, 1998.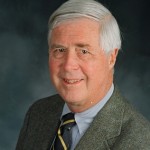 About the author: Felix Kloman is a sailor, rower, husband, father, grandfather, retired management consultant and, above all, a curious reader and writer. He's explored how we as human beings and organizations respond to ever-present uncertainty in two books, 'Mumpsimus Revisited' (2005) and 'The Fantods of Risk' (2008). A 20-year resident of Lyme, he now writes book reviews, mostly of non-fiction that explores our minds, our behavior, our politics and our history. But he does throw in a novel here and there. For more than 50 years, he's put together the 17 syllables that comprise haiku, the traditional Japanese poetry, and now serves as the self-appointed "poet laureate" of Ashlawn Farms Coffee, where he may be seen on Friday mornings. His wife, Ann, is also a writer, but of mystery novels, all of which begin in a bubbling village in midcoast Maine, strangely reminiscent of the town she and her husband visit every summer.