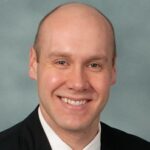 The public is invited to meet with State Rep. Devin Carney (R-23) for Office Hours in the 23rd District throughout January and February.
Rep. Carney will offer residents of Lyme, Old Lyme, Old Saybrook and Westbrook an opportunity to meet with him in a relaxed setting and discuss any legislative or local issues, including the 2019 legislative session which convenes on Jan. 9.

The schedule for Rep. Carney's office hours is as follows:
Lyme Office Hours
Tuesday, Jan. 15
Lyme Public Library Community Room
482 Hamburg Road
6:30-7:30 p.m.
Old Lyme Office Hours with State Senator Paul Formica
Monday, Feb. 11
Phoebe Griffin Noyes Library Community Room
2 Library Lane
5:30 – 6:30 p.m.
Old Saybrook Office Hours with State Senator Paul Formica
Tuesday, January 29
Acton Public Library
60 Old Boston Post Rd.
Friends' Conference Room
6:30 -7:30 p.m.


Westbrook Office Hours with State Representative Jesse MacLachlan
Thursday, Jan. 17
Westbrook Public Library
61 Goodspeed Drive
Community Room
6:30 -7:30 p.m.


All residents are encouraged to attend these events. Those who are unable to attend but would like to contact Rep. Carney may do so at (800) 842-1423 or by email at Devin.Carney@housegop.ct.gov.