Olwen Logan
Co-owner, Publisher and Editor, Shoreline Web News LLC
Olwen was born and raised in London, England, by a family entrenched in the teaching profession.
Never one to toe the line, she announced her intention to follow in her great-grandfather's footsteps and run a newspaper. Alfred Ewen Fletcher had been the editor of one of Great Britain's former national newspapers, The Daily Chronicle from 1889 to 1895. He left the position to run for the U.K. parliament but was not elected and instead became editor of The New Age, then a Christian socialist magazine.
Rapidly and firmly advised by her father (a high school principal) that such a choice was not "appropriate", Olwen entered the world of efficiency analysis and subsequently rose through various companies to become a senior financial and operational audit manger at the multi-national soft-tissue giant, Kimberly-Clark.
After the birth of her first child, she left to form her own management consultancy, based in Canterbury, England, which specialized in Public Relations.
After moving to the US courtesy of her husband's employer and spending a productive four years (two more children) in Terre Haute, Ind., Olwen then moved to Old Lyme, Conn., in 1994.
Having worked for several years as a Staff Writer covering Westbrook for the Main Street News in Essex, Conn. (and added a fourth child), she is now thrilled to be pursuing the career of which she always dreamed … though not in a medium that she ever imagined.
She now lives in Kensington, Md. but still covers Lyme and Old Lyme with the same commitment as when she lived there. On that note, despite having relocated, she is thrilled to report that LymeLine.com was runner-up in the Solopreneur category in a national contest organized by Local Independent Online News (LION) Publishers in 2020 .
Contact Olwen at [email protected]
Nigel Logan
Co-owner & Technical Director, Shoreline Web News LLC
Born and raised in London, England. Nigel has a Ph.D. in Biochemistry & Nutrition and worked in veterinary medicine R&D for the past 25 years with Pfizer Animal Health. Nigel has been involved in the technical aspects of the Shoreline Web News publications since the creation of LymeLine.com in 2003.
Now retired from Pfizer, Nigel puts his computer wizardry to work as the Technical Director of Shoreline Web News LLC.
CONTRIBUTORS
Kevin Ganey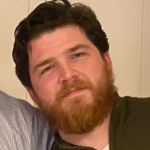 Kevin writes occasional movie reviews in his column titled, The Movie Man. Though no longer a resident of Lyme, Kevin knows he can never sever his roots to the tree of his identity. When not attending to his job in Boston, he is committed to ensuring a better grasp of current (and past) releases of cinema to his home community as he strives to leave his own mark in the same field that has always been his guide to understanding life.
If you enjoy his published reviews here on LymeLine.com, follow him on his new website at 'The City of Cinema' and read more of his unique insights into entertainment.

Thomas D. Gotowka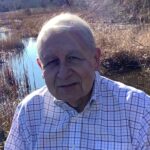 Tom writes a regular column titled A View From My Porch, which is a commentary on local and not-so-local people and happenings, often with an historical bent. His entire adult career has been in healthcare. He' will sit on the Navy side at the Army/Navy football game. He always sit on the crimson side at any Harvard/Yale contest. He enjoys reading historic speeches and considers himself a scholar of the period from FDR through JFK.
A child of AM Radio, he probably knows the lyrics of every rock and roll or folk song published since 1960. He hopes these experiences give readers a sense of what he believes "qualify" him to write this column.
Maureen Haseley-Jones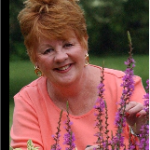 Maureen Haseley-Jones writes a monthly gardening column titled Gardening Tips from The English Lady. She is a member of a family of renowned horticultural artisans, whose landscaping heritage dates back to the 17th century. She is one of the founders, together with her son Ian, of, 'The English Lady Landscape and Home Company.' Maureen and Ian are landscape designers and garden experts, who believe that everyone deserves to live in an eco-conscious environment and enjoy the pleasure that it brings.
Maureen learned her design skills from both her mother and grandmother, and honed her horticultural and construction skills while working in the family nursery and landscape business in the U.K. Her formal horticultural training was undertaken at the Royal Botanic Gardens at Kew in Surrey.
Contact Maureen at [email protected].
Felix Kloman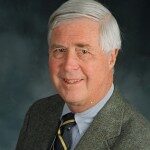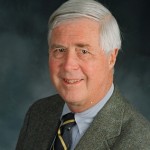 Felix Kloman now writes an occasional book review for us titled Reading Uncertainly?  Prior to his move to Massachusetts, he wrote a book review for LymeLine.com every month. He reviewed mostly non-fiction, a subject which explores our minds, our behavior, our politics and our history. But he threw in a novel here and there.
He is a sailor, rower, husband, father, grandfather, retired management consultant and, above all, a curious reader and writer. He has explored how we as human beings and organizations respond to ever-present uncertainty in two books, 'Mumpsimus Revisited' (2005) and 'The Fantods of Risk' (2008).
He lived in Lyme, Conn. for over 20 years and for more than 50 years, he put together the 17 syllables that comprise haiku, the traditional Japanese poetry. He served as the self-appointed "poet laureate" of Ashlawn Farm Coffee, where he was a regular visitor on Friday mornings.
His late wife, Ann, was also a writer, but of mystery novels, all of which begin in a village in midcoast Maine, strangely reminiscent of the town she and her husband visited every summer.
Nicole Prévost Logan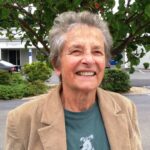 Nicole Prévost Logan (no relation) writes an occasional Letter From Paris. She divides her time between Essex and Paris, spending summers in the former and winters in the latter. She writes a regular column for us from her Paris home where her topics will include politics, economy, social unrest — mostly in France — but also in other European countries. She also covers a variety of art exhibits and the performing arts in Europe. Logan is the author of 'Forever on the Road: A Franco-American Family's Thirty Years in the Foreign Service,' an autobiography of her life as the wife of an overseas diplomat, who lived in 10 foreign countries on three continents. Her experiences during her foreign service life included being in Lebanon when civil war erupted, excavating a medieval city in Moscow and spending a week under house arrest in Guinea.
Suisman Shapiro Attorneys-at-Law
Suisman Shapiro Attorneys-at-Law sponsors a monthly Legal News You Can Use column. For more than 75 years, Suisman Shapiro Attorneys-at-Law has served the legal needs of residents and businesses throughout eastern Connecticut. The firm, which is the largest in southeastern Connecticut, offer clients deep experience, cutting-edge innovation and a proven record of success.
Suisman Shapiro Attorneys-at-Law is deeply rooted in the community. Their lawyers are not only skilled advocates, but friends and neighbors, Little League coaches and mentors. They are proud to give back to eastern Connecticut through their commitment to many local charitable programs, scholarships and sponsorships.
Contact Suisman Shapiro at 800-499-0145 or visit suismanshapiro.com.
IN MEMORIAM

Lee White


For many years, Lee White wrote a weekly cooking column titled A la Carte.  She had written about restaurants and cooking since 1976 and been extensively published in the Worcester (Mass.) Magazine, The Day, Norwich Bulletin, and Hartford Courant. She currently writes Nibbles and a cooking column called A La Carte for LymeLine.com and the Shore Publishing and the Times newspapers, both of which are owned by The Day.
She was a resident of Old Lyme for many years, but relocated to Groton, Conn. prior to her death in September 2022. Her obituary is at this link.
John Guy LaPlante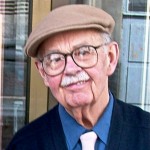 John wrote our Senior Moments column for many years. He was a veteran writer and journalist, who prior to his move to Morro Bay, Calif., lived in Deep River, Conn. His award-winning columns and articles were previously published in the 'Main Street News'. He is the author of two books, "Around the World at 75. Alone! Dammit!" and "Asia in 80 Days. Oops, 83! Dammit!" He completed his service as a Peace Corps Volunteer in Ukraine in early 2010 after a 27-month tour of duty. He was the oldest Peace Corps Volunteer ever to serve. John passed away on Feb. 13, 2022.
Visit this link to read our tribute to him and his official obituary written by his son, Mark.