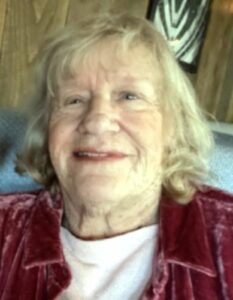 GROTON — Lee A. White, born Rosalie May Aronson, longtime food columnist and restaurant reviewer for The Day and The Bulletin, food columnist for many years for LymeLine.com, and a former member of the Groton Board of Education, died on Saturday, Sept. 24, after a brief battle with lung cancer. She was 79.
Lee was known for the hundreds of food columns she wrote for the Times weekly papers, many of which were clipped by subscribers to great acclaim. Lee invited readers into her own life in all her columns, sharing food successes and failures as well as tips for proper food preparation. She also was a regular restaurant reviewer for The Day and was a food columnist for The Bulletin in Norwich in the early 2000s.
In addition, she was frequently asked to adjudicate food contests, including acting as a judge for Summer Music picnics and for New London Food Strolls. For several years, she hosted a cooking panel series at Groton Public Library.
Lee was preceded in death by the love of her life for almost 40 years, Douglas C. White, who died in 2009, and by her brother, Arthur H. Aronson of Renfrew, Penn. in 2021. She was born on May 29, 1943, in Troy, N.Y., to Pauline Aronson (nee Lasdon) and father George Aronson. She graduated from Troy High School and attended Ithaca College before becoming a mother and charting an administrative career path that included a stint at Connecticut College in the 1990s in the College Relations department and earlier had led to her food-writing vocation.
In the 1960s, she worked for Seymour Schwartz, founding editor/author of "Schwartz's Principles of Surgery," in Rochester, N.Y., and while dipping her toes into the world of proofing and editing, she met Doug White through mutual friends. Theirs was a love for the ages. It was a pleasure to witness their no-holds-barred partnership, love, and adoration for each other through the decades.
Lee began her writing career working for Worcester Magazine in the 1970s. A fledgling weekly paper that began in 1976 with original founders Dan Kaplan and Ryck Bird Lent, it was here she honed her food reviews and writing, letting everyone in on the cultural and social aspects of a family combining Jewish and WASP traditions.
One funny anecdote was a bomb scare at the magazine after a particularly critical review of an Italian restaurant…Lee said she would "never" make that mistake again. Uh huh, no more bad restaurant reviews for Italian places.
The mid-70s brought the family to Massachusetts, where Lee famously corrected a Leicester middle school teacher for daring to call "error" and "era" homonyms (although to a Bostonian, it seemed to make sense)
She always knew the importance of education, for herself, first (through voracious reading) and then for her daughter, who taught on the Navajo Reservation in Northern Arizona, in the inner city of Jacksonville, Fla., as well as in Phoenix and southern California schools.
Lee and her husband marched for women's rights in the 90s and were big believers in democratic ideals and human rights (the upcoming midterms were very important to her). A member of the Dudley, Mass., school board in the early 1980s, Lee White became a force on the Groton School Board during the past decade, as well as involving herself in local politics on the Democratic Town Committee – with all the craziness, pettiness, and downright foolishness that came along with it. In addition, she spent much time working on the Groton School Foundation that hands out scholarship money.
She also was part of a winning, fun-loving boules team in the Madison area, and her camaraderie with that group is one that brought her loads of pleasure and happiness separate from her friends in the Groton/New London area.
She made friends across a spectrum – and they all felt special with her. She had that gift of nurture. She always loved to share her latest "great" reads, and she shared with the friends all the UConn Husky exploits and the Connecticut Sun's seasonal ups and downs. She was devoted in everything she took on – that was who she was.
Lee also enjoyed spending time/holidays with "stepson" Peter White, his ex-wife Nancy, and their three daughters, Sydney, Laurel, and Casey; watching "stepdaughter" Molly's daughter, Lily, perform Irish step-dancing, while also reveling in her recent budding medical career, and hearing of Douglas "Spike" White's family happenings back in northern California.
Truth be told, and she admitted as much, Lee was not always a great cook … on the Jersey shore in the 70s, she was known to serve TV dinners (remember Libby's?) to her daughter Darcy, later joining Doug for homemade dinners.
Lee became a great cook in midlife. One of her most beloved dishes was a homemade chicken pot pie with puff pastry on top, and it was amazing. Over the past decade, she hosted many a dinner party at her home in Groton, loving to feed both family and friends alike, and these dinners lasted for hours on end.
Lee White was a great woman, one whose absence will be felt tremendously. Lee believed in celebrating life, giving your all to whoever needs it, whenever they need it. And she never stopped loving. Ever.
She wanted to donate her body to science, so a memorial service will be held at a later date, most likely in early November. And there will be food, great food – as she would have wanted. She is survived by her daughter, Darcy White, of La Mirada, California.
In lieu of flowers, donations to the Groton Education Foundation, https://www.grotonschools.org/parent-and-students/community/groton-education-foundation, benefitting the Groton Public Schools, the Jacques Pepin Foundation (jp.foundation) which provides free culinary training, and Wholesome Wave (wholesomewave.org), a group devoted to dealing with food security issues, would be welcomed in Lee White's memory.