A lyrical memoir of an unusual woman's life, in Washington, London, Moscow, London and finally Washington again, minus her father. Then on to the CIA, described in amazing detail, and her life afterwards as an agent around the world.
Fox's language is engaging, plus her almost-total recall of conversations.  A compelling read, but it raises two questions: (1) How was she able to obtain the permission of her employer, the CIA, to describe in such detail her solicitation, training, and her actual work? And (2) do the details in her conversations make this almost a fictional novel?
It is as if she is being seduced by some opiate, "I feel the high of not just observing the world but actually changing it."
At the outset she believes that "terrorism is a psychological game of escalation" practiced by all of us." When she first goes to China undercover, she remarks "This is my first time living the lie around the clock. The years of deception yawn ahead, like an ink-black void." It is as if the Cheshire Cat is asking her, "Who are YOU?"
Her stories provoked my own memories.
Her father, reporting on a visit to Moscow told her that his only hardship, "was the Soviet toilet paper." How true! When I traveled with a small group to Yaroslavl, many miles north of Moscow, we were advised to bring our own. What was on offer was minuscule. Later, Fox herself  walked Red Square, stopping at Lenin's tomb, noting that "Lenin seems smaller … petite and fragile … He looks weak and human and beautiful." I had that same impression in 1992 on my own transit of the Square.
Later she explains to a friend her rationale for her secret work, "If not us, who? If not now, when?" That prompted my neurons to recall the famous haiku reported by Dogen Zenji when he asked the monk Tenzo why he was drying mushrooms on a steaming hot day. Tenzo replied:
If not I, then who
Dries mushrooms in the hot sun?
If not now, then when?
This is perhaps the best reward from one's reading: the stimulation of buried memories!
The author, now a writer and exponent of peacemaking, continues her work in a different direction. She now asks "why?" continually. She suggests that, "planting a garden is the ultimate act of faith in tomorrow," a thought worth remembering.
And finally, " … peacemaking requires listening, that vulnerability is a component of strength … and building trust simply works better than exerting force."
Hear! Hear!
Editor's Note (i): We second Felix's vote of support for Fox's final statement.
(ii) 'Life Undercover' by Amaryllis Fox was published by Alfred A. Knopf, New York 2019.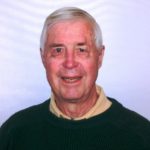 About the Author: Felix Kloman is a sailor, rower, husband, father, grandfather, retired management consultant and, above all, a curious reader and writer. He's explored how we as human beings and organizations respond to ever-present uncertainty in two books, 'Mumpsimus Revisited' (2005) and 'The Fantods of Risk' (2008). A 20-year resident of Lyme, he now writes book reviews, mostly of non-fiction, a subject which explores our minds, our behavior, our politics and our history. But he does throw in a novel here and there.
For more than 50 years, he's put together the 17 syllables that comprise haiku, the traditional Japanese poetry, and now serves as the self-appointed "poet laureate" of Ashlawn Farm Coffee, where he may be seen on Friday mornings. His late wife, Ann, was also a writer, but of mystery novels, all of which begin in a village in midcoast Maine, strangely reminiscent of the town she and her husband visited every summer.