Are you overwhelmed by today's information and attention economy? Then listen to Jenny Odell, a writer, artist, lecturer at Stanford University, resident of Oakland, Calif., and a true daughter of the current information revolution.
She suggests it is time to step back from today's tidal wave of "information": the resources of social media and constant "breaking news" that "capitalize on our natural interest in others, and an ageless need for community, hijacking and frustrating our most innate desires, and profiting from them. Solitude, observation, and simple conviviality should be recognized not only as ends in and of themselves, but inalienable rights belonging to anyone lucky enough to be alive."
Our basic urges, "self-reflection, curiosity, and a desire to belong to a community" are being corrupted by  " … the invasive logic of commercial social media and its financial incentive to keep us in a profitable state of anxiety, envy, and distraction." It is, as she says, "the usefulness of uselessness."
But is it really possible to "disengage from the attention economy" and to reengage with something else?
And with what?
Odell cites numerous writers before her: from Diogenes and Plato to Thoreau, Martin Buber, David Hockney and many others. But Herman Melville's Bartleby, The Scrivener, had perhaps the best response: "I would prefer not to." One idea is "deep listening" proposed by Pauline Oliveros: to cut out noise distraction in order to listen to "silence", to "repair", seeking moments of quiet, reflection and consideration, and simply to listen to what we are neglecting.
Social media, she argues, inevitably, and probably inadvertently, whip up a "permanent state of frenzy" and anxiety, and the compulsive need to be "connected". But can we both "participate" and "contemplate"? This is a serious unanswered question.
Ms. Odell's suggestions:
"loosen our grip on the idea of discrete entities, simple origin stories, and neat A-to-B causalities";
accept "humility and openness . . . seek context . . and acknowledge that you don't have the whole story"; and
acknowledge that "an ecological understanding takes time."
And her conclusions:
"Instantaneous communication threatens visibility and comprehension.";
 "The immediacy of social media closes down the time needed for 'political elaboration' "; and
 " . . . immediacy challenges political activism because it creates 'weak ties' ."
The author has also made progress: "I find that I'm looking at my phone less these days."
But what have I missed? I have never used social media, never! Is this wrong? I am a retired, relatively ancient widower, writer, and deliberate contemplator. I check my email about twice a day, thinking that I should cut this to once.
I do read extensively (books, the Sunday Times and weekly The Economist and The New Yorker). I try to avoid "breaking news", except, of course, the Boston Red Sox scores.
I do watch trees swaying in gentle breezes, flowers bursting into display, swirling clouds, birds (especially turkey buzzards), and listen to the sounds of Lyme. And write haiku and, of course, book reviews.
I relish relative anonymity!
Editor's Note: 'How to Do Nothing: Resisting the Attention Economy' by Jenny Odell was published by Melville House, Brooklyn, New York in 2019.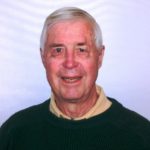 About the Author: Felix Kloman is a sailor, rower, husband, father, grandfather, retired management consultant and, above all, a curious reader and writer. He's explored how we as human beings and organizations respond to ever-present uncertainty in two books, 'Mumpsimus Revisited' (2005) and 'The Fantods of Risk' (2008). A 20-year resident of Lyme, he now writes book reviews, mostly of non-fiction, a subject which explores our minds, our behavior, our politics and our history. But he does throw in a novel here and there.
For more than 50 years, he's put together the 17 syllables that comprise haiku, the traditional Japanese poetry, and now serves as the self-appointed "poet laureate" of Ashlawn Farm Coffee, where he may be seen on Friday mornings. His late wife, Ann, was also a writer, but of mystery novels, all of which begin in a village in midcoast Maine, strangely reminiscent of the town she and her husband visited every summer.