Here is an engaging, enthralling, timely, and often frightening set of stories from our Nutmeg State, subtitled "Hiking the State's Legends, Hauntings and History". These are stories we love to hear, tell – and retell – regardless of origin and authenticity, especially if they involve ghosts, mysteries, illnesses and deaths. And we storytellers do modify them to fit our local purposes!
It is yet another publication of a local Lyme writer: Dr. Gencarella wrote Wicked, Weird and Wily Yankees: A Celebration of New England Eccentrics and Misfits, reviewed in LymeLine on June 3, 2018. He teaches at the University of Massachusetts – Amherst and recently served as the resident folklorist at the Connecticut River Museum in Essex.
These are stories – and hiking linked to each of them – from all over this state. Locally, he explores nearby spots such as Selden Creek, Selden Cove, East Haddam, the Devil's Hopyard and Rogers Lake.
He is a sleuth of old and questionable stories, often a confusion of clashing religious beliefs, still pertinent today. He writes, "This story is yet another compelling example of folklore operating with sensational journalism to sell newspapers," and cites the continuing "co-dependent relationship between folklore and yellow journalism in the nineteenth century."  Today also?
And introduces his readers to unusual words, for example, have you met a "glawackus"? Or do you know friends with these first names: Zerubbabel or Adoniram?  Read on …
Many of these stories are based on misinterpreted natural events, and then "reinterpreted", "revised" and embellished to attract tourists and sell newspapers. The themes of these stories are common: "depiction of 'foolish Indians' ", or "drunken Indians" and attractions between young men and attractive young maidens, often leading to parental objections and dual suicides.
The author comments: "As a folklorist, I reluctantly understand why salacious stories about impoverished rural folk can please people who have greater means. Such tales titillate with scandal, arouse schadenfruede, and allow audiences to feel better knowing someone else is worse off."
Having lived almost 50 years in this state, I relished these stories, as I have rowed on Lake Waramaug, Selden Creek, Rogers Lake and the Connecticut River. I wish I had known them then …
Is Captain Kidd's buried treasure in Rogers Lake? But, at the end of each chapter is Dr. Gencarella's "Legend Tripping" — his directions for hikes at or near each locale … and try rowing, too!
Editor's Note: Connecticut: Spooky Trails and Tall Tales, by Stephen Gencarella is published by Falcon, Guilford, CT, 2019.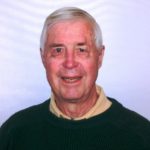 About the Author: Felix Kloman is a sailor, rower, husband, father, grandfather, retired management consultant and, above all, a curious reader and writer. He's explored how we as human beings and organizations respond to ever-present uncertainty in two books, 'Mumpsimus Revisited' (2005) and 'The Fantods of Risk' (2008). A 20-year resident of Lyme, he now writes book reviews, mostly of non-fiction, which explores our minds, our behavior, our politics and our history. But he does throw in a novel here and there. For more than 50 years, he's put together the 17 syllables that comprise haiku, the traditional Japanese poetry, and now serves as the self-appointed "poet laureate" of Ashlawn Farm Coffee, where he may be seen on Friday mornings. His late wife, Ann, was also a writer, but of mystery novels, all of which begin in a village in midcoast Maine, strangely reminiscent of the town she and her husband visited every summer.