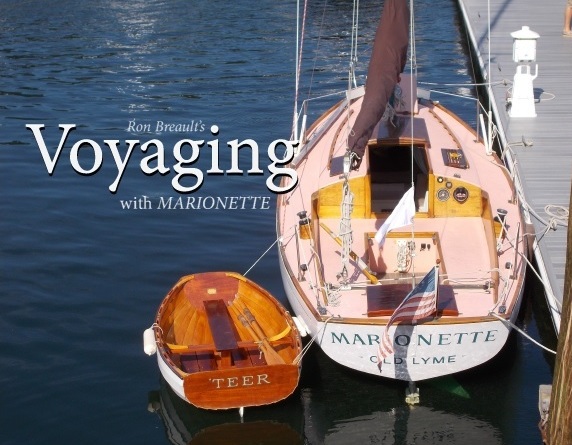 A quarter century ago, an elderly sailor glimpses an attractive middle-aged lady relaxing on the shore of the Connecticut River.  She's a bit disheveled; her skirt is torn, revealing a bit of what's underneath, but she's lovely! He's immediately smitten, and, like Henry Higgins in My Fair Lady, the sailor decides he must have an affair.
The sailor is Ron Breault, an Old Lyme resident and a Niantic Bay racer, and the Lady is not Eliza Doolittle, but Marionette, a 24 ft. Dolphin-class sloop. This book is his enthralling, copiously detailed story of their 25-year love affair.
Today she is "a woman of a certain age" and Ron's a septuagenarian, but the mutual attraction continues. This book recounts their love life of the past quarter century as they both ask, "What next?"
Ah, the details!
The author has collected the most intimate details of this long-standing affair. He recounts almost every moment of their life together, restoring the lady's youth, beauty, and speed, building her separate palatial quarters at his home in Old Lyme (with, of course, the complete approval of his wife, Chris), dressing her with a new suit of speedy clothes, and, to top it off, creating a tiny offspring.
The latter's name is 'Teer!  I thought: charioteer? musketeer? marketeer? profiteer? Ah yes, puppeteer: the perfect name for the child of Marionette! 
Everything about this voluptuous woman is described: her finery aloft and, mirabile dictu, everything underneath and below. Nothing is left to the imagination …
This loving couple then engage in both cruising and racing, two doing the tango from the Connecticut River to Niantic Bay, Fisher's Island Sound, Block Island, Narragansett Bay, Buzzard's Bay, the Canal, the waters of Massachusetts and New Hampshire, and, of course, the ultimate nirvana, Maine!
They detail their Penobscot Bay peregrinations from Tenants Harbor, Spruce Head, Rockland, North Haven, Vinalhaven, Isleboro, Eggemoggin Reach, Blue Hill, Deer Isle, Swans Island and on to Mount Desert, with both Southwest Harbor and Northeast Harbor. Plus numerous times in Camden, the heart of sailboat racing in Maine.
Are words insufficient for you?
Your sight is also addled with more than 700+ pictures and photos, and those who want more are directed to the author's website: www.Dolphin24.org.
Ron and Marionette's story illustrates superbly that famous conclusion drawn by Rat in Wind in the Willows: "Believe me, my young (and aged?) friend, there is nothing, absolutely nothing, half so much worth doing as simply messing about in boats."
So ease your sheets, cruise downwind a bit, pop a brew or two and enjoy this love story.
Editor's Note: 'Voyaging with Marionette' by Ron Breault is published by Whaler Books, Buena Vista, VA. 2020. To order a copy of this highly recommended book, visit marinermedia.com/product/voyaging-with-marionette/.
About the Author: Felix Kloman is a sailor, rower, husband, father, grandfather, retired management consultant and, above all, a curious reader and writer. He's explored how we as human beings and organizations respond to ever-present uncertainty in two books, 'Mumpsimus Revisited' (2005) and 'The Fantods of Risk' (2008). A 20-year resident of Lyme, Conn., he now writes book reviews, mostly of non-fiction, a subject which explores our minds, our behavior, our politics and our history. But he does throw in a novel here and there.
For more than 50 years, he's put together the 17 syllables that comprise haiku, the traditional Japanese poetry, and now serves as the self-appointed "poet laureate" of Ashlawn Farm Coffee, where he may be seen on Friday mornings. His late wife, Ann, was also a writer, but of mystery novels, all of which begin in a village in midcoast Maine, strangely reminiscent of the town she and her husband visited every summer.