Who are we?
Edward O. Wilson, the eminent Harvard biologist and noted student of ants, describes our strange species in a remarkable and memorable book. In 15 brief, succinct and challenging chapters, each less than 10 pages, he suggests that, at once, we are far more and far less than we imagine.
His is a daunting title but the contents live up to expectations.
First, far less: homo sapiens have existed through a modest six millennia, a mere blip in the 13-plus billion years of our universe, the 4.5 billion years of this earth and the 400 million years of other "species on earth." And this earth is but a "mote of stardust near the edge of our galaxy (an estimated hundred billion star systems make up the Milky Way galaxy) among a hundred billion or more galaxies in the universe."
And even among the other species here on this planet, "how bizarre we are as a species … we are chemosensory idiots" when compared to most of them. "Our species is almost unconscious of most stimuli."
But we are unusual.
We have the "capacity to imagine possible futures, and to plan and choose among them," the "ability to invent and inwardly rehearse competing scenarios of future interactions."
Dr. Wilson compares the "humanities" to "science." The humanities tell us "what," "the particularities of human nature back and forth in endless permutations, albeit laced with genius and in exquisite detail," while science increasingly is needed to tell us "why."
Are we trapped in our own egos?
In Chapter 11, The Collapse of Biodiversity, we seem to be knocking off many species, only to find more.  But " … without nature,  finally, no people!" "The human impact on biodiversity, to put the matter as briefly as possible, is an attack on ourselves!" This re-confirms the famous Pogo adage, "We have met the enemy and he is us."
Wilson suggests we remember the acronym HIPPO: Habitat loss; Invasive species; Pollution: Population growth; and Overharvesting. These may be the most important challenges our species face.
Has the human creation of religions helped? Wilson is dubious.
Religion's "history is as old or nearly so as that of humanity itself. The attempted resolution of its mysteries lies at the heart of philosophy." But "the great religions are also, and tragically, sources of ceaseless and unnecessary suffering."
He adds: "the true cause of hatred and violence is faith versus faith, an outward expression of the ancient instinct of tribalism. Faith is the one thing that makes otherwise good people do bad things." Many will find this offensive but it is a considered opinion, backed up with solid examples. Wilson summarizes thus, "the best way to live in this real world is to free ourselves of demons and tribal gods!"
He returns to the balance of science and the humanities; the latter describe "the human condition," while science "encompasses the meaning of human existence."  We are "an accident of evolution," from herbivore to carnivore, from wanderer to static, from small families to multiple "tribes." And "when an individual is cooperative and altruistic, this reduces his advantage in competition to a comparable degree with other members, but increases the survival and reproduction rate of the group as a whole." No wonder we have conflicting views of how to respond …
Dr. Wilson's conclusion: "Are human beings intrinsically good but corrupted by the forces of evil, or the reverse, innately sinful yet redeemable by the forces of good? Are we built to pledge our lives to a group, even to the risk of death, or the opposite, built to place ourselves and our families above all else? Scientific evidence, a good part of it accumulated during the past twenty years, suggests that we are both of these things simultaneously. Each of us in inherently conflicted."
"If the heuristic and analytical power of science can be joined with the introspective creativity of the humanities, human instinct will rise to an infinitely more productive and interesting meaning."
After each chapter, I had to stop and reflect on Wilson's ideas, taking many notes.
And I plan to re-read it in its entirety next year.
Editor's Note: 'The Meaning of Human Existence' by  Edward O. Wilson, was published by W. W. Norton  & Co., New York, 2014.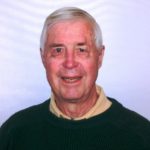 About the Author: Felix Kloman is a sailor, rower, husband, father, grandfather, retired management consultant and, above all, a curious reader and writer. He's explored how we as human beings and organizations respond to ever-present uncertainty in two books, 'Mumpsimus Revisited' (2005) and 'The Fantods of Risk' (2008). A 20-year resident of Lyme, he now writes book reviews, mostly of non-fiction, which explores our minds, our behavior, our politics and our history. But he does throw in a novel here and there. For more than 50 years, he's put together the 17 syllables that comprise haiku, the traditional Japanese poetry, and now serves as the self-appointed "poet laureate" of Ashlawn Farm Coffee, where he may be seen on Friday mornings. His late wife, Ann, was also a writer, but of mystery novels, all of which begin in a village in midcoast Maine, strangely reminiscent of the town she and her husband visited every summer.