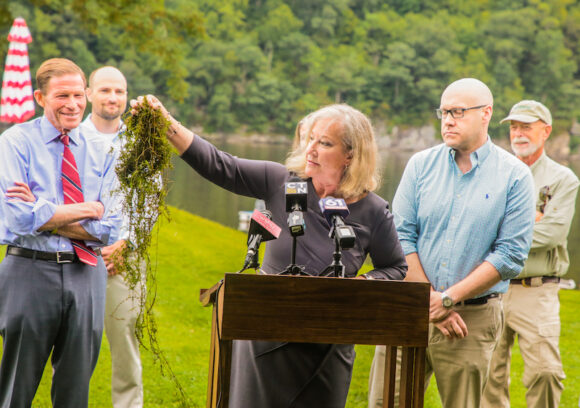 Press Conference Held to Educate Public About Harm Caused by Hydrilla, Discuss Projects to Control Invasive Aquatic's Spread
CHESTER — On Wednesday, Aug. 16, state and federal legislators, federal agencies, and stewards of the Connecticut River, met in Chester to educate the public about testing and remediation of invasive aquatic species in the Connecticut River, focusing on hydrilla (hydrilla verticillata), a highly problematic invasive rapidly spreading throughout the lower River Valley.
Experts addressed how these species cause ecological and economic harm, discussed the different research and removal projects being conducted in the Connecticut River, introduced the newly formed Office of Aquatic Invasive Species, and offered methods of prevention.
"Hydrilla is a threat to the Connecticut River as it can crowd out native plants, harm habitat for fish and wildlife, and prevent recreation," said Rhea Drozdenko, River Steward for the Connecticut River Conservancy.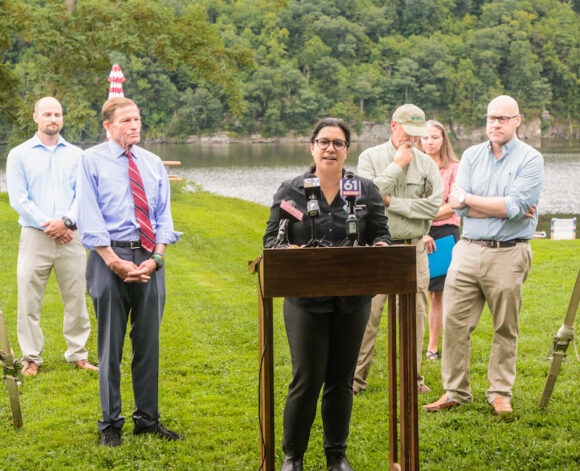 She continued, "I'm grateful we have strong partnerships throughout the watershed as we learn more about this species and work to protect our waterways. The Connecticut River Conservancy has worked on several related projects including the use of benthic barriers to prevent hydrilla growth and promoting preventing the spread of hydrilla through the practice of 'Clean, Drain, Dry.'"
To improve understanding of the dynamics of water flow and exchange in the local waterways, the U.S. Army Corps of Engineers (USACE), in cooperation with the CT Agriculture Experiment Station (CAES), will be applying Rhodamine WT (RWT), a red tracer dye to the Chester Boat Basin, along with three other sites.
This dye release and study program is preparatory to the eventual release of herbicide treatment for the control of hydrilla at each site.
According to the USACE, RWT dye is a fluorescent, xanthene dye that has been used for water tracing since at least the mid-20th century to quantify time of travel in dynamic (in this case, tidal) waters. This dye has no significant effects on aquatic organisms and has been proven safe for these studies.
The dye will be applied to the sites during various environmental conditions using different application techniques at 10 parts per billion concentrations. The concentrations of the dye in the water will be collected using fluorometry equipment at certain intervals following initial dye treatment at sampling points within and just outside of the sites.
There will be impacts on the color of the water at the sites and surrounding areas as the dye is bright red in color but expected to be minimal and short-term as the dye will dilute and dissipate with the flow and tides of the river.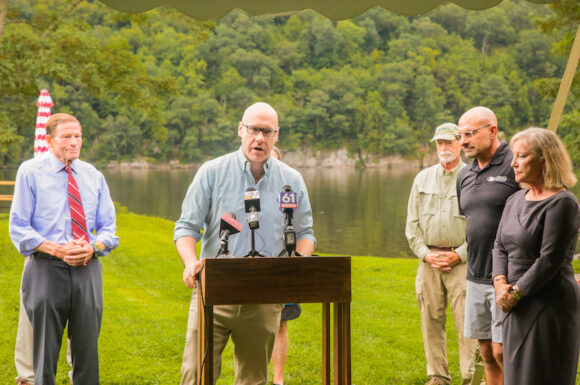 "I am grateful for the combined brain power of these biologists, engineers, and advocates," said State Representative Christine Palm (D-36th), whose district covers Chester, Deep River, Essex, and Haddam.
She stressed, "We don't want the public alarmed at the sudden appearance of red dye in the water, so we're trying to get ahead of it by educating boaters, businesses, and residents. Ultimately, the goal is to eradicate the spread of this invasive, which is devastating our waterways."
Rep. Palm, who serves as vice chair of the General Assembly's Environment Committee, successfully introduced a bill in 2022 to establish and fund the Office of Aquatic Species at CAES.
"Hydrilla and invasive plants can and have caused significant damage across a number of bodies of water in our state, said State Senator Norm Needleman (D-33rd), whose district includes Lyme, Conn.
He noted, "By working to study how water flow and downstream activity can result in the spread of such plants, we can better prepare for and respond to the future spread of these plants, better supporting our natural resources."
"It is vital that we continue to do what we can to prevent the spread of hydrilla and work to eradicate it," said State Representative Devin Carney (R-23rd), whose district includes both Lyme and Old Lyme.
He said, "This is an issue that affects our environment, economy, and our overall quality of life. I want to thank Rep. Christine Palm for taking the lead on this issue and for all of the efforts by state agencies and organizations to remove this invasive species from our waters."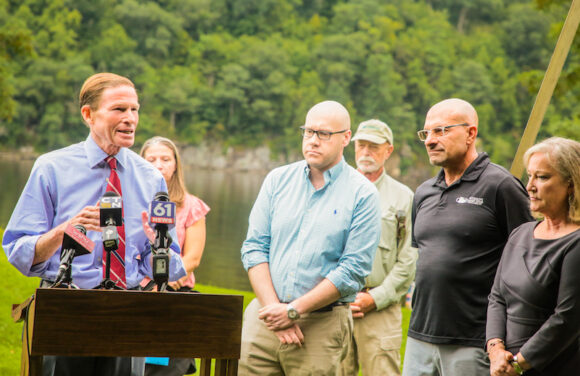 "Hydrilla poses a significant ecological, environmental, and economic threat to the Connecticut River," said U.S. Senator Richard Blumenthal.
He pointed out, "This invasive species is spreading rapidly – knocking out aquatic plants, choking fish and other wildlife, and making the waters unsafe for recreation," adding, "I am proud to have advocated for the $6 million in federal funding included in the omnibus bill to help the U.S. Army Corps of Engineers control and eradicate this harmful species."
Editor's Notes: i) Visit this link to watch a Capitol News Briefing with U.S. Sen. Blumenthal, State Rep. Palm, State Rep. Carney on the threat of Hydrilla in the Connecticut River.
ii) This article is based on a press release issued by the Connecticut House Democrats.