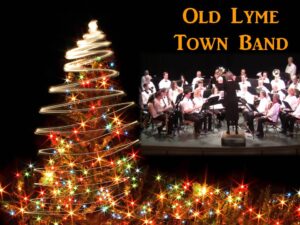 OLD LYME / OLD SAYBROOK — The Old Lyme Town Band, under the direction of Carolyn Whinnem, will perform three hour-long holiday concerts this season.
The first is on Saturday, Dec. 7, at 6:30 p.m., at Christ the King Church, 1 McCurdy Rd., Old Lyme. Admission is free.
The following day, Sunday, Dec. 8, at 2 p.m. they will perform at the Lymes' Senior Center, 26 Town Woods Rd. in Old Lyme. Admission is free.
On Wednesday, Dec. 11, at 7 p.m., they will perform at "The Kate," 300 Main St., Old Saybrook Tickets for this only concert  are $7 for adults, $5 for children 12 and under, and can be purchased online at this link or at the door.
Numbers for all performances may include Bach's "Jesu, Joy of Man's Desiring"; "A Christmas Festival," by Leroy Anderson; "And All the Bells Shall Ring"; "Merry Christmas, Darling"; "Festive Sounds of Hanukah"; and "A Tribute to Judy Garland." The 40 band members range in age from 10 to 80+ and come from several towns along the shoreline.
The band will welcome new members without audition when rehearsals start again in January. The band rehearses at Christ the King Church Mondays from 7 to 9 p.m.
Visit the band's website at http://www.oldlymetownband.com or speak to the band's director, saxophonist Christine Repasy, at any concert to add your name to their mailing list.