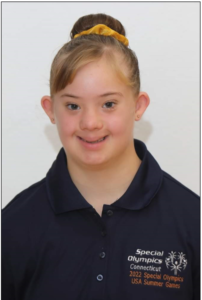 OLD LYME — In a remarkable feat, Old Lyme resident and Lyme-Old Lyme High School student Andrea DeBernardo won three gold medals, a bronze and a 5th place ribbon in the Special Olympics USA Games held in ESPN Worldwide Sports Complex at Orlando, Fla. from June 4 to 12.
She competed in Artistic Gymnastics along with over 50 individuals from other states in the country.  These individuals competed in Levels 1 to Levels 4.
DeBernardo moved to Level 3 this past year after sharpening her skills while participating in the Lyme-Old Lyme High School Gymnastics program.  During this program, she was able to develop her own floor routine, which is a component of the Level 3 Special Olympics program. Level 3 gymnasts are required to be independent and require minimal assistance from the coach during performance (i.e. balance beam).
Her head coach, Christine Corah, and Andrea's sister Elise worked on choreographing DeBernardo's routine during the winter season. DeBernardo has been working hard these last few months practicing three days a week to prepare for the Olympics event.
DeBernardo has been participating in the Special Olympics since she was in middle school. She competed in the following events and placed as shown: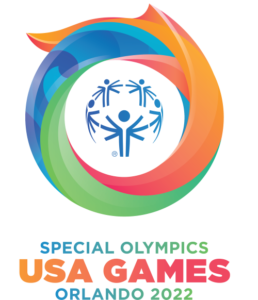 Level 3 All Around                         Gold Medal
Level 3 Uneven Bars                      Gold Medal
Level 3 Floor Exercise                   Gold Medal
Level 3 Balance Beam                   Bronze Medal
Level 3 Vaulting                              5th place ribbon
Connecticut Special Olympics sent a total of 33 delegates to the USA 2022 Special Olympic Games with three of them competing in the gymnastics section. DeBernardo was chosen to be one of the three gymnasts to participate in this event in October 2021 and starting group training in January of 2022 with her two fellow team members.
DeBernardo's mother, Irene, said by email to coach Corah, "Andrea appreciated all the support of her friends and family back at home during her competition that she received through the special messaging system the Special Olympics application created."
She added, "Andrea has always felt part of the inclusive atmosphere that has been created at the Lyme-Old Lyme Schools."
Editor's Note: Congratulations, Andrea, on this amazing achievement!