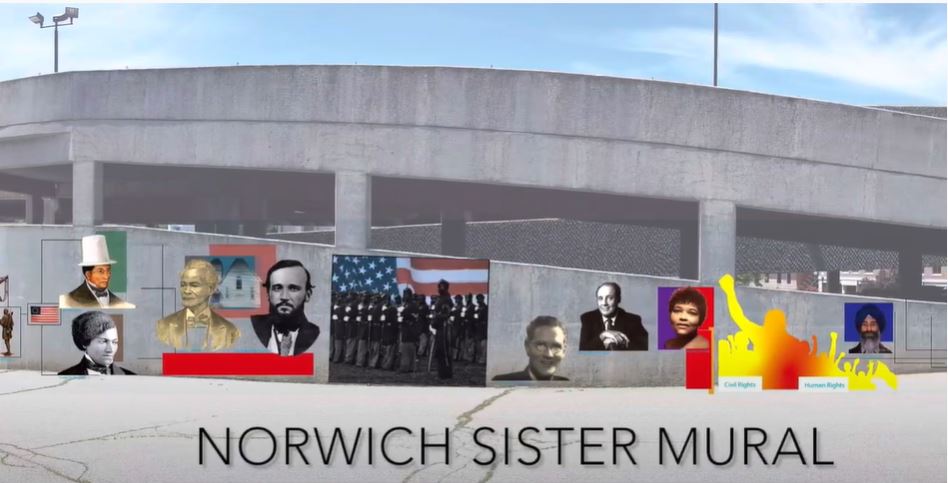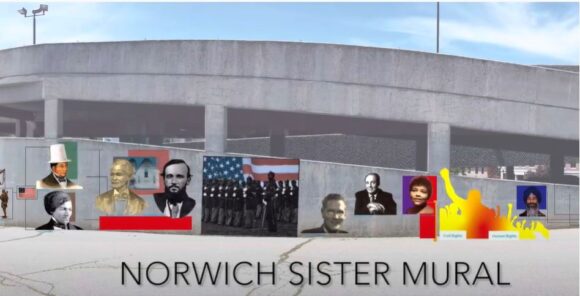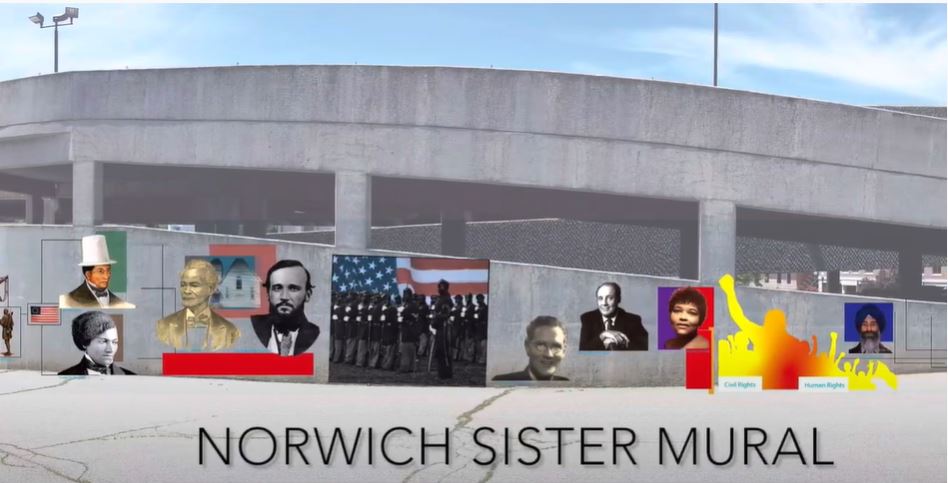 NORWICH, CT/OLD LYME: 1/18 UPDATE: Despite freezing temperatures, the mural discussed below was duly "unveiled" yesterday. Visit this link to read a report of the event by Claire Bessette and published Jan. 18 in 'The Day.'
On Martin Luther King Day, Monday, Jan. 17, at 12:30 p.m., Public Art for Racial Justice Education (PARJE) will unveil its first mural, which has been created on the Market Street Garage in Norwich. In honor of this upcoming event, the group has released a remarkable time-lapse video showing how the mural came together.
All are welcome to attend the unveiling ceremony for the Norwich Sister Mural, the title of which echoes the words of Rev. Dr. Martin Luther King, Jr., who said, "We Are Not Makers of History.  We Are Made By History."
Public Art for Racial Justice Education (PARJE) was formed by Rev. David Good, the former Senior Minister of the First Congregational Church of Old Lyme and now its Minister Emeritus, in March last year with help from Rev. Jack Madry of the Madry Temple in New London.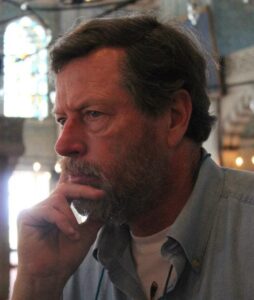 Good explains that the catalyst for creating PARJE was the tragic killing of George Floyd in May, 2020. Good came to believe passionately that public art could be used to spark conversation and stimulate education on what it means to be engaged in antiracism. He started discussing the subject with Madry and together they looked for ways to bring communities together to address racial injustice.
Those discussions led to the birth of PARJE, which has developed into a broad-based, interracial, non-partisan, non-sectarian group consisting of volunteers from various communities around the shoreline region. These communities now include Old Lyme and Lyme, as well as Old Saybrook, East Lyme, Essex, Deep River, Norwich and New  London.
From the displacement of indigenous communities to the use of slave labor in the whaling industry, PARJE leaders point out that the the local region, along with many others across the nation, has been actively complicit in – and not passively just home to – various racial injustices.
PARJE aims to provide opportunities to examine or reexamine some of these events through the use of public art in many different ways. As the US struggles to confront systemic racism, PARJE will focus on engaging artists from all disciplines to create public art aimed at addressing not only contemporary issues, but also their origins.
Building partnerships with surrounding communities is an additional focus of the group's stated mission.
A series of murals is planned throughout the region and the first mural to be completed is the one in Norwich.
Asked how the Norwich mural came about, Good told LymeLine via email, "Shiela Hayes is our point person for the Norwich Mural. She's a member of our Steering Committee and as the head of NAACP-Norwich, Shiela was able to bring onboard a number of folks in Norwich."
Good commented enthusiastically, "Sheila did amazing work in getting input and support from a number of individuals, organizations and government representatives!"
Hayes explained the background and timing of the mural to LymeLine in an email, noting, "The concept, theme and research started in March [2021.] They were completed in October when the title, "Freedom, Civil Rights and Human Rights," was finalized.
Hayes noted that work on the mural began in October of 2021, with the 1st phase. The mural was designed by Samson Tonton based on input by the Norwich Sister Mural Committee.
On Nov. 15, the second phase began, which involved the Norwich Mayor and Council voting to approve the design of the Norwich Sister Mural on the Market Street Garage.
Power washing of the Market Street Garage by Norwich Public Utilities followed during the week of Nov. 15 and then priming and background painting by lead artist Emida Roller and artist Samson Tonton began  during the week of Nov. 22.
The third phase started the week of Nov. 22 when both artists painted on polytab pieces indoors and then affixed the images on the wall. They painted additional images directly on the wall and were able to complete the work by Dec. 20.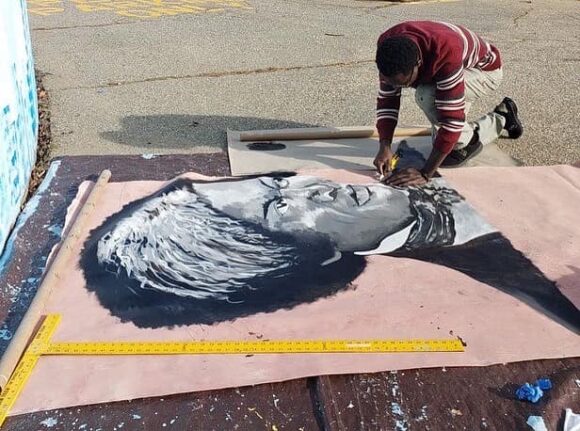 Community Engagement and Paint Days were held Dec. 8 and 11 at the Sikh Art Gallery with over 40 people assisting with the painting. The Gallery was founded by Norwich City Councilman Swaranjit Singh Khalsa, whom Good noted was "very important" in bringing the project to fruition.
Good added that he and another PARJE member from Old Lyme, Celine Sullivan, "visited on one of those [Community Paint] days, and it was great to see the diversity of those at work on the mural."
Now that the design is complete, the next step is the official unveiling ceremony on Martin Luther King Jr. Day, Monday, Jan. 17.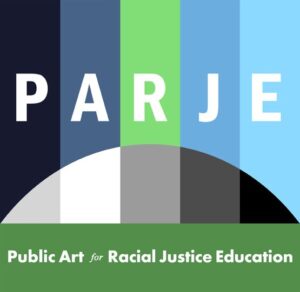 PARJE has a number of other murals currently in various stages of development at Old Lyme, New London, East Lyme, and Old Saybrook.
Good explained how things are moving forward positively in Old Lyme, saying, "Thelma Halloran, a Black art teacher in [Lyme-] Old Lyme's Middle School and Alden Murphy* co-chair our Artist Selection Team consisting of Becky Crosby*, Kimberly Monson*, Alex Pinkowish, [and] Nancy Gladwell* (ex officio) in addition to Thelma and Alden." (* indicates a Lyme or Old Lyme resident.)
He continued, "They've had some great applicants [to design the mural]," interviews have been held, and their plan is to select the artist [for the Old Lyme mural] around January 15th. Good noted that Lyme-Old Lyme Schools Superintendent Ian Neviaser, "… has been very supportive. He [Neviaser] hopes to engage as much of the school community as possible and also provide opportunities for community painting days to welcome those from other communities."
One of the core beliefs of PARJE rests in the ability of public art to educate about the history of Black,  Indigenous, People of Color (BIPOC). Consequently, there will be a high priority on selecting BIPOC artists while also working side-by-side with others, trained and untrained, and those of all generations, races and ethnicities.
Other events currently scheduled for PARJE include a panel discussion at Long Wharf Theatre's production of "Fires in the Mirror" on Jan. 30. Good plans to moderate the discussion with panel members Pastor Jack Madry, Attorney Lonnie Braxton II, Rabbi Aaron Rosenberg and Ghoufran Allababidi.
An event had previously been scheduled for Jan. 23 at Lyme Art Association but this has now been postponed to Feb. 20 due to the COVID situation. We will publish more information on this event as soon as it is available.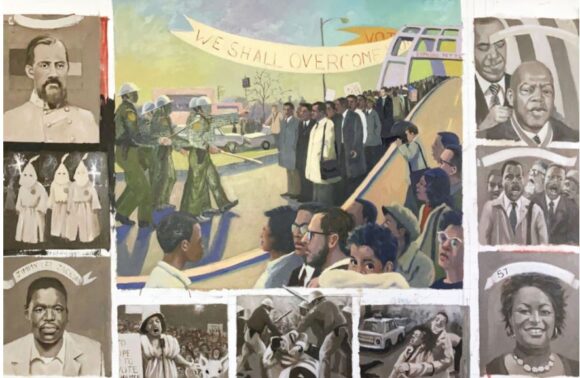 A further project is the creation of a diptych (a two-panel painting intended to function as a traveling exhibition) by two local artists, Nancy Gladwell, who was Chair of Painting at the former Lyme Academy College of Fine Arts, and Jas Oyola-Blumenthal, an alumna of the same institution. Gladwell is also the Co-Chair of PARJE.
The diptych will be used in schools, or any public space, to tell the controversial story of the Edmund Pettus Bridge in Selma, Ala.
The diptych project also intends to illustrate the possible future of the bridge supporting efforts currently underway to rename it after civil rights activist, John Lewis, who would have been 81 this February. 
Looking back at the breadth of work accomplished and all the projects completed, in progress, or in the early planning stages after only 10 months of PARJE 's existence — and especially considering all those 10 months have been under pandemic conditions — Good concludes positively, but pragmatically, "Public art will not solve systemic racial injustice, but it would be a public affirmation that, on the one hand, this is the country we are, and, on the other, this is the country we are endeavoring to become."
Editor's Note: (i) For more information about Public Art for Racial Justice Education, visit their website follow PARJE on Facebook at Facebook.com/Public Art for Racial Justice Education and Instagram @racialjusticeart. To donate to support the work of PARJE or inquire about joining PARJE, email racialjusticeart@gmail.com.
(ii) The following is a list of key people and organizations involved in the Norwich Mural project — (there are too many names to list them all): Matt Conway – Executive Director, The RiseUp Group, Inc., Swaranjit Singh Khalsa – Norwich City Councilman, Derell Q. Wilson – Norwich City Councilman, Leo Butler – Director of Diversity, Norwich Free Academy, Alysha Carmody – HOD, Visual and Performing Arts, NFA, Dayne Rugh – Director, Slater Memorial Museum, Beryl Fishbone – Rotary Community Corps of Norwich, Shiela Hayes – President, NAACP Norwich Branch, Tracey L. Holland – NAACP Norwich Branch, Brenda McDonald – Secretary, NAACP Norwich Branch, Sharlyne Naubert – President, NAACP Robertsine Duncan YC, Celia Siefert – NAACP Norwich Branch, Zechariah Stover – NAACP Norwich Branch, City of Norwich – Elected and Appointed Officials and Norwich Public Utilities.