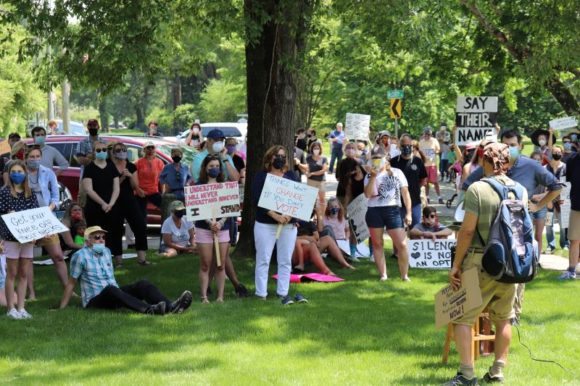 UPDATED 06/08: Editor's Note: Unfortunately, we did not have a reporter at this event. We have compiled the following article from emails, text messages and photos received from numerous participants. We are extremely appreciative of so many people's assistance and support.
OLD LYME — "I was amazed!"
That was the reaction of Anna Reiter to the rally and march for racial justice in Old Lyme, which took place Saturday in Old Lyme. Reiter, who had pulled together the event in just a few days, added, "We had an astounding number of people participate (several estimates placed that number at around 500) … I was humbled by how many people joined together to show a commitment to fighting systemic racism and racial injustice."
A press release issued prior to the event stated"The goal of the march and rally is to allow the community to stand together against racial injustice and offer opportunities for community members to realize that microagressions are things that we can learn about and correct in our everyday lives."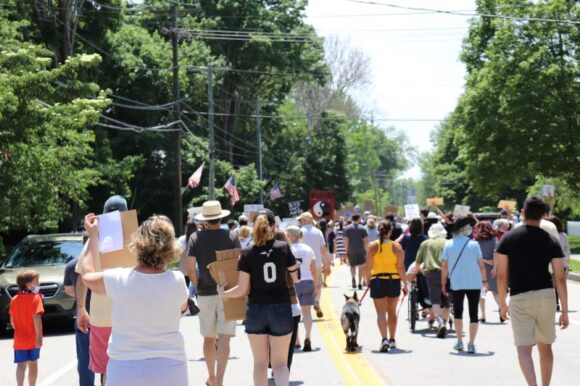 Participants gathered in front of Old Lyme's Memorial Town Hall, many carrying signs and placards supporting the 'Black Lives Matter' movement, and almost all wearing masks and maintaining social distance. They then proceeded peacefully down Lyme Street to the lawn in front of the First Congregational Church of Old Lyme.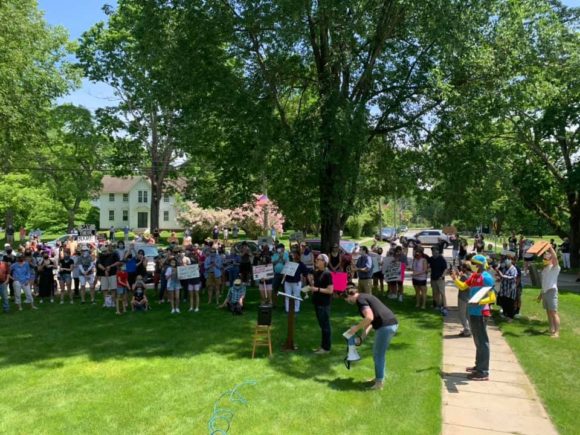 There they listened to speakers from a variety of backgrounds including Rev. Dr. Steve Jungkeit (see photo above) of the First Congregational Church of Old Lyme, who gave us this summary of his speech:
First, I named some of what we had been feeling over the last weeks: grief, mourning, outrage, pain, confusion, and yes, a tiny bit of hope that this will at last be an opening toward meaningful change.
I also acknowledged another feeling, or question: what it means to hold an event like this in a predominantly white space, and whether such an act has integrity.  The previous day I had been at events in Hartford, New Haven, and Bridgeport, and I said that it's high time that those of us who live in majority white spaces get out and march in places like that.  It's also high time that we yield to black leadership.
But then I said that I did think an event like this was appropriate in Old Lyme.  Because we recognize systemic racism is a problem that underlies all of our communities, affecting all of our lives in one form or another.  And we have work to do on that front in Old Lyme.
Finally, I shared that four years ago, a group from the church traveled throughout the American South, learning the history of the civil rights movement, some of it horrific, some of it very inspiring.  When we returned, we did a conference at the church on a Sunday afternoon, and throughout that day, we had Black Lives Matter signs on the church lawn.  The response that day was swift, and furious (by a few, not by many): "Take those things down!"  
And so I asked the crowd if they were finally ready to affirm those words in Old Lyme.  I asked if we could say them loud, even and especially in a predominantly white space.  And so we did.  Black Lives Matter, we shouted.  I can't tell you how powerful that was, and how meaningful.
Last thing: at the close of the rally, I shared something that I had heard from some of the black leaders in Bridgeport.  "To all the white folks out there," they said, "don't ask the black community to do your work for you.  White folks and white communities have their own work to do around racism."  And so I concluded the rally by telling everyone that it was time to get to work.
Another speaker was Emily Gerber Bjornberg from the First Congregational Church of Lyme, who shared these words with us: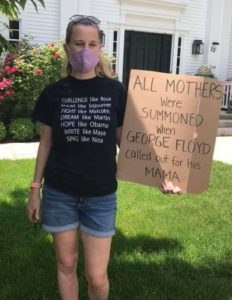 I started by saying that I would speak from the heart and that this was a personal topic for me. But the most powerful sign I saw all week said, "All mothers were summoned when he called out for his mama." I used to live and work in South Africa, which is a country that has been openly healing from racial divisions for decades. And I used to ask them,"What's your secret? How do we get Americans to dialogue race."
And I will never forget what they told me.
They told me that the powerful had to learn one lesson that they never forgot in the movement, and that is this: "You do not mess with the moms."
I ended with this: On Dec. 31, 2016, in Washington, a Sikh activist Valarie Kaur gave an address that has become my single favorite address of these times. In it she described her Indian father's journey to the US a century ago which included racism, xenophobia, and ultimately even imprisonment. Her telling of his story was clearly meant to remind her audience that Americans have stood together in the face of darkness before.
But she ended her speech with the following:
"Yes, Rabbi, the future is dark. On this New Year's Eve, this watch night, I close my eyes and see the darkness of my grandfather's cell. And yet I can feel the spirit of ever rising optimism within him.
So the mother in me asks – what if? What if this darkness is not the darkness of the tomb but the darkness of the womb? What if our America is not dead but a country waiting to be born? What if the story of America is one long labor?
What if all our grandfathers and grandmothers are standing behind us now, those who survived occupation and genocide, slavery and Jim Crow, detentions and political assault? What if they are whispering in our ears, "You are brave." What if this is our nation's greatest transition?
What does the midwife tell us to do? Breathe. Push. Because if we don't push, we will die. If we don't push, our nation will die. Tonight we will breathe. Tomorrow, we will labor in love.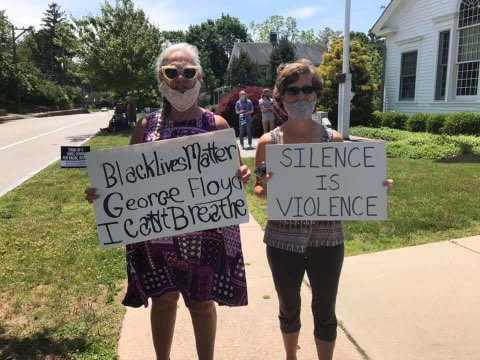 State Representative Devin Carney sent us the full text of his speech:
As the Rev. Dr. Martin Luther King, Jr. said in his Letter From a Birmingham Jail, "Injustice anywhere is a threat to justice everywhere." Recent injustices in Minneapolis, Louisville, and Brunswick, GA have an impact on towns like Lyme and Old Lyme. We must each take responsibility for our own biases, we need to confront racism and bigotry, and work to stop police brutality.
In the black community, parents give "The Talk" to their children about how to interact with the police. I cannot imagine what that is like to give or receive that talk and I don't think many of us here can. We need to get to a place in our society where black families feel comfortable and safe enough where that talk is no longer necessary. It will require a lot of communication, collaboration, and listening on our part.
When I was growing up in Old Saybrook, my mother gave me a talk. My mother is Jewish and grew up in a working-class family in New Rochelle, NY in the 50's and 60's. She talked to me about the evils of racism, the evils of discrimination, the evils of hatred. Those are the types of talks we need more of in households in communities like Lyme and Old Lyme. Those are the types of talks that will lead to healing and will help to end this terrible plague called racism.
When we leave here today and go on with our daily routine, and weeks and months go by, we cannot forget George Floyd, Breonna Taylor, Ahmaud Arbery, Philando Castile, Sandra Bland, Eric Garner, Tamir Rice, Amadou Diallo, and so many others. Because their lives mattered. Their families matter. Justice matters. Equality matters. Black Lives Matter.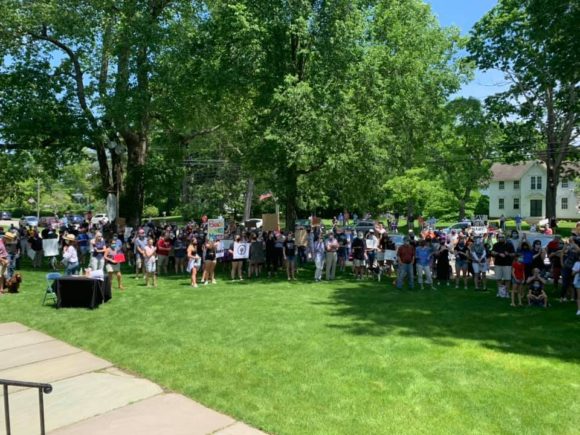 Similarly, Old Lyme Selectwoman Mary Jo Nosal shared her speech with us:
Thank you for coming out today, on a Saturday afternoon, in the middle of a pandemic, because you know exposing systemic racism and police brutality is not convenient and is not without personal risk. 
It requires difficult conversations, education, reflection and facing the uncomfortable reality that, for a variety of reasons, many Americans have turned a blind eye to injustice in our American communities. 
With this truth in mind, I am going to end with a prayer by Father Richard Rohr, aptly called "Prayer For Our Community." I hope it will direct our thoughts, our intentions, and our future actions in our community.
"O Great Love, thank you for living and loving in us and through us. May all that we do flow from our deep connection with you and all beings. 
Help us become a community that vulnerably shares each other's burdens and the weight of glory. 
Listen to our heart's longings for the healing of our world. 
Knowing you are hearing us better than we are speaking, we offer these prayers in all the holy names of God, amen.
The final speaker was Human Rights Attorney David Rubino, who is also the Democratic candidate for the 23rd House seat in November's election. He also gave us the full text of his speech: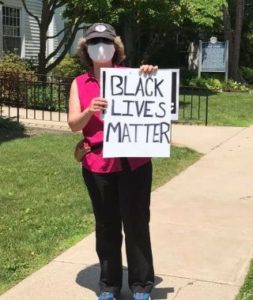 First, I want to thank Reverend Steve Jungkeit and Anna Reiter for helping to organize this event, and all of our speakers for agreeing to participate. It's a testament to our strength as a community that we could come together like this on such short notice to address an issue that is, by its nature, so very difficult to address.
My name is Dave Rubino and I am human rights lawyer. Most of my work has been in far off lands with oppressive rulers and helpless, frightened populations. I've met with people who were tortured by their governments to elicit false confessions. I knew people who were killed, by members of their own government – not because of what they did, but because of who they were. What happened to George Floyd is the kind of thing I used to see day after day. And when I would come home at the end of the day, I would often think how grateful I was to be an American.
In those moments, what I failed to fully consider or think about was, how very different the American experience is for people of color. How the solace I found in systems and institutions that were designed by people like me, may not be felt by people who aren't like me. As a white man, I cannot claim to truly comprehend the rage and pain and sorrow and fear that African Americans feel today. But I know that it's there. And I know that it has been there for years, for decades, for centuries. And the reason it is there is because we have a system that is broken. Or maybe it was never built the right way to begin with. But it's a system that has consistently oppressed people of color economically, educationally, politically, and physically. And it has to stop. Because there are too many George Floyds to count.
I won't suggest that anything we say today or anything we collectively do today will move the needle. The only way we move the needle is to make today the first step in our journey. And to realize that no matter how long that journey takes, and no matter how treacherous the road becomes, we have to keep walking forward.
I think most anyone who watched the video of George Floyd's last moments probably had a similar reaction to me. I felt horrified and saddened, but more so I felt defeated. Like there was nothing I could do and no way to change this.
But a moment like this, and an event like this, gives me hope. Look around you. We are a group of people who for the most part on the surface have very little in common with George Floyd. Yet we stand here together as a community to say this must end. We speak together with a common voice, standing shoulder to shoulder and proclaiming to people of color, we see you, we hear you, we stand with you.
I think this is a great first step in our journey. But we can't stop here. Today we are allies. Allies to a cause that is desperately in need of sincere affirmation and support. The next step is to move beyond that. To go from being an ally to being an advocate. And there are some very concrete ways to do that.
First, we need to educate ourselves. Read Ta Nahesi Coates. Read Ibram Kendi. Read Michelle Alexander or James Baldwin. Read any number of authors who have written on the subject of race and who can give you insight into an experience you may not personally have.
Second, donate. There's an official George Floyd Memorial Fund. There's the NAACP legal defense fund. The ACLU. All of these groups are fighting for racial justice and all of them need your support.
Third, we must use our voices. Call your leaders. Call your Senators, your congressmen, your state and local officials and tell them how you feel about this. Ask them what they're doing about this. Write to them. Write letters to the editor. Post your views on social media. When you see hateful rhetoric, push back.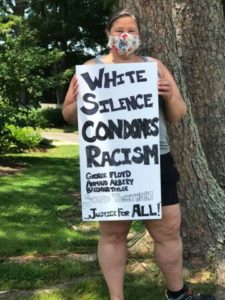 But use your voice. If you want to know the power of your voice, just look what happened in the lead up to today. Opponents of this cause tried to silence it from the outset: first trying to discredit this event as a politically motivated stunt, and then trying to scare people away from coming by spreading overtly racist rumors about potential violence that was expected. They don't want us to talk about these issues because our message is too strong and our voice is too powerful.
Finally, vote. The U.S. has some of the worst voter turnout in the world. And all the speeches in the world won't change a thing if we don't vote. Vote like your life depended on it because someone's almost assuredly does. The change we need is systemic. It's born of laws and regulations and court rulings. True, it is fueled by our passion, it is amplified by our voices, but it can only truly take hold if we rewrite the rules.
We have experienced a tragedy and it is up to us to decide how to respond. Bobby Kennedy said, "Every time you stand up for an ideal, you send forth a tiny ripple of hope." Let's turn that ripple into a tidal wave.
Let's be the change we want to see in the world.
Reiter told us that other speakers included:
Joesph Kazadi and his daughter Maryam. Reiter wrote, The Kazadi family has been living in Old Lyme for two years. They are black and were refugees from the Congo.  Joseph spoke of what it meant for him to come here and really leaned on the messages in all of our most meaningful documents – the Constitution, the National Anthem, etc. to remind us what our country is supposed to believe in — that this country strives to be the land of the free and teaches our students that we live with liberty and justice for all. His daughter gave a similar sentiment but from the perspective of a young woman moving here in high school. She gave a message of hope for the future.
Rev. Laura Fitzpatrick-Nager
Rev. Dr. Anita Schell of St. Ann's Parish
Timothy Griswold, Old Lyme First Selectman
At the conclusion of the rally, all the participants knelt down together for a moment of silence to honor the black lives that have been lost to violence and racism.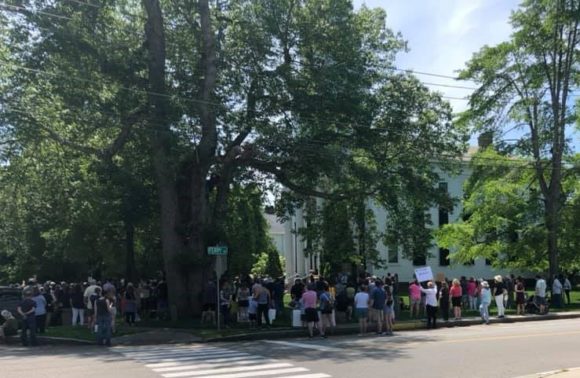 Some of the reactions to the march and rally were as follows:
Bjornberg wrote, "[It was a] Powerful day."
Carney said, "I was proud of Lyme and Old Lyme for standing up against racial injustice and the fact that so many within these communities want to be part of the solution.  I look forward to getting to work with my colleagues in Hartford on solutions and ways we can move forward as a state."
Nosal wrote, "I was really pleased to see the large turn-out at the Old Lyme rally. It was amazing. People of all ages were present.  I have to thank those who organized such a moving event. Clearly, despite the pandemic, people needed to come together and take a knee against systemic racism and the police brutality we all witnessed with the murder of George Floyd."
Rubino wrote: "I was proud to see so many people come out in support of George Floyd and racial justice. We should never be silent about things that matter, and the number of people who chose to stand up to injustice yesterday made me proud."
Reiter wrote, "I hope that everyone who attended went home and talked about the march and what the speakers said.  I hope they make a plan to help make change happen.  We wanted to start conversations and motivate people in our communities to do something different – because racism is literally and figuratively choking this country and it needs to stop."
She concluded, "I am thoroughly exhausted, it has been a whirlwind few days, but I am so proud of this community and so thankful to be a part of it."