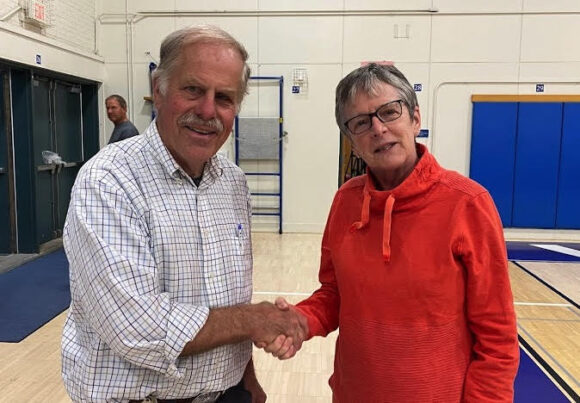 HARTFORD, CT / LYME / OLD LYME — UPDATED 11:10am with State Rep. Carney's comments: On Sept. 29, Connecticut Gov. Ned Lamont announced the latest round of Small Town Economic Assistance Program (STEAP) grants, which included separate $500,000 grants to the Towns of Lyme and Old Lyme respectively towards the expansion and renovation of the Lymes' Senior Center. The Center is a shared facility jointly funded by both towns.
Asked by LymeLine how she felt about the award, Jeri Baker of Old Lyme, who serves as Chairman of the Lymes' Senior Center Building Committee, responded via email saying, ""It is gratifying that the state recognizes and supports what we have known all along … our Senior Center is a gem. What the Center provides in services and friendship is important to both towns and to the surrounding region as well."
She continued, "I am extremely proud to be a member of the Center, of this community and of a very dedicated building committee that has worked tirelessly for the last four years to come this far."
Asked the same question by LymeLine, Old Lyme First Selectman Timothy Griswold (R) replied via text saying, "The award of two STEAP grants in the amount of $500,00 to the Towns of Lyme and Old Lyme is cause for celebration. Congratulations to Senior Center Building Committee Chair, Jeri Baker, for the super job she did in assembling the required data from both towns."
He added, "[Lyme] First Selectman David Lahm (R) and I thank Governor Lamont, [State] Senators Marx (D) and Needleman (D) and [State] Representative Carney (R) for their assistance, and for the staff at the Office of Policy and Management for their help and guidance."
Griswold noted, "These grants will certainly ease the financial burden of the project on the taxpayers of our towns. The approvals remind us that the State of CT approved two $500,000 STEAP grants for our towns several years ago when we built the Town Woods Park facility."
Finally, he stated emphatically, "We are very pleased that the State has such a high level of confidence in our Senior Center Expansion project and we aim to make them proud of our finished product."
Gov. Lamont announced a total of $24.5 million to 60 small towns throughout the state with the amounts for each town ranging from around $52,000 to $500,000.
He said, in the press release announcing the grants, "Our small towns are an integral part of what makes Connecticut such a special place to live and work," remarking, "By working with them on these grants, the state can help get these vital projects completed so these towns can continue to grow, thrive, and attract businesses, while improving the quality of life for our residents."
State Rep. Devin Carney (R), whose 23rd District includes both Lyme and Old Lyme, commented on the awards in an e-newsletter, saying, "The Lymes' Senior Center provides so much to Lyme and Old Lyme seniors including activities, healthcare programs, lunches, and many social offerings."
He continued, "I am thrilled that the state will be providing $1M to help subsidize some of the costs involved in renovating this community center. It will go a long way in expanding the senior center's ability to improve the quality of life for so many."
Commenting on the $2.444 million awarded to small towns in the 33rd Senate District that he represents, which includes the Town of Lyme, State Senator Norm Needleman (D) said in a press release, ""It's excellent news that our communities will receive this valuable support from the state, and I'm grateful to Governor Lamont for his support and foresight in aiding our region."
He concluded, "These projects will help … provide improvements to important town resources. I'm encouraged by these positive developments."