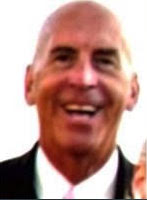 OLD LYME — Kenneth M. McKeever, 80, Marine, State Trooper, Attorney, died Oct. 16, 2023, at his home after a long illness. Ken was born in Brooklyn, New York, Feb. 25, 1943, the son of Henry J. McKeever and Serafina Spinelli. His mother died shortly after his birth while his father was in the Pacific during World War II. He was raised by various family members in New York City until his father remarried Mary Kelly, and the family relocated to Chicopee, Mass.
A 1960 graduate of Cathedral High School in Springfield, Mass., he followed his father's lead and enlisted in the Marine Corps at the age of 17. There, he served in the Honor Guard for President John F. Kennedy and served as personal orderly for Rear Admiral William B. Sieglaff, Commandant of the First Naval District. After more than five years of active duty, he was honorably discharged with the rank of Sergeant.
Ken's continued need to serve led him to the Connecticut State Police where, among his many assignments, he was the Resident State Trooper for the Town of East Lyme. During his time on the Force, he earned his Associate, Bachelor, and Juris Doctor, and was ultimately admitted to the Connecticut Bar in 1974. He practiced law in Niantic for 49 years, the last 20 with his son, Brendan, was the long-time Town Attorney for Lyme, and successfully argued before the Superior, Appellate, and Connecticut Supreme Courts.
He is survived by his wife Kathleen; children, Katherine, Kevin, and Brendan; daughter-in-law Jessica; grandchildren, William and Jameson; brothers and sisters: Richard, Stephen, MaryEllen and Eileen; many brothers-in-law and sisters-in-law; and his legal assistant of 38 years, Lori DeCosta.
A great joy of Ken's life was history. Every holiday, he would prepare historical quizzes for his family where a correct answer earned $5.00. He would spend considerable time at the Duck River Cemetery trying to piece together the lives of the fallen war heroes which led to a writing chronicling a Revolutionary War soldier. His other pastime was attendance at his children's and grandchildren's activities which included the theatre and many athletic contests. At his essence, he enjoyed time away in Key West, a good sandwich, a game on the television, reading by the pool, talk radio and a cold beer.
The family is forever grateful for all of the kind words, genuine encouragement and overall support. In lieu of flowers, please consider to simply "pay it forward" with an act of kindness towards someone in need.
Ken's never-say-die attitude, coupled with a remarkable bodily constitution, were legendary. During his life, he survived drowning; open heart surgery; congestive heart failure; bladder, skin, bone and prostate cancer; and multiple unexpected situations with his weapon drawn as a Trooper. Most amazing, he was struck by lightning in 1993, while attending a baseball game. As he would describe it, death stared him in the eyes every which way, and death always blinked. This time, however, his multitude of illnesses proved to be too much.
Old habits die hard, and Once A Marine-Always A Marine! Semper Fi.
To honor Ken's wishes no services will be held. Please visit www.fultontherouxoldlyme.com to leave a tribute for his family.