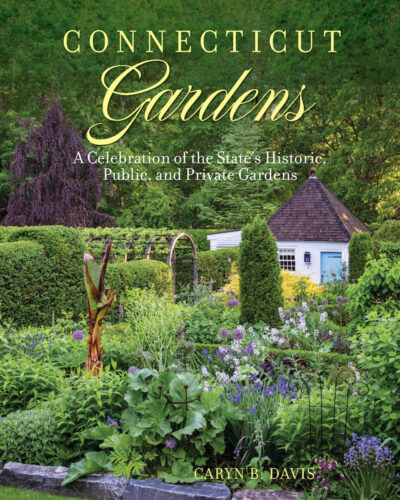 LYME, CT — Stunning photography by Lyme resident Caryn B. Davis highlights her latest book titled, Connecticut Gardens.
This beautiful book takes readers on a visual tour of some of the state's most impressive historic, public, and private gardens. The pure beauty of the gardens on view in the book spans the spectrum from simple cottage gardens through remarkable botanical achievements to imposing landscapes.
The book introduces readers to the gardens created by amateurs, professional designers, and notable luminaries such as Frederick Law Olmsted, Gertrude Jekyll, and Beatrix Farrand.
I wanted to find out more about the book but due to issues with schedules and locations, we were unable to find a time to meet. I therefore ended up sending her a number of questions via email to which she kindly responded.
I asked Davis first why she decided to write this book, to which she replied, "I love photographing gardens and am quite moved by their beauty but it's also what I do for a living along with photographing architecture and interior design."
That response explained the reason for the book but I still wondered what the original inspiration for the book was. What had sparked the seed of thought, which ultimately turned into the reality of the book?
Davis said, "The idea for this book came to me when I was photographing a private garden for a magazine. I thought it be great if others could see some of these private gardens."
She continued, "This is my third photography book, and as with all my books, I like them to be travel guides so anyone can pick up the book, turn to the index and visited the places in them. So that is how I decided to incorporate historic and public gardens as well. Although some of the private gardens in the book do have open days for public visits."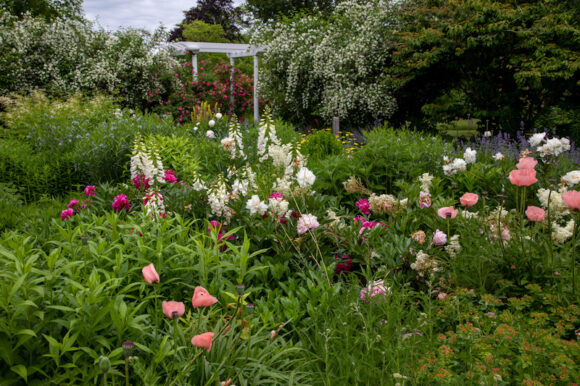 I was also intrigued as to how Davis went about preparing the contents of the book? I was especially curious over what length of time she took all the photos.
She noted, "I had one season in which to produce the book. I took some images in January, a few in April to catch the daffodils, but the bulk of the work was done last year in May and June and with a few shoots in late August and early September."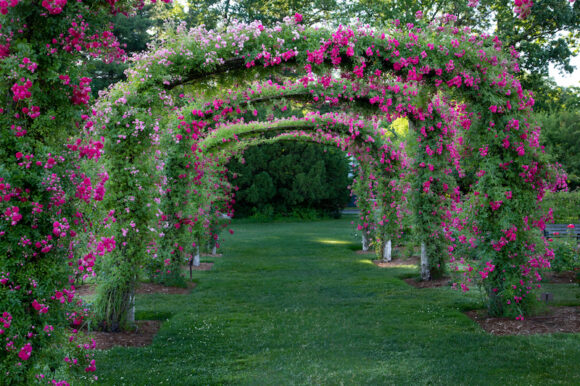 Did she take the photos first and then work on the text afterwards? It turned out the text was being written as she was working on the photography. Davis added, "Once I decided which gardens to include, I gave the list to the writer and he began the process of writing."
The question of which gardens to include in the book prompted a long answer from Davis. She carefully explained, "I did a lot of research to decide which gardens would be in the book. I looked at a lot of public parks, but made sure the park had a dedicated garden within its borders because it was a book about gardens and not about parks."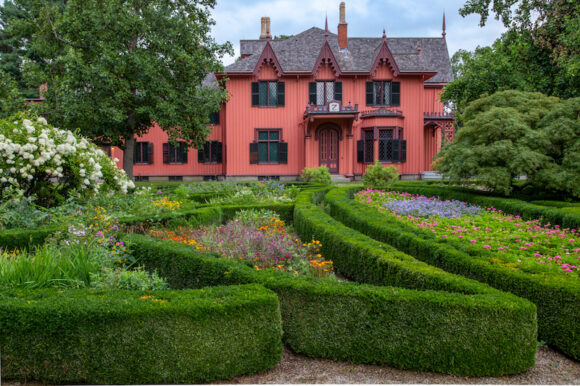 Davis continued, "I knew about the nonprofit organization Connecticut's Historic Gardens, from my first book, A Connecticut Christmas. They represent 15 historic gardens and houses, so I featured all of those. Then I solicited a lot of garden clubs, the Garden Conservancy, and looked at home and garden magazines to find private gardens, and also asked people I knew for recommendations."
It occurred to me that Davis must have viewed more gardens than she was able to include in the book. So how did she choose which gardens to exclude?
Her initial answer was a little surprising as she said, "Most every garden I chose except one was included in the book."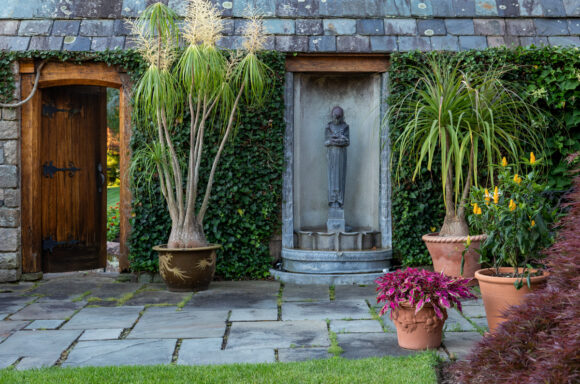 But then she elaborated saying, "I did scout two or three gardens that did not make the cut because they looked too similar to what I already had, or the story behind the garden wasn't that interesting, or the garden itself wasn't large enough or diverse enough to be visually intriguing."
I felt obliged to ask Davis which was her favorite garden out of all those featured in the book. This time the answer was not unexpected as she responded, "I can't say I have a favorite garden because I like them all for very different reasons."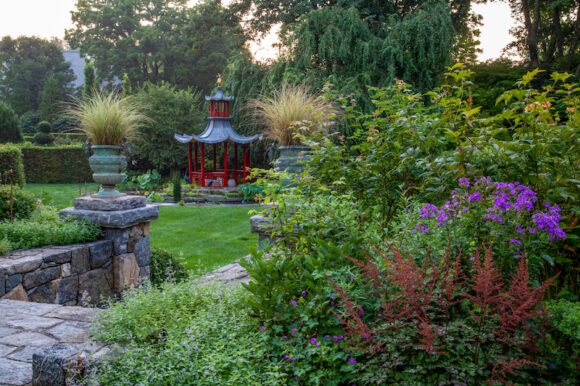 She did however share some further thoughts, "But some that stand out are Sleepy Cat Farm in Greenwich. It's a very grand garden and quite unusual for Connecticut. Wickham Park in Manchester was a complete surprise. They have 10 distinctive gardens in varying themes."
Davis pointed out that Hollister House Garden in Washington is a stunning re-creation of an English garden.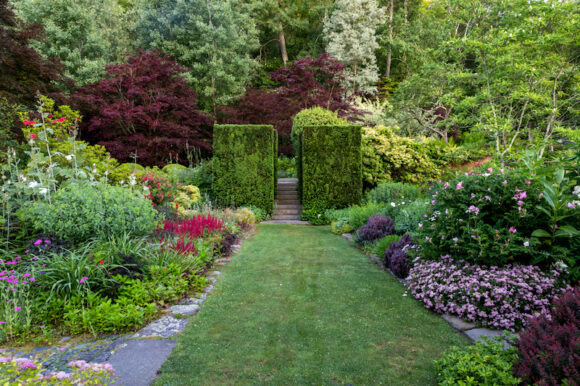 "And, of course," she added, "One of my very favorites in Lyme is a River Road Farm. That garden graces the cover of the book. It was owned by Bill Reynolds and Robb Nester. They not only created it from scratch but they also lovingly maintained it doing all the work themselves."
She noted enthusiastically, "I also have to say they had the best coffee and warmly greeted me with a much needed cup upon my many early 5:30am arrivals!"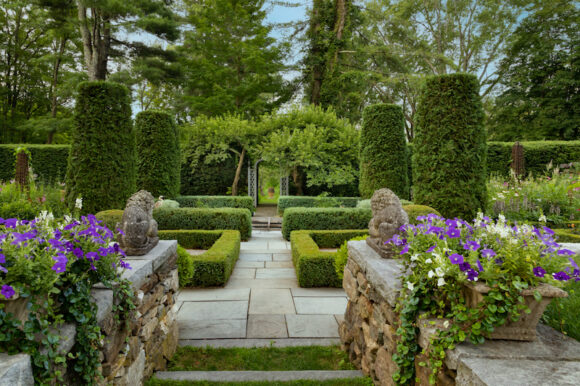 Since Davis is primarily a photographer, I asked if someone had assisted her with the text. And if that were the case — which it turned out it was — who then is considered the book's "official" author. Davis helpfully clarified that situation for me noting she is regarded as the book's author since she, "Conceived it, pitched it, and chose the content … along with a thousand other details that go into producing a 272-page-book."
But she noted it was written by Chris Lawrie of Bluebird Designs, who was someone she personally had recommended for the task. Davis said, "Chris is a landscape designer and a landscape consultant. I knew he was a thoughtful and intelligent writer, and that his insights would enhance the book and complement the images."
Since the book was a combination of photos and text, who decided what the text would cover? Davis explained, "We both decided early on that the book should tell the stories of the people behind the gardens rather than being a how-to book or a description of plants."
She went further, stating, "We also wanted to include an overview about the history, purpose and evolution of gardens in general, starting with their utilitarian roots, along with the importance of the public parks movement and how that came into being, and why we create gardens today."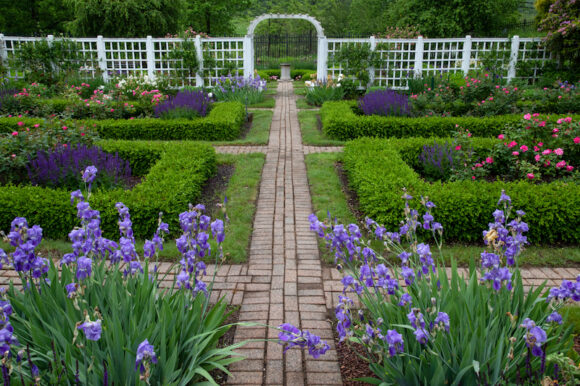 Naturally, I had to ask if she was already working on another book? She replied, "I do have some ideas I am currently shopping around," then was obliged to add tactfully, "But I am not at liberty to say."
I will end by thanking Caryn for taking the time to respond to my questions and allowing us to publish many of her wonderful photos from the book. Moreover, I will give the book two big thumbs up and a heartfelt recommendation to our readers to find an opportunity to look at — or even purchase — this very special book.
In conclusion, the photography is exceptional, the text engaging, and the book most definitely serves as a useful guide for discovering new gardens to explore. Enjoy!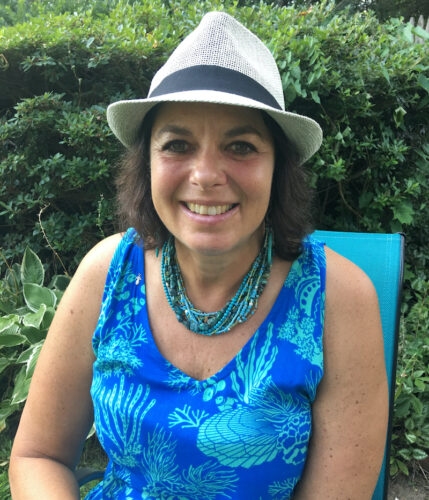 Editor's Notes: i) All the photos of gardens above are by Caryn B. Davis, pictured left, and published with her permission. They are also all published in her book, Connecticut Gardens.
ii) Caryn B. Davis is an award-winning photographer specializing in architecture, interiors, hospitality, landscape design, and travel photography. Her career has spanned the globe, taking her to more than 50 countries, and her images and articles and have appeared in over sixty publications worldwide including the New York Times, Lonely Planet, Condé Nast Traveler, Town & Country, Travel + Leisure, New Zealand Geographic, and other publications. She has two commissioned photography books, A Connecticut Christmas: Celebrating the Holiday in Classic New England Style and Connecticut Waters: Celebrating Our Coastline & Waterways. Connecticut Gardens is her third book. Visit her website at this link.
iii) The book, Connecticut Gardens. A Celebration of the State's Historic, Public, and Private Gardens is available for purchase in local and national bookstores and gift shops, and on Amazon.com and other online book retailers. Signed copies are also available directly from the author. (www.carynbdavis.com)