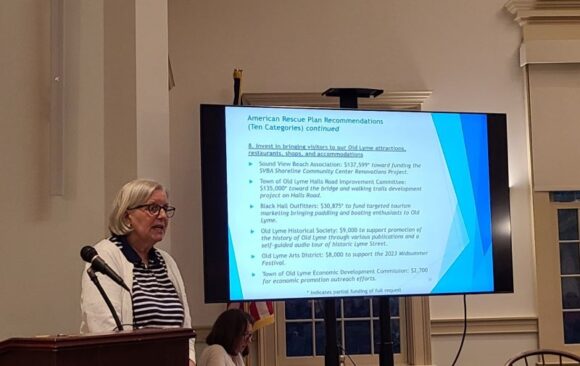 OLD LYME – At Tuesday evening's Special Town Meeting, Old Lyme taxpayers voted unanimously to approve a final disbursement of $2,120,593 in the federal American Rescue Plan Act (ARPA) funds. The payout includes over 60 individual disbursements addressing 10 key recommendations such as supporting the economic recovery of Old Lyme's small businesses and supporting public health services.
The vote came following the June 21, 2022 recommendations of the Town's Boards of Selectmen and Finance.
The Town previously approved $41,622 at the March 21, 2022 Special Town Meeting. The Town has now allocated its total ARPA funding from the Federal Government, as required within the stated deadline.
In September 2021, the Old Lyme Board of Selectmen appointed a committee of a dozen townspeople representing a cross-section of concerns including health and human services, emergency services, business, and tourism. The "ARP Committee" began its work a month later with one of its first tasks being to conduct a survey of residents and business leaders and develop two application processes.
Subsequently, following the submission of almost 80 economic recovery and community initiative grant applications, the ARP Committee created a set of recommendations for the board of selectmen that included distributing up to $10,000 in ARPA funds to 33 individual businesses and nonprofits for economic recovery, and more than 30 initiatives that would serve Old Lyme in its ability to move forward from the pandemic, while better preparing for the future.
Approved initiatives include $275,000 for a new ambulance for Old Lyme's volunteer ambulance organization, $114,160 toward four years of increased mental health services provided through Lymes' Youth Service Bureau, and $55,000 to repair the Swan Brook outlet's wood outfall, an issue that has caused flooding in the Miami Beach and Hawks Nest communities.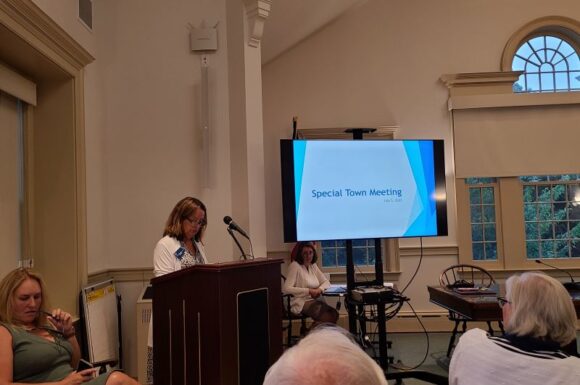 Some initiatives receiving funding will result in fun and innovative ways for organizations to provide services to Old Lyme residents. 
The Old Lyme-Phoebe Griffin Noyes Library will receive $6,350 to fund a mobile/outdoor children's library service with the purchase of a Library e-assist Book Bike. The Roger Tory Peterson Estuary Center, a center of the Connecticut Audubon Society, can expect to receive $157,095 toward its anticipated children's science discovery and environmental learning center.
Initiatives to address the local economy by bringing visitors back to Old Lyme include $137,599 toward renovations to the Sound View Community Center, $30,875 toward Black Hall Outfitter's targeted tourism marketing to watersport enthusiasts, $8,000 toward the 2023 Midsummer Festival, and $2,700 for additional outreach efforts by the Town's Economic Development Commission.
The full list of approved economic recovery grants and community initiatives can be found at this link.
Old Lyme First Selectman Timothy Griswold felt the grants addressed a broad set of ideas and needs. "The American Rescue Plan Committee took into account a broad range of needs and concerns and addressed them in a rational and unprejudiced way."
Griswold continued, "These recommendations not only bring funding to individual businesses and organizations that make up the fabric of our community, but also help the Town itself move forward from a time that challenged our ability to provide important public services." 
In addition to the recovery grants and initiative concepts submitted by Town organizations, the ARP Committee voted to recommend to the Town the allocation of $20,000 to the Town's Social Services Discretionary Fund to help residents during hardship. The Committee also recommended that any funds not expended by a grant recipient or the Town itself by the Federal deadline of December 2026 be redirected to the Discretionary Fund.
The set of recommendations voted on by the Town Tuesday evening also includes up to $20,000 in administrative, outreach, and legal costs associated with the ARPA funding and up to $20,000 in fees to a consultant hired by the Town to review and recommend the economic recovery grants following his appraisal of applicants' financial losses.
Thomas Gotowka, Old Lyme American Rescue Plan Committee Chairman, said the Committee met the charge put forward and could be proud of its work. "I am very pleased at how well we [the Committee] covered the community landscape. The list reflects Old Lyme's needs, as seen in responses to our survey; and an objective appraisal of each application or proposed initiative," Gotowka said.
He further noted that the Committee had in place several safeguards to avoid any conflict of interest and worked to meet "the requirements and mandates of the legislation."
About 60 Old Lyme residents were in attendance at the Special Town Meeting Tuesday evening. Following Selectwoman Martha Shoemaker's presentation of the ARP Committee's recommendations, those in attendance voted unanimously to approve the package.
Griswold noted that grants to businesses and organizations will be made once the Town receives its second and final ARPA installment, which is anticipated shortly. Letters to grant recipients will go out in the coming weeks.
Editor's Note: This article is based on a press release issued by the ARP Committee.