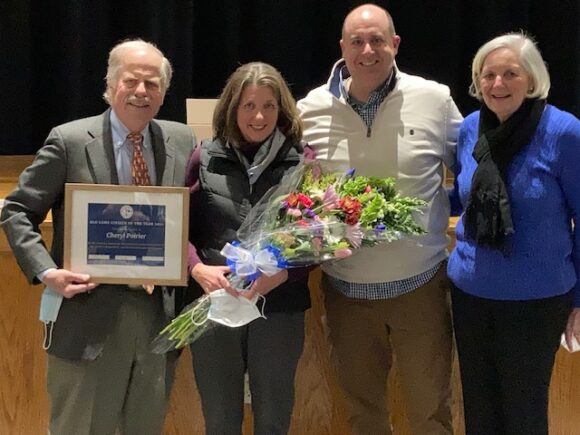 OLD LYME — UPDATED 1/26 — new photo added: At Monday evening's Annual Town Meeting, Old Lyme First Selectman Timothy Griswold announced the closely-guarded secret that Cheryl Poirier had been selected by the board of selectmen as the 2021 Old Lyme Citizen of the Year.
Here is the full text of the Proclamation, which Griswold read aloud to announce the honor:
"We are excited to announce that Old Lyme's Citizen of the Year for 2021 is the very talented Cheryl Poirier. Cheryl has provided extraordinary service to the Town of Old Lyme in a variety of capacities. She has touched the hearts of many, and that will be reflected in my remarks tonight.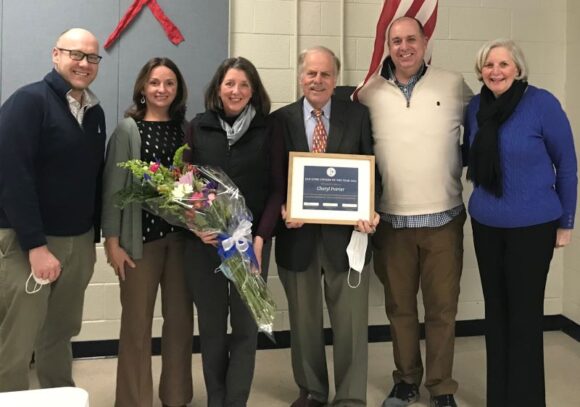 Cheryl is deeply committed to promoting the arts. She is the former Marketing Associate for the Florence Griswold Museum. The museum credits her for developing their "brand" and said that Cheryl is a natural storyteller who is gifted at distilling information into beautiful moments that capture the attention of their audiences. She made a particular impact on her former museum colleague Tammi Flynn. 
Tammi told us that Cheryl is a big thinker whose mind never stops. She sees everything as an opportunity to be explored. Specifically, Tammi said that Cheryl is always five steps ahead of everyone else and frequently "dings" her phone with text messages saying, "did you see this?" and "have you thought of this?" Tammi usually replies "no" followed by the eyeroll emoji because somehow Cheryl always finds information she hasn't seen yet. She says Cheryl is simply the best at bringing together both ideas and people.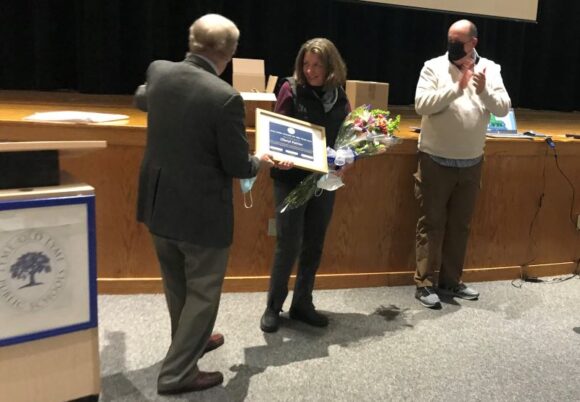 Cheryl is also active with the Old Lyme Arts District and regularly shares information about art happenings on social media. She has led the planning of Old Lyme's Midsummer Festival and participates in events such as Make Music Day and the Chamber's Light Up Old Lyme program. She also spearheads Fairy Doors on Lyme Street each Fall, so we have her to thank for the festive decorations found up and down the street.
Dan Stevens, owner of Nightingale's Acoustic Café and member of the Arts District, has worked directly with Cheryl on Make Music Day and had this to say about her: "I can think of few who have poured so much heart and soul into making our town a great place to live in a wonderfully selfless way. Her enthusiasm is contagious and her ability to motivate and lead is exceptional. She is a true joy to work with and a great asset to our town." 
Katie Huffman, Director of the Phoebe Griffin Noyes Library and current leader of the Arts District, echoes Dan's sentiments. She told us, "It's a rare person who has both exceptional ideas and the wherewithal and tenacity to realize them. Cheryl is one such person. She has amazing ideas, the confidence to share them with others, and the can-do attitude to see them through. In my experience, she leaves every project and organization better than she found it—more organized, efficient, communicative, and productive. She's more interested in seeing things accomplished than in earning accolades, yet she's willing and beyond capable to take the lead when needed.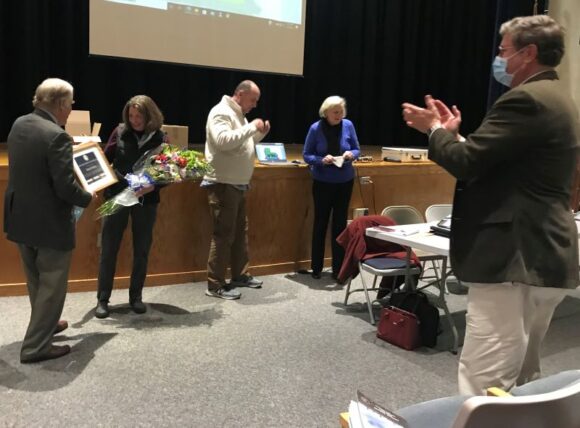 On a more personal level, Cheryl is kind and supportive. She notices when people are struggling and is ready to offer a supporting hand or word of encouragement when things get hard. She's always interested in learning more—about herself, about the community, and about the greater world—and she's willing to share her knowledge and experience with others to the benefit of many."
Beyond all she does to support the arts, Cheryl has been instrumental in several Town projects. She is the current Chair of the Old Lyme Sustainability Team and through her leadership, secured both the bronze and silver level certifications from Sustainable CT. Charolette Wyman, who works closely with Cheryl on our sustainability efforts, said that the first time Cheryl attended a Sustainable Old Lyme meeting she was very quiet, which is hard to imagine as she tends to have strong opinions and ideas. But very quickly the committee realized how sharp she is and were amazed at her ability to see the potential synergies among many of the organizations in town. Charolette told us that the smartest thing Sustainable Old Lyme did was making Cheryl their leader and we could not agree more. Now it's time for her to focus on getting us that gold certification!  
One of the projects that helped the Town achieve these certifications is the town-wide Pollinator Pathway project that encourages residents to plant native species.  Cheryl worked alongside Suzanne Thompson to make the project a smashing success. When asked about what it's like to work with Cheryl, Suzanne said, "When I'm collaborating with Cheryl on a project, I know it will be visionary, well thought-out and properly executed – and it will be an enjoyable experience working with her to make things happen."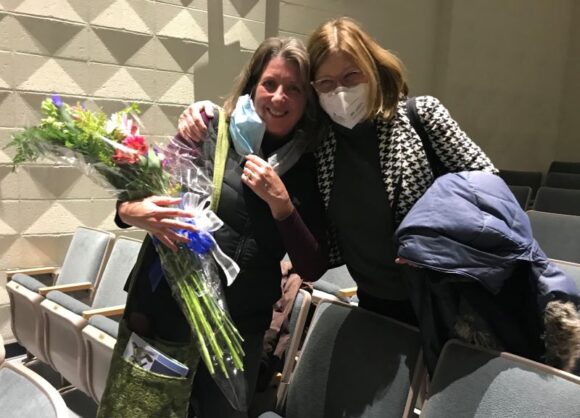 Because she doesn't have enough on her plate, Cheryl also agreed to Chair the Town's Economic Development Commission. In her relatively short time as Chair thus far, she worked closely with Edie Twinning to develop a brand-new website dedicated to promoting Old Lyme tourism. She collected anecdotes from small business owners, wrote copy, set up various pages, gathered photography, and worked diligently to put out an incredible product that is beautiful in design and rich in information. Michelle Noehren, of my office, works frequently with Cheryl and said she is one of the most committed, passionate, hardworking, and innovative commission chairs. Howard Margules, the former Chair of the EDC, agrees, stating that Cheryl is the epitome of a professional, is hardworking and results-driven, and always maintains an open mind. 
Highly organized, deeply motivated, compassionate, and an innovative visionary are all terms that accurately describe Cheryl and her leadership style. Everything I mentioned today she does in a volunteer capacity, so we have no idea how she also makes time to be the wonderful wife, parent, and friend that we know she is. The Town of Old Lyme is grateful for all that she does to support the arts, tourism, the environment, and the economic development of this town she cares so much about. Congratulations, Cheryl, for being selected as the Town of Old Lyme's 2021 Citizen of the Year."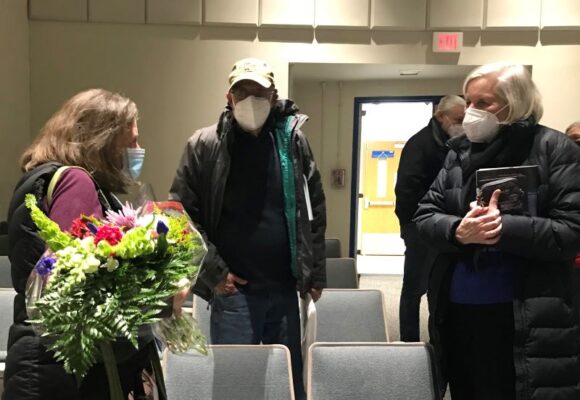 Griswold concluded, saying, "This is a much deserved honor," and we here at LymeLine heartily agree!
A somewhat overwhelmed Poirier, to whom the nomination was a complete surprise, told LymeLine exclusively by email, "It's an incredible honor to be named Old Lyme's Citizen of the Year. Volunteering in a community means always learning new perspectives, finding creative ways to collaborate, and of course, building new friendships along the way."
She added, "I feel very lucky to volunteer alongside the great people, who challenge me and are just as passionate as I am about supporting the amazing things going on in Old Lyme."
Congratulations, Cheryl!