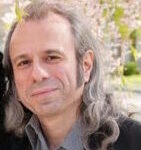 Editor's Note: This op-ed was submitted by Jim Lampos, who is the Democratic-endorsed candidate for Old Lyme Selectman and also for one of the two seats on the Old Lyme Planning Commission.
I am honored to be on the ballot for Old Lyme's Board of Selectmen this November 2nd.  The Board of Selectmen has been meeting since our town's founding over three hundred years ago, and our democratic institutions predate the founding of our nation by over a century.   Indeed, Old Lyme has one of the oldest continuous forms of democratic government in the world.  As a historian, when I read meeting records in our town hall archives I am struck by the degree to which decisions made long ago continue to resonate and influence our daily lives. From mundane tasks such as building roads and bridges to the pressing issues of the day, addressed in the Lyme Resolves of 1766 which outlined principles that still guide us, one thing is clear: Things we do and say in our civic life matter. And sometimes, it's the things we don't do or say that matter even more.  
Our times call for a broad perspective, and a willingness to listen, learn, and adapt.  As a small businessman who has successfully navigated the challenges of the Great Recession, the early days of the pandemic, and now the disruptions of the re-opening—I know that each day will present a new set of challenges that will call upon all of my skills and life experience. 
The education and training that has served me well as a businessman is even more applicable to the job of selectman. I received my B.A. in political sociology from Brandeis University, graduating Summa Cum Laude, Phi Beta Kappa. I was awarded a Kaplan Fellowship to attend the New School where I received my M.A. in policy analysis and was inducted into Pi Alpha Alpha, the national honor society for public affairs and administration. I worked on various urban renewal and planning projects in New York City, such as the successful redesign of Union Square Park, and served as Director of Development for Community Access, a nonprofit agency building housing for the homeless and mentally disabled. I am currently serving as an alternate on Old Lyme's Planning Commission, and along with running for selectman I am also running for a full term on the Planning Commission.
I was born and raised here in Southeastern Connecticut, and have been living in Old Lyme for over 40 years—first as a summer resident, and since 2005 as a full-time resident with my wife Michaelle and our children Phoebe and Van. We chose to live in Old Lyme for the same reason so many others do: the transcendent beauty of our natural environment, our excellent school system, great institutions such as the Florence Griswold Museum and cultural events such as the Musical Masterworks concerts, and most of all, the proud tradition of our civic life. I'm not embarrassed to say that I love our town, and I'm not speaking rhetorically when I say that I'm not running "against" anyone, but rather "for" Old Lyme. In that spirit, I am reaching out to all residents regardless of party affiliation and asking for your vote.  
In the coming years, we will be facing challenges that we've never faced before. The "disruptive" technologies that have upended so much of our economy and daily lives will soon be transforming real estate and development. Climate change will be placing much of our low-lying coast in peril and testing our infrastructure. These challenges will require creative, forward-thinking solutions, backed by the support of informed and unified residents if we are to maintain our treasured small-town ambience and sense of place. We must look to the future, respect the past, and work to preserve our natural environment and natural resources. We must support our arts community and all of our businesses, including the farms which were so invaluable to us during the pandemic. We must continue to invest in our schools and find ways to develop new housing opportunities in neighborhood-appropriate ways so that our young families can stay here and our older residents can retire here in comfort and security, and we must do all of these things while being mindful of social equity and justice, because that is who we are as a community. I believe that my running mate, first selectwoman candidate Martha Shoemaker, and myself, along with the entire Democratic ticket, are uniquely qualified to guide us through the coming decade and make our town an even greater place to live. 
I look forward to seeing everyone on the campaign trail, and to serving our town on the Board of Selectmen and Planning Commission.