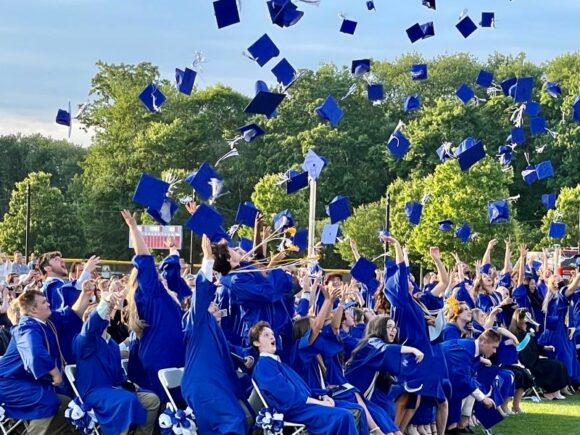 OLD LYME — 6/13 UPDATED 3:20pm: It was a perfect evening for the Commencement Ceremony of Lyme-Old Lyme High School's 115 members of the Class of 2021.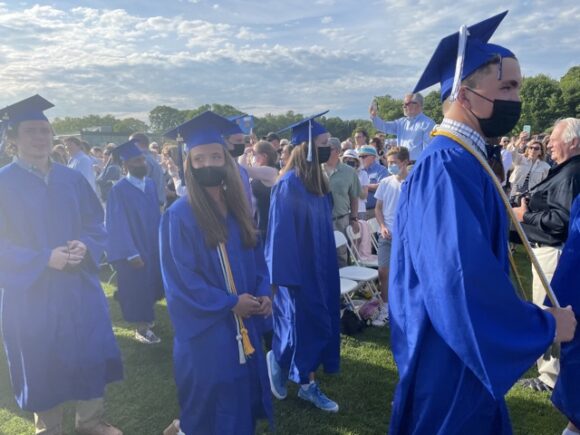 They marched in, mostly masked …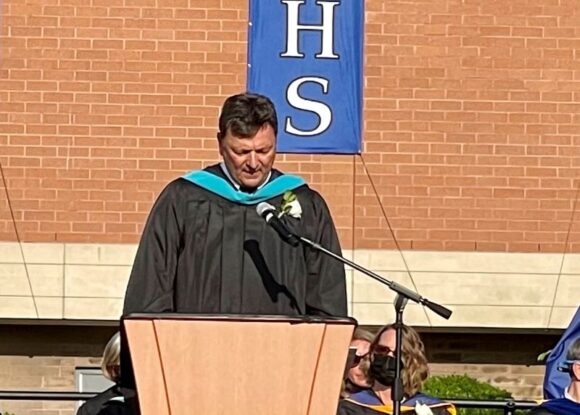 Lyme-Old Lyme High School Principal James Wygonik (pictured above) reminded the Class of 2021 of the saying on the coat-of-arms of the Benedictine Monks, who were founded in 529 AD, which says, "When you cut it down, it grows back stronger."
The theme of Valedictorian Connie Pan's speech was trees. Urging her classmates to, " Just imagine for a moment: we are all trees,'" she continued, "We are gathered here to celebrate our growth, as well as a future of branches arcing towards the sun.  We have been through storms, through uprootings of our friends and peers, and therefore, we all have some of the same roots."
She ended her speech on a profoundly positive note, saying, "This is the place from which we grow, stretching our limbs into the light of the world.  I couldn't ask for a better place for my roots to be."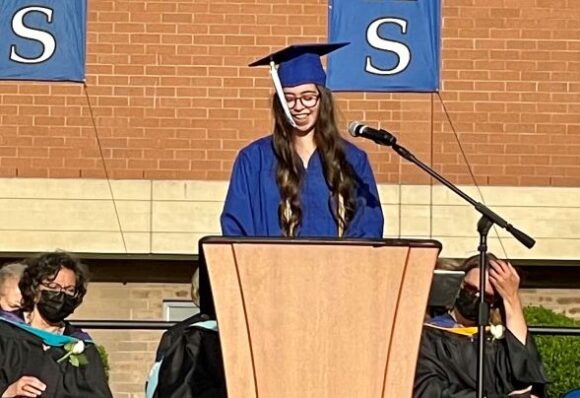 Salutatorian Megan Cravinho, pictured above, brought her childhood step-stool to the podium to ensure she could reach the microphone and then referenced it throughout her speech in relation to the growth — not necessarily physical — that the Class of 2021 had experienced in their four years of high school.
The crux of her message was, "Whatever your next steps are, and even if you need a step-stool along the way, the room for growth is boundless. Keep expanding and improving, taking chances, finding new opportunities."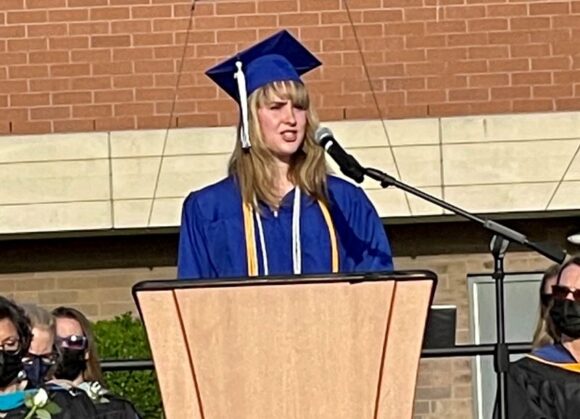 Honor Essayist Riley Nelson is pictured above. The theme of her speech was the importance of walking and she reminded her fellow members of the Class of 2021, "Sometimes it will feel like you're walking too slowly but that is allowed. There will be times when you have to force yourself to slow down before you burn yourself out … there's no race to the end, even if it seems like that sometimes."
She concluded, "We're allowed to take our time, to not know the direction, to go at our own speed, and bring friends along on the journey. We're allowed our own pace. A walking pace."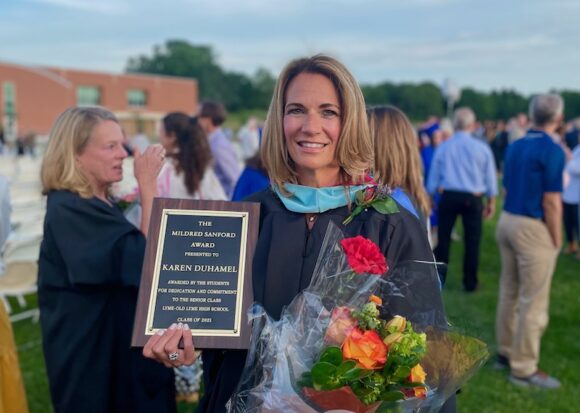 The Mildred Sanford Outstanding Educator Award, the recipient of which is selected by the senior class, was longtime English teacher Karen Duhamel, pictured above.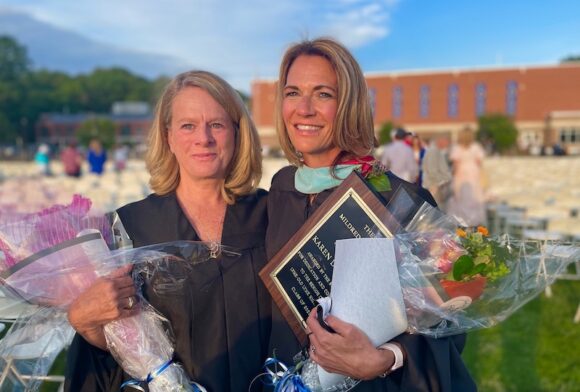 Another English teacher, Jill Ressler, was presented with a bouquet by Principal Wygonik in recognition of her retirement after 15 years tenure at the high school. She stands in the photo above at left with her colleague — and Mildred Sanford Award recipient — Karen Duhamel.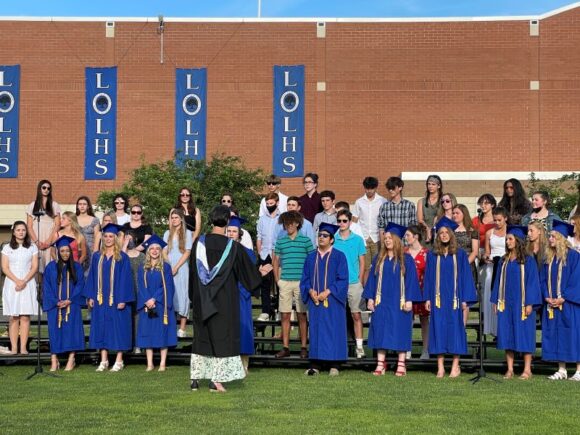 The choir sang …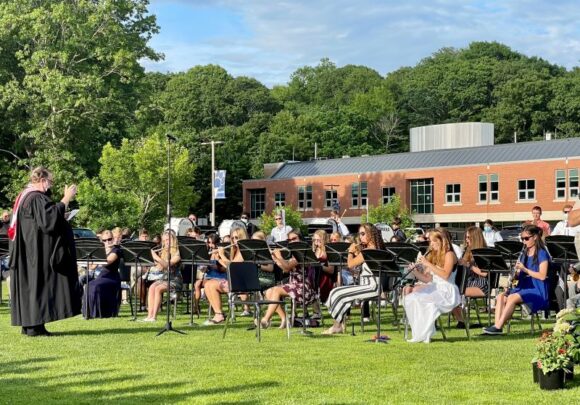 The band played …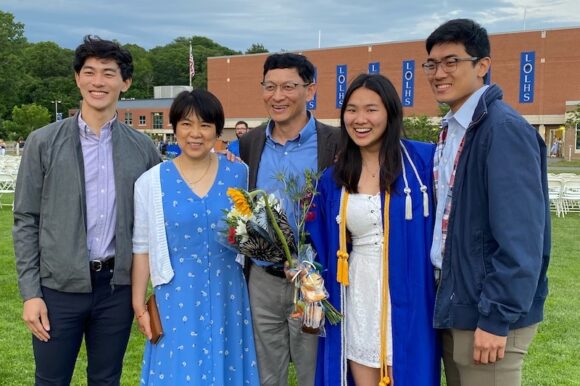 And there were smiles here, for valedictorian Connie Pan and her family  …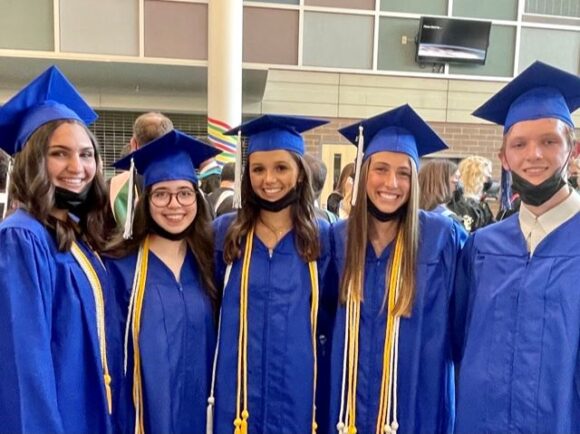 … there, for this wonderful group of lady graduates …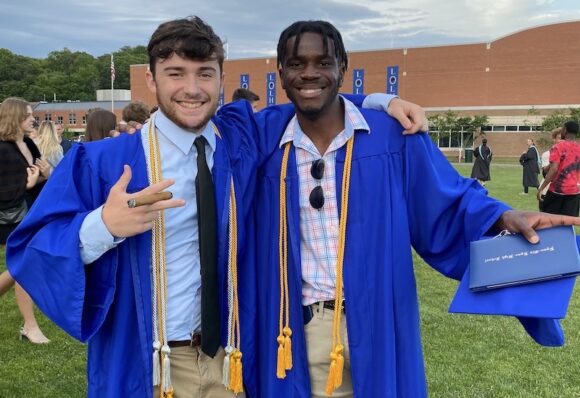 and everywhere … especially for these two fine young men, Jake Quaratella and Gabe Lavoie!
Here are the speeches from the evening:
Lyme-Old Lyme High School Principal
James Wygonik
To our Board of Education, Superintendent Neviaser, administrative team, the best teachers in America, families, alumni, community members, and of course the class of 2021, it is my honor to welcome you to the 48th Lyme-Old Lyme High School graduation exercises.     
To the parents and families of our graduates.  I am confident that I speak for the administrative team and our faculty when I say that you have been great partners in this journey. Thank you for trusting us with your children.  May I remind the graduates that your families are your biggest fans.  They will be there for you.  And believe me, you will need them.  Never take for granted their love and support.  You will be astonished how smart your parents will become in the next few years.  Don't be afraid or too proud to lean on them. I am going to pause my remarks, so each of you to take the next ten seconds to think of the people who have helped you become who you are.
I do fear that I am currently dreaming and when I wake up all of you will be on my computer screen.  For now, we will work under the presumption that I am awake.  So let's continue.
On the coat-of-arms of the Benedictine Monks founded in 529 AD is the Latin phrase su-keesa where-esket.  It translates into "when you cut it down, it grows back stronger."  For the past year, this pandemic did its very best to" cut-down" if you will, your senior year.  The disruptions, restrictions, and distractions were too numerous to count.  To many, just getting through the year would be monumental.  But the class of 2021 raised the bar at a school with already high standards.
I first noticed something special back in the Fall.  
The math team, despite having to conduct their matches via Zoom won the Middlesex County title and finished as one of the top ten schools in the state.  Our artists dominated the Shoreline Art show.  No traditional Robotics season.  No problem.  Let's just build a satellite.  While most other schools were cancelling concerts and musicals, we moved the music outside under the stars and produced a first-class movie.  COVID shut down spring sports last year.  Fast-forward to this year. Despite having only one player with varsity experience, our girl's tennis team went undefeated to win the state championship.  Heck, they may never lose again.  Something as simple as our day to day operations ran smoothly because of you.  You did what leaders do.  You led by example.  As a class, you never settled.  You never made excuses.  You just flourished.  Everything this year was harder.  But you kept getting better.   There is a saying that the same boiling water that softens the potato, also hardens the egg.  It's what you are made of, not the circumstances.  Class of 2021, you are an inspiring basket of eggs. 
47 classes have walked across this stage before you.  Each with many talents and gifts.  But you will leave here with a distinctive quality that no other class as a whole can claim.  Resiliency.  And that quality will serve you for the rest of your life.  Nobody goes through life undefeated.  But watching you this past year… how you dealt with disappointment, restrictions, and limitations has convinced me that whatever curveballs life throws, you will not just survive.  You will thrive. My money is on you. 
In closing I am not going to wish you a life of success.  Success is what others think of you. Success is adding value to yourself. Instead I wish you a life of significance.  I believe significance comes when you add value to others—and you can't have true success without significance.  Your contributions and leadership during this pandemic have added value to our school and our community.  Carry that mindset with you as you begin the next phase of your life's journey.
Su-keesa where-esket.  "When you cut it down, it grows back stronger."
Class of 2021.  Thank you.  You led us.  You made us better.  Remember that you are Wildcats for life.  I wish you all the best.
Valedictorian
Connie Pan
If you were a tree, what kind of tree would you be?  I'll give you a second to think about it.  
Maybe some of you thought about sturdy sycamores, or delicate willows, or cartoon Truffula trees from the Lorax animated film, circa 2012.  Personally, that was my choice.  Maybe you didn't think of any particular species, but said, a big tree. A strong tree.  A pretty tree.  Whatever tree you thought of, hold onto that thought for a little.  
Trees are some of the most fascinating organisms on this planet.  They take months, years, decades to stretch their branches up to the sky and dig their roots into the ground below.  Roots hold the soil in place, help the tree acquire nutrients, and provide habitat for other creatures.  They're wonderful – and have you ever seen a tree growing on top of what looks like bare rock, too stubborn to starve or fall over?  Have you ever seen a sidewalk cracked and broken because some obstinate tree's roots destroyed the pavement in a quest for life?  Roots cling, they nourish, they have power.  
Just imagine for a moment: we are all trees.  We are gathered here to celebrate our growth, as well as a future of branches arcing towards the sun.  We have been through storms, through uprootings of our friends and peers, and therefore, we all have some of the same roots.
I've spent my whole life in Old Lyme.  I've grown up with some of you, our trunks nearly intertwined with how close we've been throughout the years – I don't have many memories of childhood without you in them.  Some of you I met a little later, but my roots are tangled with yours anyway.  I know that each tree in this forest will have stories in its rings, because our class is complex, layered, and magical.  Every time I talk to anyone in our grade, I learn something new, both about them and about myself.  I'm so grateful for all of you. 
Of course, trees can't grow to their fullest potential without a little help.  So I want you all to think about the people who have supported you, and I'll be selfish for a little bit and take the time to thank the people who supported me.  
To my wonderful teachers, no matter how large or small of an impact you think you've had on me, thank you.  The teachers in this school have been like the rain for this tree, like gentle showers of wisdom, support, and guidance. Whether you've helped me write my poetry (Mrs. Cleveland, Ressler, Duhamel, and Burke), supported my independent projects for charities (Madame), or simply asked me how I was in the hallway each day (DH), I have a lot of love in my heart for you.  Mr. Allik, you get a special little shoutout, as the person who put up with endless tantrums and tears, who has worn me down so much that I'm finally following my passion in college.
I have to thank my friends and peers as well. You've been like the sun to this tree, helping my leaves turn green and unfurl.  As I look at all of you, I'm so lucky.  I get to make jokes with you, listen to you read your poems out loud, eat lunch with you, go to the gym with you, cheer you on at sports games, watch you go ham at spirit week challenges every year (George Danes, you know who you are), go on endless goodwill trips with you, do crosswords with you when we should be listening in class, or even just pass by you in the hallway.  You guys shine so bright – it's wonderful and terrifying and I love you all.
And I need to say one last thank you.  To my family, you are the soil I'm rooted in.  You are the people who have supported me unconditionally, who wipe my tears when I cry, who teach me about life and love through everything you do.  In particular, I need to give a special shoutout to the strongest person I know, the one who has dedicated her whole life to making mine better.  Mom, you have taken me to thirteen-hour swim meets, let me scream when I'm angry, held me as I sobbed.  People think I'm successful? I would be nothing without you cheering me on, reminding me of appointments I have to go to, and last but not least, waking me up in the mornings so I'm only tardy instead of absent.  I couldn't be here at all without you, both literally and figuratively.  So, to my wonderful family, I love you more than I can say in words.
Just as we have grown through our four years here, our class has helped the school grow too.  We have won championships, performed in shows, made new clubs, served our peers and community – you name it, we've done it.  I could not be prouder of the things my peers achieve, or of the dreams I know each one of us carries forward.  
The class of 2021 is passing down the torch – we are leaving behind our sports uniforms, our textbooks, our seats at lunch, and our mission to make this school and these towns a better place to learn and grow.  I know that we will thrive after getting these diplomas, just as I know this school will thrive beyond our time here.
This, friends, is the place that we are from.  This is the place from which we grow, stretching our limbs into the light of the world.  I couldn't ask for a better place for my roots to be.
Salutatorian
Megan Cravinho
How have we grown? 
I keep asking myself this question, pondering whether I've grown at all. Like in many families, mine carries the tradition to measure the kids and cousins' height on the pantry door. Mine is all marked up with pencil lines, names, and dates. Even some friends joined in throughout the years. Just a couple weeks ago, I opened up the pantry door full of marks, and measured myself once again. (pause) Turns out, I haven't budged a quarter inch since 2018, our freshman year. I brought my childhood step-stool today just to make sure I could reach the mic. And yes, I still use it to reach the higher shelves in the pantry too. 
On the other hand, all of us still have a-ways to grow, but growth isn't always physical. Our class, in hindsight, has made tremendous strides over the past four years. We have progressed past our freshman pranks and thanks to our government-mandated education (pause), we've been provided space to develop into the unique individuals we are and will continue to become. Each of our niches at Lyme-Old Lyme High School, Wind Ensemble for me, maybe environmental or ping pong club for you, has contributed to our quote on quote high school experience, shaped our vision for the future, and impacted our passions, interests, and purposes. 
I hope we can all agree that when we are going through life, it's hard to see how much we change over time.  Growth isn't always noticeable. In Tait's case, I am not so sure. He shot up to a tall 6'3''. 
However, I have seen you adapt and thrive for every curveball thrown, bump in the road, or obstacle, you know, like a global pandemic. We have picked up new skills. Yes, different ones than how to use noodletools or create MLA citations. Among the new skills, learning to play with instrument bags and masks on! It really isn't as easy as we make it look. These challenges have pushed us to move on and up. 
What initiates growth and progress?
Taking advantage of the challenges life brings and capturing new opportunities has proven successful. Our time used in a constructive way has allowed us to grow into ourselves. Through our senior projects, which varied from writing a fantasy novel to building a meat smoker to starting a sustainable clothing shop, our creative freedom flourished in the project's limited direction. 
Keys to adulthood and moving onward are rooted in our already solid foundation.
Whatever your next steps are, and even if you need a step-stool along the way, the room for growth is boundless. Keep expanding and improving, taking chances, finding new opportunities. Don't dwell on past accomplishments and the glory days of high school. Seek out new challenges and keep reaching for the highest shelf, even if you need a step- stool to help get you there. Our families, friends, and teachers have been that step-stool and supported us through the high school journey – we all needed it when we got here, but hopefully now we can all reach the top shelf on our own.
Congratulations Class of 2021 on your momentous achievements and in advance, congratulations on your future growth.
Honor Essayist
Riley Nelson
I want to start by saying a few thank you's. Thank you to all the teachers, faculty, and staff, for all the support you have given us over the past four years and especially for enabling us to have a senior year that was as close to normal as possible. Thank you to friends and family for being there for us, especially the parents in the audience. And thank you to my fellow members of the class of 2021. Congratulations to us. We've made it. And what a journey it's been. 
When I began thinking about what I wanted to say today, I'll be honest, I wasn't sure how to put it into words. We've definitely been through a lot these past four years. How was I supposed to fit all the feelings, memories, and emotions into one compact lesson that I could send you all off with? It was a struggle. I likely still would have been stuck without an idea if my mom hadn't worked through things with me. (Thanks, mom). We were sitting in her car when she reminded me of the memory.
When quarantine first began, I'm sure like the rest of you, I struggled with the sudden loss of all the normal activities of high school life. The boredom was overwhelming. But then I received a text from a friend. "Wanna go for a walk?" It was something simple, and I was allowed to do it because we were outside. My friend and I could walk for hours, sometimes talking about nothing or everything, it didn't matter. Sometimes we picked a direction, sometimes we just wandered, doing multiple laps around that neighborhood and still not wanting to go home. It was during those times that I learned the importance of walking. 
This is likely the point where you're thinking "walking? There's nothing special about walking. It's just the easiest way to get from one place to the next," but I would beg to differ. There are so many things that walking can teach us. I do agree that walking is simple but I also think that is the beauty of it. We don't have to worry about how we're doing it or how we look to other people, we can just be. Another thing to be learned from walking is that we don't always have to know the direction. We can wander and take time for ourselves and trust that our feet will be able to get us to where we need to be.
The important thing to remember is that we are allowed to be lost. We do not have to know what comes next, or how we are supposed to get there. Sometimes our paths will be confusing. You'll end up standing at a crossroads with four different directions to pick from and you'll have no idea which is the one that is supposed to lead you "home" wherever that may be. You are allowed to take that moment, to slow yourself down and just be lost. Where we are right now is one of those crossroads. I will be the first to admit that I feel lost. We are leaving our familiar path and venturing on to find new ones. It is a terrifying feeling but I know that it is not a forever feeling. So I will allow myself this moment to breathe. And then I will walk across this stage and begin walking again. 
The people we walk with may be just as important as "the walking" itself. Some people stay for long periods of time while others are gone in no time at all. People cross our paths, or stumble onto them, or sometimes block them entirely. We must learn to deal with these things and accept that they are part of the walking experience. Sometimes we even get pulled onto other people's paths. I likely would have stayed home for a while longer if that friend had not reached out first. My life would have been wholly different if she had not sent that text in the first place. You have the power to change other people's paths like she changed mine. You have the power to pull people onto your path or let your paths diverge. It is entirely up to you. 
Sometimes it will feel like you're walking too slowly but that is allowed. There will be times when you have to force yourself to slow down before you burn yourself out. You don't have to run, to be the first to everything all the time. Remember that we are allowed to take things at a walk instead of a full out sprint.  
Remember there's no race to the end, even if it seems like that sometimes. We're allowed to take our time, to not know the direction, to go at our own speed, and bring friends along on the journey. We're allowed our own pace. 
A walking pace.
Class President
Lucas Wood-Muller
Fellow students, teachers, staff, and family, thank you for being here to celebrate the class of 2021's graduation. Now, you're probably wondering who this handsome, charming, and amazingly awesome kid is speaking, and my name is Lucas. I am honored to have the privilege and opportunity to speak before you today.
Where do I even begin? Should I start with the hellos, the goodbyes, the thank you's? I honestly don't know.
To all the teachers who have had me in their classes , first of all, I'm sorry, but thank you for all that you have done for us. Thank you for devoting your professional career to making ours. To the custodians who kept our school clean, especially this past year, thank you. To all the groundskeepers and maintenance workers who make sure we have a beautiful school to come into every day, thank you. To the security guards, who make sure we have a safe school to come into, we thank you. To all the people who made sure we had the best school experience by devoting their time for us, we thank you.
In my four years at Lyme-Old Lyme High School, I have always wanted to say thank you to this one person, but I never knew how to approach them. This teacher has, by far, made my high school experience, and gave me a reason to show up to school every day. This teacher goes out of his way to help each and every student and seems like he would give the shirt off his own back. They say you can tell when someone is meant to have the job they do, and this is one of those people. I took away much more than the subject this teacher taught us. I learned respect, dignity, quality,  humbleness, and selflessness. I don't think I would be the same without you. You made every part of my day, so a very special thank you to Mr. Goss thank you for all you do.
And I can't forget to give a special shout out to Mr. Rayder, we love you. I would also like to have a big thank you and shout out to our other class officers, Emma Boardmen, Megan Cravino, Schulyer Greenho, and Franki Donato. 
To my fellow graduates, we made it. It has been a long journey no doubt, but we are still standing here today. I remember seeing some of your faces on the first day of preschool at Grasshoper Green. We have been a part of each other's lives on a daily basis. We grew up together, and we've  shared some incredible memories together. I can still think back to our first day of kindergarten, our first talent show at Lyme school, the first field day, that first girlfriend,  and all the love and joy of  being young, innocent kids, and it feels like it was yesterday.
But now, we are in the spot we always wished to be as kids, and it kind of sucks. I know I'm feeling the senioritis, it's crippling. But that's just the message I want to share with you all. Think back on how fast these past few years have gone. I know I would give anything to go back and restart. Think about what it's going to be like in 10 years, or even 30 years.
Cherish the time you have now and appreciate today. Love the people around you. Tomorrow is never promised, so live like it is ending. Be loyal to those who are loyal to you, or should I say, "to thine self be true." Focus on yourself, and be proud of the person you are.
The key to happiness isn't the number in your bank account either, it's about how much of an impact you make on everyone around you every single day. You can't measure what's inside a good person's heart. A simple smile can make someone's day.
So to conclude, to all of my classmates, my friends and family. I love you all, and I wouldn't be where I am today without all of you. I wish all of you the best success, and a happy life. Goodbye and good luck, woody out.
CLASS OFFICERS
Lucas Wood-Muller, President
Emma Boardman, Vice President
Schuyler Greenho, Secretary
Connie Pan, Treasurer
Francette Donato, Class Historian
CANDIDATES FOR DIPLOMAS
Paige Marie Alpha 
Colbe Kent Andrews
Benton Mehadin Arafeh-Hudson
Kaylee Ann Armenia 
Sophia Lane Arnold 
Juliette Frances Atkinson 
Sonia Swan Bair 
Rachel Katherine Barretta
Olivia Louise Bartlett 
Michael Dominic Battalino
Maxwell Otto Bauchmann 
Jason Richard Beebe
Ava Campbell Berry
Emma Ann Boardman 
Truman Arthur Boller
Sadie Helen Bowman 
Kyuss Buono 
Keenan Lawrence Burr
Erika Yanira Carcamo Martinez 
Kate Margaret Cheney 
Chloe Mae Cleveland
Hunter Collins 
Emerson Mylon Colwell III 
Jackson Martin Cowell
John Berry Cox 
Megan Dorothy Cravinho 
Axel Damian Cruz
Michael Patrick Cushman
Patrick Nuhad Dagher
Richard Joseph Damiano III
George Stratton Danes 
Bianca Serapilia Dasilva 
Trube Anthony Dean
Nicholas Anthony DellaGrotte
Emily Jane DeRoehn 
Maxwell Carson Diebolt
Francette Mae Donato 
Corah Serene Engdall 
Leslie Dorothy Farrell
Isabella Mary Flagge
Sadie Caffry Frankel
Fiona Mary Frederiks 
Riley Madison Hope Fruth
Eveliz Adelaide Fuentes
Jackson Richard Goulding 
Ashton Jahieem Eric Gratton
Tyler Adam Gratton
Samantha Kelly Gray
Schuyler Bates Greenho 
Lillian Ellette Zager Dolan Grethel 
Emma Rose Griffith 
Thomas Ian Haley
Isabella Faith Hine
Aryn Teresa Jones
Regan Joshua Kaye 
Corey Aidan Klimaszewski
Lily Olivia Knight
Samuel Nelson Koenigs
Paige Elizabeth Kolesnik 
Destiny Rose Kus
Avery Rae Lacourciere 
Grace Ann Lathrop 
Gabriel Llunga Lavoie 
Justen Helene Lessard
Peter Joseph Lodi
Owen Russell Macadam 
Mackenzie Rose Machnik 
Luke Doheny Macy 
Madelyn Michele Maskell 
Elle Addison McAraw 
Emma Kay McCulloch 
Brendan James McTigue 
Emma Meekhoff 
Brianna Frances Melillo 
Marina May Melluzzo 
Michael Joseph Milazzo 
Riley Elizabeth Nelson 
Timothy Shane O'Brien 
Sophia Grace Ortoleva 
Connie Wendy Pan 
Olivia Day Papanier 
Nicholas Pasquale Parrillo
Anwyn Mae Paynter 
Lauren Adam Pitt 
Gavin Lawrence Porter 
Aidan Nelson Powers 
Ezra Nelson Pyle 
Jacob Leary Quaratella 
Jeremy Nelson Rand
Ethan Rivera
Anthony Jonathan Rosario
Julie Lynn Rudd 
John Turner Ruhling
Sean Thomas Sagristano
Hayden Brooks-McCall Saunders 
Tait Alexander Sawden 
Jesper Fredrik Silberberg 
Isabella Catherine Oulahan Smith 
Tessa Leighann St. Germain 
Kassidy Elizabeth Standish
Jake Talin Stewart 
Lian Elise Thompson 
McKenzey Pepper Thompson
Angus James Graeme Tresnan 
Nicholas Andrew Vandette
Katrina Marie Wallace 
Lauren Elizabeth Wallace 
Kelly Marie Walsh 
Alison Grace Ward 
Avery Thomas Welch 
Alden Bryce Wilson
Lucas Reed Wood-Muller
Joshua Matthew Yumbla
Katelyn Paige Zbierski
Ellery Hope Zrenda