OLD LYME — The Phoebe Griffin Noyes (PGN) Library in Old Lyme celebrated its 122nd birthday yesterday by serving 122 ice creams — well, actually it was around 200!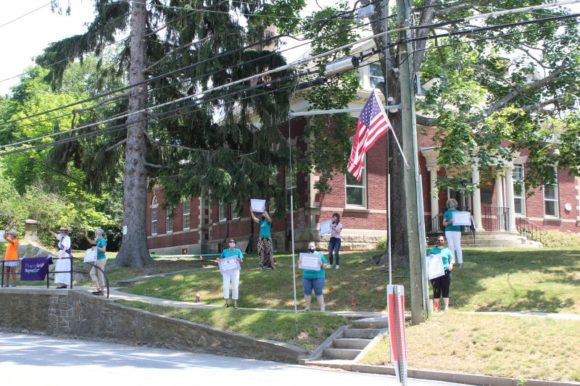 Smiling library staff and volunteers were out in force on the grounds of the PGN Library fronting onto Lyme St. waving signs …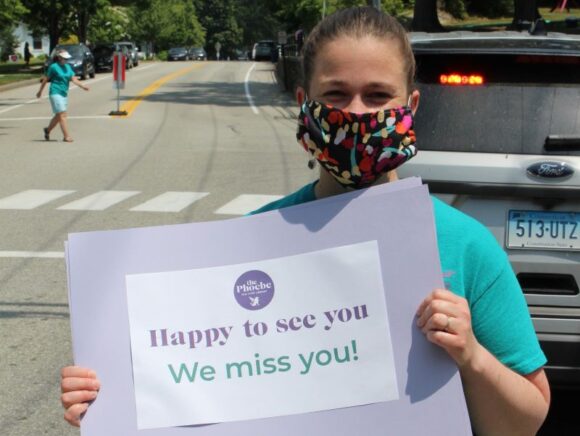 … saying how pleased they were to see community members again and encouraging those who were driving or walking by to stop and accept a brown bag, which contained …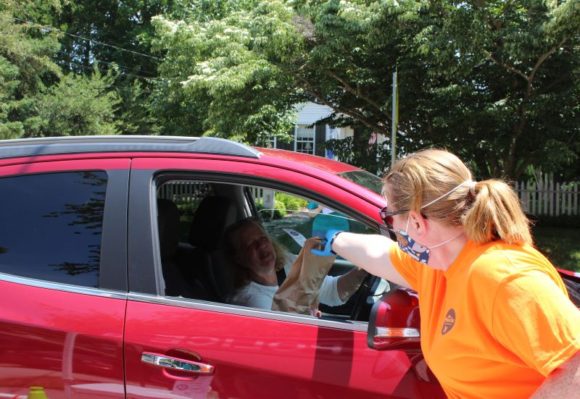 … an ice cream and a book mark about this year's Read. Explore. Learn! summer program.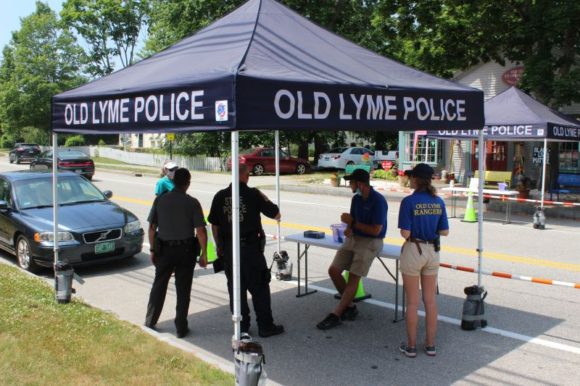 Ably supported by the Old Lyme Police Department, people of all ages cheerfully accepted brown bags from staff.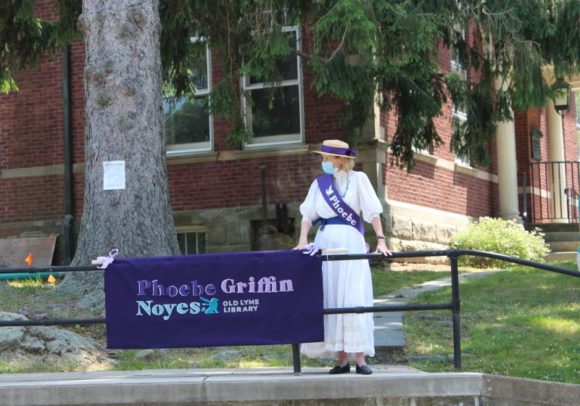 Phoebe herself, aka Mary Dangremond, stopped by to take in the festivities. Dangremond has been portraying Phoebe for many years at numerous events.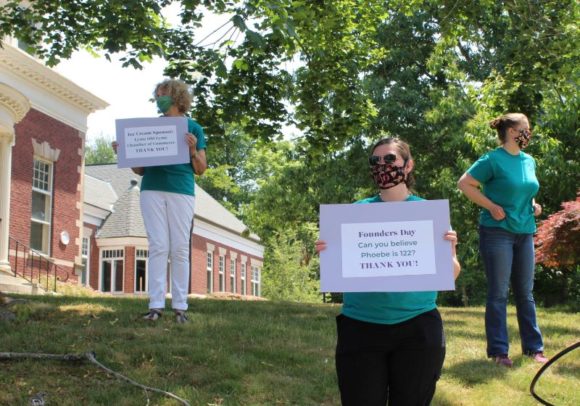 Established as a free public library in 1897 and dedicated in 1898, the building construction was funded by the generous gift of Charles H. Ludington in honor of his mother-in-law, Phoebe Griffin Noyes.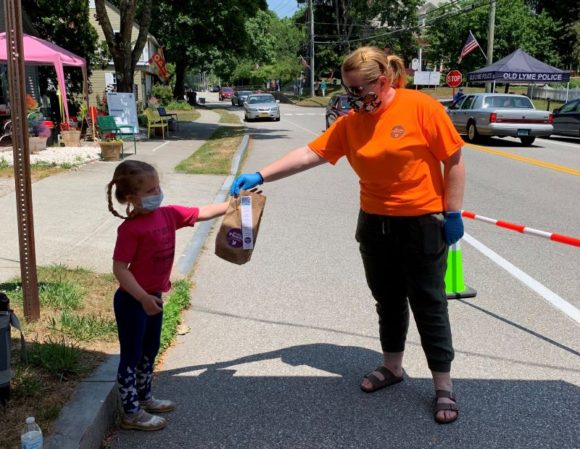 In the photo above, Eleanor Hufford carefully hands a bag to Library Director's daughter Maggie Huffman.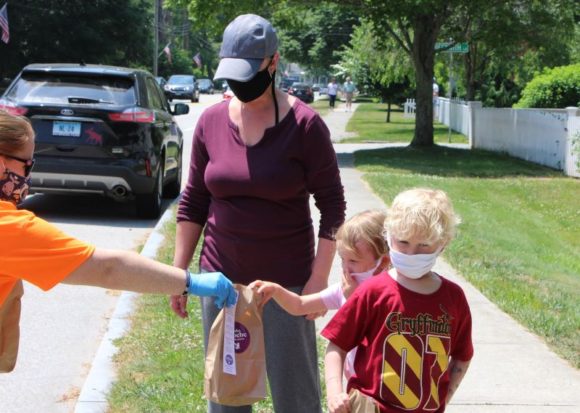 Asked how she felt the event had gone, Library Director Katie Huffman replied enthusiastically, "It was such a heartwarming day! …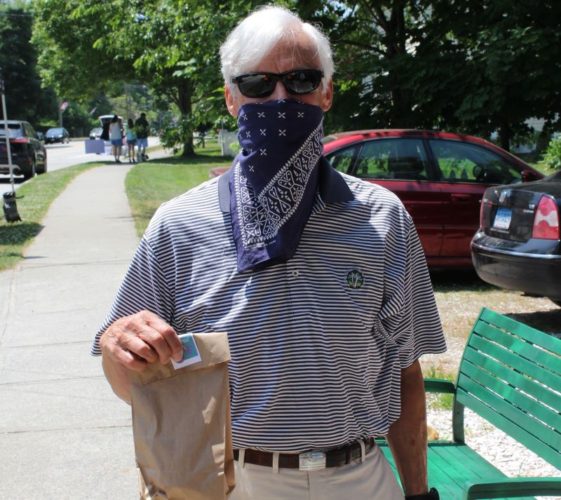 … We were so pleased to share a bit of fun with the community and to say thanks for their support. And of course, it was fabulous to see some of our patrons after all these months of isolation!"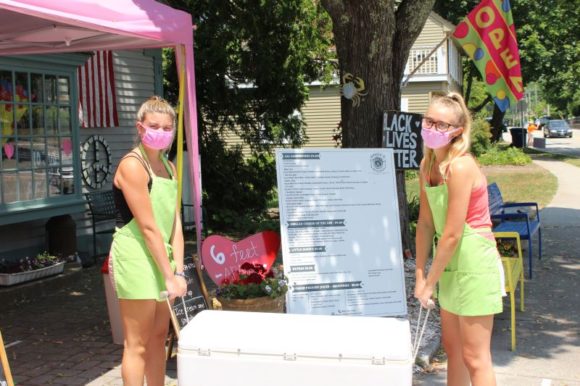 The ice cream was supplied by the Old Lyme Ice Cream Shoppe and …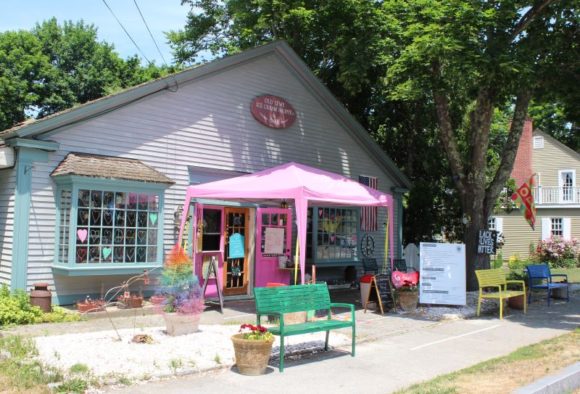 … sponsored by the Old Lyme Historical Society and the Lyme-Old Lyme Chamber of Commerce.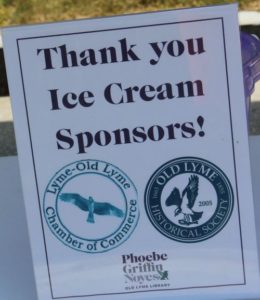 The PGN Library itself remains closed to the public due to COVID-19 and ongoing interior renovations.
If you need assistance using their online resources, help connecting to local or regional services, or general research assistance, call 860-598-0490 and a staff member will assist you from home.
The Library will begin accepting returns on Monday, July 6. All returned items will be quarantined for 72 hours in compliance with state and CDC requirements.
Due to this, the book drops will remain closed, but materials may be dropped off at the Library during the following times:
Monday-Thursday: 9 a.m. – 7 p.m.
Friday: 9 a.m. – 5 p.m.
Saturday: 9 a.m. – 1 p.m.
The PGN Library staff and board anticipate reopening in a limited capacity later in July once the shelving and collections are back in place.