THE SPEECHES
Senior Head Advisor and Speaker – Ms. Emily Macione, who was also presented with the Mildred Sanford Outstanding Educator Award.
Good evening members of the board of education, distinguished faculty and administration, family and friends, and most especially the Class of 2020. 
It is a pleasure to be here, and to share in celebrating this group of wonderful individuals, who are so many things to so many people. To your teachers, you are creators, engineers, mathematicians, and entrepreneurs. To your coaches, you are competitors, motivators and play- makers…to your friends, you are sounding boards, comedians, confidants….to your parents, sons and daughters……but to me, you've always just been "my class." 
It might surprise you all to know that I have been working on this speech for the past four years. Way back when you first walked through the doors of the high school on that warm August evening for your freshman picnic, and we were introduced for the first time…I went home that night and began to envision our future together. I may not have yet put pen to paper (or fingers to keys), but much like you, I started to imagine what the next four years might hold. And still even then, I was also envisioning a specific day, four years in the future, where instead of looking at what lay ahead, I would be reflecting on what was now behind. Your time here at Lyme-Old Lyme High School. Today. Graduation day. 
In the four-year span of time in between, I have been making mental notes, adding to my 'outline' of this speech with references to pep rallies, class events, spirit weeks, junior prom, senior ball and so forth. I promised myself I would make at least two good jokes about the infamous freshman Lock-In. I'm still not sure how I let the class officers convince me that would be a good idea. Going back over everything, as I'm sure some of you have in recent days, little things would pop up in memory here and there, all coming together in my mind to form the mosaic of your high school experience. The paragraphs began to take shape in my head. I would end with something about the senior banquet, our class trip, graduation rehearsal…the final moments we all shared, encapsulating your four years. 
Only, as you all know, that was not the ending we got. Without warning, this school year took a drastic and unexpected turn. We have all been forced to live in a new reality, and abide by a set of rules we had no hand in making. Like many of you I have spoken to, at one point, the idea of 'school from home' seemed kind of wonderful. Sleep in every day? Sure. Make my own schedule? Definitely. Take breaks when I feel like it? Love that. But, as is always the case with the "greener" grass…there have been drawbacks. 
I returned to the draft of my speech and started to consider those drawbacks. What did I miss the most about school? What did I want back? Perhaps not so surprisingly, it was not any class event or fundraiser. It wasn't anything in particular…just you. All 127 of you. That's what I was missing. Those little moments in my daily routine, where one of you bellowing 'Hi Ms. Mass' down the hall or giving me a fist bump would brighten my day. Seeing our many senior athletes on game day, pumped for their matches. Chatting with the line of seniors in the office for early dismissal. Daily interactions in my homeroom. Laughing at practice with my lacrosse players. A collection of tiny little moments. I imagine that I speak for many fellow faculty members when I say that I don't have strong memories of my own high school dances, or class fundraisers, or even graduation. I have a sense of the time, composed of little seemingly insignificant moments with my friends and family. Moments that back then, seemed easy to forget. Yet here I am, age 39, still remembering them. In the end, it turns out that those little moments were actually the big moments. Or, at least, the moments that really mattered. 
As you prepare to leave the confines of Lyme-Old Lyme and step into the 'real world,' you have a unique opportunity to experience life in a way that no one before you has. You take this next step forward in the wake of a paradigm shift, where terms like quarantine and social distance are now a part of our vocabulary. Hopefully your time away from school this spring has taught you something. I'm here to tell you, whatever it may be, do not let the lesson go to waste. 
Appreciate the small things. 
Don't take time for granted. 
Have compassion for your neighbors. 
Nothing lasts forever. 
Be present. 
There is nothing quite like a global pandemic to make the world collectively pause. Nature is powerful, and we know this, but it is an easy thing to forget, the more we become insulated in the frenetic pace of life…always looking forward to the next thing, the next goal we want to accomplish, the next stage of our lives. Trust me, it happens in a flash. 
Now, no graduation speech is complete without a quote to let the audience ponder. There is no shortage of applicable content out there, but the quote I've chosen for you is one that I settled on many years ago, long before I took on the role of class advisor. It comes from a show called One Tree Hill, and those familiar with the series will know that it centers on the lives of teenagers, much like yourselves, and the trials and tribulations of growing up. Sadly, it is no longer on Netflix, but with nine seasons, I assure you that it is highly binge-able should you get the chance to watch it. In the final episode, the lead character, now a father himself, reflects on the course his life has taken, and remarks: "It's the oldest story in the world. One day, you are 17 and planning for 'someday.' And then quietly and without you ever really noticing, someday is today. And then someday is yesterday. And this is your life." 
I cannot emphasize enough how much this quote still resonates with me, as it has every day since I first heard it. In my opinion, it touches on a concept that's difficult to grasp – the passage of time, and what it is to grow up. For what feels like forever, your life is one way, and then suddenly it's not. You knew the day was coming, and then the day is here, and then it's gone. I don't think anything sums up being a teenager more perfectly than that. 
So be present. Live by your terms, in the moment. As much as today is a time to reflect, it is also a time to look forward, to the next chapter of your life. To all that's ahead of you. It's your time – what will you do with it? 
Congratulations Class of 2020 – go get 'em!
 Valedictorian – Ryan McTique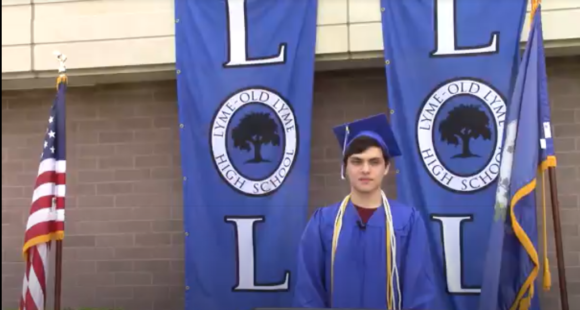 Greetings to the families, guests, faculty, administration, Board of Education, and especially the Class of 2020, whenever and wherever you see this. I cannot make this speech without acknowledging the extraordinary circumstances in which we are currently graduating. Obviously, none of us ever imagined that our last day in school would be that dreary, uncertain, mid-March day, instead of the usual triumphant, sunny day in June. At the very least we have this celebration, but we cannot define our high school based on the last third of our senior year. I think that it is imperative to look fondly on the rest of our time, not just through this darkened lens of lockdown, but despite it. Each of us individually certainly missed at least one significant moment that we would have remembered for years, but that does not mean that we have none of these meaningful moments. I do not want to deliver an elegy for the last third of our senior year; instead, I want to take a moment to remind ourselves of what the past four years have meant to us. 
I remember Sr. Vazquez gave my Spanish class some advice that I think is important at this time. He said that there is a world inside of you, which is the core of your identity, and a world outside of you, which is how others influence who you are. This inner world can be hard to keep in touch with and remember–like trying to view an object through a small mirror–but this is what gives you guidance especially through difficult times. Without staying in touch with our inner world, we can lose sight of who we are. The principles that govern the core of our identity result from our families, our community, and the individual experiences we each have. 
We will all inevitably change in the future, but that change does not mean that we lose this inner world, and how it has been shaped by our time in high school. These years have undeniably changed each of us, so let us embrace that and remember the experiences that have come with them. 
Going forward, I will have memories that I will cherish, and honestly, many of those memories arrive in the seemingly insignificant moments. I suppose that in crew, one day that sticks out to me was when Callum made a casual comment about how one of the wheels on his seat in the boat sounded funny, followed shortly with its bearing shattering without hope of repair, ending our practice after only fifteen minutes. 
When the band went to Hawaii, a few of the guys to one side of our hotel room decided to play 'Hot Cross Buns' off their balcony in the middle of the afternoon, and I soon learned that Wilson was in the hotel room next to mine when he stepped out onto his balcony and yelled at them to, "go back inside or get better music!" 
In class, one of my personal favorites was during an English class when Aedan and I had to give a presentation on Horatio Nelson. Mrs. Burke had encouraged videos for this project, and one of the first videos that came up under a google search for "Horatio Nelson" was a pronunciation guide of his name. The video was an unchanging image of the words "Horatio Nelson" typed in large, Times New Roman font on a white background with a person repeatedly saying only "Horatio Nelson" at spaced out intervals. We decided that we had to include this riveting video in our presentation—immediately after our title slide. After getting up in front of the class to deliver our presentation, we played the video of a disinterested voice flatly repeating his name four or five times. We then followed the grand display of pronunciation by mispronouncing "viscount," quite literally the next word in our presentation. 
These moments could include a memorable discussion in class. I remember a physics class about thermodynamics when someone asked what happens when a fork gets put in a toaster. The roller coaster of a discussion this sparked ended with whether microwaves cause cancer. (If you are curious about the answer, it was a definite no because they do not have enough energy to be a form of ionizing radiation.) I know that each of us has those small memories that can anchor our feelings now and remind us of who we are. 
The memories might just include a small habit, like chatting with Phil in the commons, even though you know that you really should be getting back to Bio right about then, or the various mentions of mouth pipetting in our chemistry class, followed by Mrs. Kelley giving us the obligatory "that's not proper lab procedure" warning. Apparently, it is safer and more accurate to use the actual pipettes. 
Some of you may recognize a few of these instances, and I am sure that all of you have your own memories that stem from those seemingly insignificant moments. We should all take a little time to look back on them, and realize what they mean to each of us individually. I implore each of you to keep finding those moments–wherever they come–so that we can continue to find comfort and happiness in the little moments. Keep making these memories, big or small, blunder or genius, those will continue to define us, and keep us grounded, even in times like these. 
I will finish with a quote by a great poet, Lord Alfred Tennyson. I want to give some background for how I stumbled onto this quote because I think how I found it speaks nearly as much to what I have been trying to address as the quote speaks for the last point that I want to make. I never would have looked for quotes by Tennyson if it were not for an obscure literary reference in a James Joyce novel we read in Mrs. Burke's class. We had a discussion about an event in the novel that brought two of the characters into a fistfight over whether Lord Byron or Tennyson was a better poet. I wanted to see if I recognized anything that Tennyson had written, but instead I found a quote that has become very meaningful to me recently, and one that I have reminded myself of when I am not having a great day. He wrote, "hope smiles from the threshold of the year to come, whispering, 'it will be happier.'" 
As we begin to navigate this new normal, after high school and reintegrating our normal lives after all the closures and changes, there will probably be days that we need to remind ourselves that we are not defeated, and it will be happier.
Salutatorian – Emily Speckhals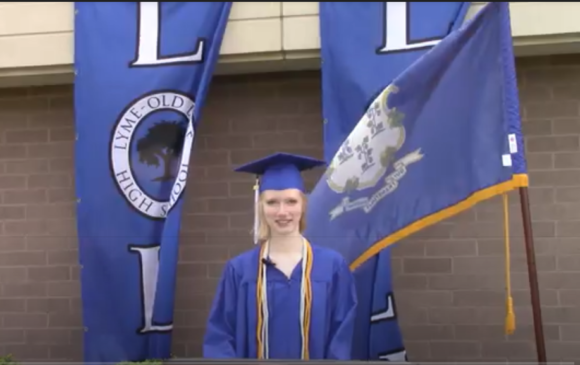 Good morning, afternoon, or evening – whenever you may be watching this. Congratulations to my classmates and fellow high school graduates. And thank you to all families, friends, teachers, guests for "being here" – which I suppose now means not skipping through this part of the video. 
When I think of high school, the first thing that comes to mind is the people I've passed the last 4 years with. Imagine one of your favorite memories from high school. What was going on around you? How did you feel? Who was with you? Now imagine the same event, activity, whatever it may have been except now you are alone. I think most of us will find the most notable experiences we've had depended on who we shared them with more so than whatever was actually happening. That being said, I'd like to say a huge thank you to all the people that made my memories over the last 4 years. I think you all know who you are, but I wouldn't be who I am today if not for my friends, teachers, and family. 
As a class, the little everyday moments we spent together are what stick out to me. Sitting in the commons with friends each morning. Teachers saying "hi" in the hallways. Team warm ups at sports practices and school dances. I'm sure we all have scraps of the last four years that will stick with us. Some of these memories we share. From EGO day to our last day of school on Friday the 13th we really have spent a significant amount of time together. I wasn't going to talk about our current situation, but a part of me knows this speech would be incomplete without acknowledging the fact that we aren't sitting in rows on the field today as we always expected to be. The reason I bring up the memories we share is that when we look back on high school, we will all see this period of time – to some extent – similarly. In that way we will be together even as reality holds us at a distance. 
Now I'm not going to give you all some profound advice because I don't know any more than any of you do. I'm not going to talk about how much we're going to miss Lyme-Old Lyme High School because, whether or not that's even true, I don't think anyone wants to hear about it. What I can do is share something that really had an impact on me in the last four years. 
I think a lot of you know this about me, but robotics has been basically my whole life for most of the last three years. That being said, a little-known story is that of how I got there. I remember the first robotics meeting I ever went to. I think it's interesting that I don't quite remember what convinced me to show up to that meeting. I remember I was late because I'd come straight from a cross country meet so I stood at the back of Mr Derry's room listening to current team members speak to their experiences. They concluded the meeting by explaining the extent of the time commitment robotics requires. That it's not like the clubs that meet for 15 minutes once a week and it isn't for everybody. I remember wondering how long I'd last on the team. I doubted whether I'd be up for the commitment and the effort, but look where I ended up. I've poured more hours than I could count into robotics and enjoyed (almost) every single one. 
I will always be grateful for the experiences I've had and the people I've met because I went to that first robotics meeting, and a second meeting, and many more to follow. I think something we could all do to remember as we move out of the familiar bubble of Lyme-Old Lyme High School is the importance of trying new things and seeing what sticks. You could end up finding your people in a group you never even quite planned to join. So that's my little bit of advice for us, myself included, to try to remember to put ourselves out there. 
And with that, I wish the best of luck to all my classmates in whatever the future may hold for you. Thank you.
Honor Essayist –Theodore Wayland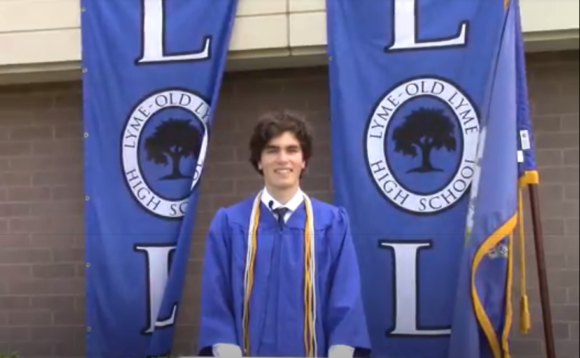 To start off, I'd like to thank all of my classmates, friends, teachers, parents, and family who have helped create such a wonderful high school experience for the class of 2020. I didn't know what I was getting into four years ago, but now that it's coming to an end, I see it all turned out just fine. 
We first started our journey into high school in the fall of 2016. I'm sure we all remember those first days, struggling to find classes, seeing what seemed like a million new faces, and not knowing which lunch waves we were in. So much has changed since these days, except maybe understanding lunch waves, and we are finally graduating. I remember hearing past seniors' speeches about how time flies over these four years, and I'd think: that can't be, the second semester of Junior year seemed to drag on forever. But now, when I look back at the last four years of my own life, I find myself asking: Where did the time go? 
Half of this time we were underclassmen. I know you might not want to remember that, but I recall just trying to do well in my classes and have some fun along the way, not really knowing where the rest of my life was headed. We were told to be productive in study hall, although doing nothing always seemed more enticing, at least to me. 
A common experience for many of us during these first two years was getting exciting for the next sports season, the next state tournament game, or shoreline finals match. Coming together to support our school shows the passion in our class. I think as freshmen we would all look forward to junior and senior year when we could be team captains, mvps, or maybe even recruits to a college for our favorite sport. 
Approaching junior year, we started to take harder classes, and classes that were more specific regarding a career path. Again, we are supposed to be setting ourselves up for success in the future. Whether it was shop classes, art classes, music classes, or something else, being able to have more flexibility in our schedules for the things we loved most seemed like the best thing ever. 
High school seemed to only get better every year. 
I always thought that the first three years of year school just built up to a great senior year but look at our lives now. We can't go anywhere, do anything, or even see any of our friends. The supposed peak of our high school careers, our senior spring, is nothing like we imagined. 
We may have our post-high school plans, but we don't know what happens after that. This thought nagged me ever since out last normal day of school, until I finally came to a conclusion. You can spend your whole life worried about what happens next, or you can enjoy what you have. 
The most important lesson I've learned, and what I think we've all learned, is to say yes. Throughout your time in high school, you may have been asked: 
Do you want to join our club? 
Will you play on our sports team? 
Are you going to see the state finals? 
Do you want to retake that test you failed? 
Are you applying there for college? 
Do you want to go on this fieldtrip? 
I feel that our class is unique because the answer to all these questions has always been yes. Even though in this moment, it might feel like we are missing out on our high school experience, I promise you, our high school experience has not been lacking in any way. We can still think back to better days, but we have to live in the moment and enjoy it, because it disappears quickly. We won't get any substitute for all that we've missed our senior year, but that's ok. Instead of torturing myself wondering when life will go back to normal after this whole covid-19 situation is over, I realized that it won't. This is our high school experience, and it's unlike anything else that has come before us. When I look back and wonder where the time went, I see now it went into fulfilling a high school experience unlike any other.
Class President, Trevor Wells
Teachers, administrators, families, underclassmen, and my cherished classmates, welcome to this landmark of a moment. First, I'd like to give a reminder. Speeches and ceremonies tend to feel so minute in the scheme of our lives, so forgettable in the vastness of time. During events like these, our minds and bodies always long to be elsewhere. But as we graduate today, let's try for a while not to worry about memories or plans, and instead to be present, to be awake to the great significance of now. We've made it to the end of an era, and this celebration marks the beginning of an immense change in all of our lives. So, catch yourself before it's too late; slow down, take it in, and don't allow your consciousness to sleep or speed through this sacred metamorphosis. Be mindful, and make this moment last. 
I'm sure books are the last things you want to hear about today, but when I reflect on the past four years, I can't help imagining them as episodes in an epic novel, the collective, autobiographical origin story of a class of fascinating characters. In the way a novel's yet unwritten pages give the author's mind freedom to explore and map the depths of fantasy worlds, high school has provided us with hundreds of blank, unmarked days on which to imprint our tales, develop our character traits, and shape our arcs. And I think our story is worth telling and retelling; at least I know it is one I will keep picking up for the rest of my life. What stays with us most from the books we read, and what I expect will remain in our thoughts long after this graduation ceremony, are the characters, the archetypes we have encountered along the way, around which our own personal folklore is molded. You, my classmates, are that body of heroes, jesters, sages, and outlaws to which I will forever be alluding. You will always tint the lens through which I view the world and determine the way I relate to its inhabitants. 
As I meet new people throughout life, I'm sure I will think of their qualities in comparison to yours. I don't think I will ever meet someone whose poetic voice equals Jane's, or whose sassy swagger matches Mason's, but when I encounter new characters down the road, they might remind me of certain prototypical characteristics among our ranks, like the Kendallian sense of style or the Malizian sense of humor. My future colleagues and friends might possess shadows of Arianna's sense of purpose or a hint of Faith's sense of rhythm, though their traits will never be completely like yours. In the same way the character Mentor symbolized what he was to Odysseus so perfectly that his name became a synonym for leader, role model, and teacher, and in the same way Caesar has translated into Kaiser and czar to mean "ruler," I expect that if we give it a century or so, we will find "McTigue" in the dictionary as "a humble genius," and "Salkin" defined as "a catalyst for political reform." We might also hear the word "Dushin" used in art history classes to refer to eye-catching, avant-garde photos, or some not-yet-invented culinary masterpiece termed "the D'Arena." "Hamou" will surely catch our ear someday on the news, we will see "Craven" in bold font on a magazine cover, and "Rachael Larson, epidemiologist" will appear at the bottom of the frame during a documentary. These are my predictions, but no matter whether the world remembers your names, I know we will remember each other's. As we meet new people through the years, we will certainly rate their kindness on a scale from zero to Audrey Berry, and we will hope their energy and spirit compare with those of a Cann or a Caulkins. It's not what you have done that we will remember, but what you have meant. It is that unexpected conversation, that much needed smile, that interesting manner of speaking, that joke you told at the perfect time. Someday we might even pass each other's names down to the next generation, as our children beg to hear about our childhoods, and we will be the archetypes that initiate a second race of minds into storytelling. 
As we come upon the last paragraphs of the novel that has been high school, as we prepare to write our next fantasy into being, and even when our anthology of legends and tales winds to an end, you will be the classic archetypes I think back upon, the ones who first sculpted my storytelling mind. It has been a privilege to discover myself alongside you, and I couldn't have asked for a better set of characters and parables on which to found my identity and my perspective. After today, our pages are used up, and our book is written; and I'd argue that the story we created together is among the farthest fetched tales ever told.
LYME-OLD LYME HIGH SCHOOL CLASS OF 2020
CLASS OFFICERS
Trevor Wells, President
Nicholas Fava, Vice President
Clair Wholean, Secretary
Jeffy Joshy, Treasurer
Chandler Munson, Class Historian
CANDIDATES FOR DIPLOMAS
Alexandra Mary Alpha πω* Ϯ
Charles Burr Ames
Britney Andrade *
Anabella Nicola Arias πω*
Callum Glyn Astley
Emily Eileen Balocca λω*
William Cooper Ekeblad Bartlett
Emma Elizabeth Bass λπω*
Audrey Campbell Berry λϰω* Ϯ
Jean-Luc Bolduc
Faith Victoria Brackley
Chloe Constance Cahill ω
Madison Jane Cann ω
Lisbet Yosery Carcamo Martinez
Jack William Carney
Ethan Gonzalo Carrion ω*
Corbin John Caulkins
Faith Laurel Caulkins ω
Rory Nelligan Cavicke λω*
Emilia Annmarie Cheesman πω*
Philip Alan Cone
Sarah Belle Conley ω*
Andrew Jordan Craven
Elizabeth Anne Cravinho λπω*
Salvatore Biaggio D'Arena
Kevin William Davidson
Ty Kenton Dean
Isabel Priscilla Dean-Frazier ω
Arianna Teresa DelMastro λπω*
Maria Ashley Denya ω
Raymond Michael Doll ω
Samuel Arthur Dushin ω*
Theodore Edward Enoch ω
Emily Grace Evers ϰω*
Araselys Rose Farrell πω*
Nicholas Bernardo Fava λπω*
Liam Kenneth Flanagan
Leah Nicole Fouquette ω
Jada Anaelsa Fuentes λω*
Katherine Mary Funaro
Brian Christopher Funk
Cameron Diana Gagnon
Lucy Marie Gilbert
Aidan Thomas Greene
Avery Beach Grethel
Tanner James Griffin ω* 
Sophia Rose Griswold λω*
Samuel Wyatt Guenther
Jonathan Sage Hamilton
Darin Hani Hamou *
Kamber Hani Hamou ω*
Grace Delphine Hanrahan ω
Quinn Michael Hickie *
Connor David Hogan *
Parker Phillip Hubbard
Lauren Elizabeth Huck ω
Nathaniel Rhys Jackson
Kaitlyn Marie Jacobson
Jeffy Mathew Joshy λω*
Benjamin Connor Kelly
Daniel Abraham Kendall ω*
Caroline Eve King ω
Renate Jane Kuhn λω
Rachael Anne Larson λπω* Ϯ
Brenna Paige Lewis λπω*
Connor Patrick Maguire
Jacqueline Rose Malizia λω*
Biuma Kazadi Mariame *
Angelina Grace Marinelli
Melissa Nicole Mauro πω
Thomas Peter McCarthy λω* Ϯ
Ryan Patrick McTigue λπω* Ϯ
Gabriel Ethan Metcalf
Natalie Grace Meyers λω
Ryan Christopher Mitchell
Jeremy Norwood Montazella
Mason Derek Morrissey
Maxwell Derek Morrissey
Dylan Thomas Mulligan
Chandler Mary Munson λω
Kyle Colman Myers ωs
Samantha Heather Olson λπω* Ϯ
Samantha Elizabeth Owen πω*
Bryce Edward Paul
Sofia Kamila Pecher-Kohout πω*
Jenny Gabriela Pelaez Cajamarca *
Carter Ellis Popkin ω Ϯ
Jenna Tracy Porter ω*
Nathan Kelly Ramella
Chase Wood Reneson
Aidan Scott Riley
Jared Scott Ritchie λω
Samuel Patrick Roth
Alec Peyton Russell
Andre Jeffrey Salkin π*
Jane Stacey Scheiber λπω*
Brady Alan Sheffield ω
Colby Patrick Sides λω
Summer Abigail Siefken ω*
Garrett Michael Smith λω
Zachary Thomas Snyder
Emily Marie Speckhals λπω*
Alec Drennan Speirs
Evan Thomas St. Louis λω*
Olivia Mae Stack ω
Haley Ryan Stevens λω*
Finn Grady Sullivan
Philip Aaron Sweeney ω
Ryan Jules Tetreault
Olivia Lucy Tetreault ω*
Taylor Ann Thompson ω
Lydia Grace Tinnerello λω*
Sydney Kathleen Trowbridge ω
Kiera McKeon Ulmer λω
Aedan Sean Using
Megan Lynn VanSteenbergen λω Ϯ
Jackson Calvert Warren ω*
Theodore Wilson Wayland λπω* Ϯ
Katelyn Julia Wells
Trevor Dennis Wells λπω* Ϯ
Nicholas James White
Clair Margaret Wholean λπλω*ω*
Anna Elliott Williams πϰω 
Maggie Vaughan Wisner λπω*
Conner David Wyman λπω* Ϯ
Katherine Ruby Zelmanow λω*
λ Member National Honor Society, Silver Cord
π Member Spanish Honor Society, Silver Cord
ϰ Member French Honor Society, Silver Cord
ω Academic Letter Recipient, Gold Academic Distinction Cord
* Seal of Biliteracy, Gold Academic Distinction Cord
Ϯ AP Scholar, Gold Academic Distinction Cord