UPDATED 11:34am: It was a hotly-contested event with brainpower being tested to the extreme.
The 2018 Trivia Bee organized by the Lyme-Old Lyme Education Foundation (LOLEF) was held Friday evening in the Lyme-Old Lyme Middle School auditorium and saw more than a dozen teams doing battle over challenging questions posed by WFSB News Anchor Eric Parker.
There were three 'swarms,' which involved all the competing teams in a 10-question play-off situation to identify the three finalists, who ultimately were the All-Pro, 3-Peat and RTC Elephant teams.
With tension rising in the final round, All-Pro fell out of contention fairly rapidly but 3-Peat and the RTC Elephants kept going neck-and-neck question after question. When finally the last available question was posed, the RTC Elephants secured the win with the correct answer while 3-Peat had to settle for second place after a valiant effort.
All funds raised at the event benefit programs and equipment selected by LOLEF for Lyme-Old Lyme Schools.
The Old Lyme Historical Society's (OLHS) team, some members of which are pictured below, came dressed in wonderful costumes (but surprisingly did not win the Best Costume award) and also put up a valiant fight in the quiz section to no avail.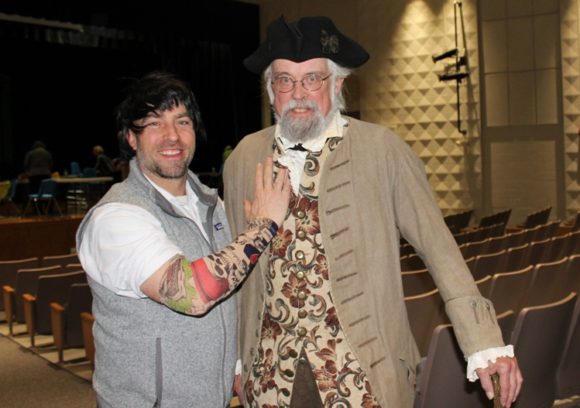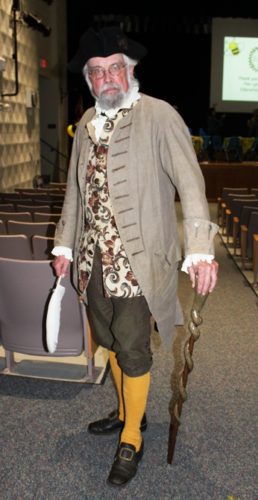 And we just had to include a full-length photo of this dashing gentleman …
So to the OLHS team, better luck next year … and to all the competitors, sponsors and the LOLEF, thanks for making an otherwise cold and dull Friday evening into a fun-filled night at which everyone learned something and funds were raised for a worthy cause.