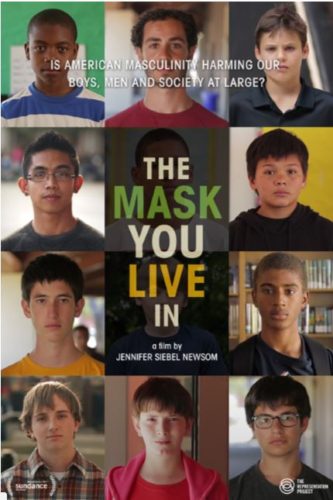 Lymes' Youth Service Bureau (LYSB) hosts a free community screening tonight, Thursday, Feb. 23, at 6:30 p.m. of  the award-winning documentary, The Mask You Live In, in the Lyme-Old Lyme Middle School auditorium.  Doors open at 6 p.m. and members of the public are welcome.  Due to mature content, this event is recommended for ages 14 and up
Safe Futures and the Child & Family Agency of Southeastern Connecticut will lead a Q&A session after the screening.
The film follows boys and young men as they struggle to stay true to themselves while negotiating America's narrow definition of masculinity.  Research shows that compared to girls, boys in the U.S. are more likely to be diagnosed with a behavior disorder, prescribed stimulant medications, fail out of school, binge drink, commit a violent crime, and/or take their own lives.
Boys are pressured by the media, their peer group, and even the adults in their lives.  This film confronts messages encouraging boys to disconnect from their emotions, devalue authentic friendships, objectify and degrade women, and resolve conflicts through violence.  These gender stereotypes interconnect with race, class, and circumstance, creating a maze of identity issues boys and young men must navigate to become "real" men.
Reviews of the film include the following:
"A deeply affecting documentary about how boys are directed to grow up to be "men" — and what it really means to be a man in today's society."
"The Mask You Live In changed my life. It's the first documentary I've seen that is not only for me, but about me."
"Mandatory viewing for all parents, not just parents of boys. Anyone who works with children will benefit from this thought provoking film."
Major community sponsors are Lyme-Old Lyme Schools, Safe Futures and the Child & Family Agency of Southeastern Connecticut.  Shoreline Web news LLC, publisher of LymeLine.com, is also proud to be a sponsor of the event.
For more information, contact LYSB at 860.434.7208 or visit the LYSB website.