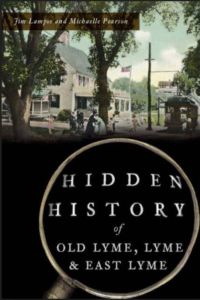 OLD LYME — The Old Lyme Historical Society hosts, 'Meet The Author' night, Tuesday, Oct. 20, at 7 p.m. when Old Lyme residents and expert local historians Jim Lampos and Michaelle Pearson will introduce their newest book, 'The Hidden History of Old Lyme, Lyme and East Lyme.'
In this fascinating, just-published book, Lampos and Pearson trace the evolution of education and representation in the Lymes, and how decisions made by the founders helped shape the history of our nation.
This is a Zoom presentation and all are welcome.
There is no admission fee.
Register by emailing info@oldlymehistorical.org and receive the Zoom link in return.