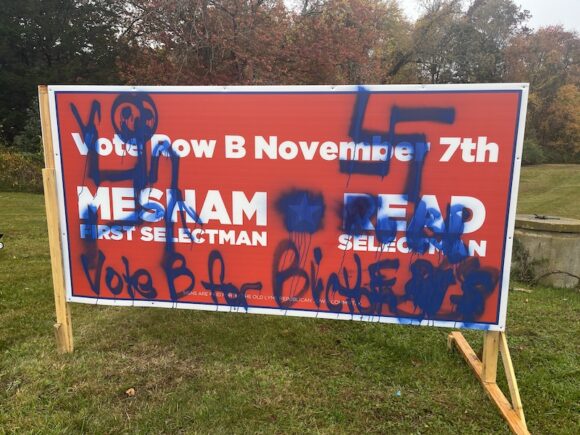 OLD LYME — Five large campaign signs in Old Lyme — three Republican, two Democratic — were vandalized overnight on Saturday with hateful terms, obscene language, and offensive signs.
We asked the respective chairs of the Old Lyme Democratic Town Committee (DTC) and Republican Town Committee (RTC) for their thoughts on the vandalism.
Randy Nixon, RTC Chair, wrote via email, "We are outraged by these heinous acts which meet the legal standard (on our signs) of Hate Crimes. In either party's signs, this must be condemned by all Old Lyme residents. We are all better than this."
He added, "This is as sad as it is despicable."
Mary Jo Nosal, DTC Chair, also responded by email saying, "This past weekend Old Lyme Democratic and Republican campaign signs were vandalized, a direct assault on First Amendment rights. Sadly, the vandalism included trespassing on private property and vulgar and hateful graffiti."
She noted, "The Old Lyme DTC believes that vandalism and hate speech do not belong in Old Lyme and will cooperate fully with the police investigation."
in addition, Nosal forwarded the DTC's public statement regarding the vandalism, which reads as follows: "It has come to our attention that last night, signs supporting both the Democrat and Republican selectmen in town were defaced with spray painted vulgarities and hateful rhetoric. In addition to subverting the democratic process, vandalism is a crime, and we have reported both incidents to the police.
The Old Lyme Democrats oppose any sign theft or vandalism. These signs cost money and are used to inform voters of candidates' names and remind them to participate on Election Day. They are perhaps the greatest example of our country's long tradition of free speech in action. Please stand with us in condemning this behavior and respecting BOTH political parties in town. We may disagree on policy issues, but we all agree that this is not what Old Lyme is about."
Similarly, Nixon sent the RTC's public statement regarding the incidents, which reads thus: "Last [Saturday] night, signs presenting the candidates for the Board of Selectmen in the November Election were defaced with horrible , indecent words and symbols of hatred.
This occurred on signs for both the Republican and Democrat Candidates. These acts of vandalism are deplorable in all cases.
All Old Lyme Republicans are outraged by these heinous actions and abhor such criminal behavior. We ask everyone in the public to report any eyewitness accounts or other evidence to the Old Lyme Police which might identify the culprits so they can be brought to justice.
There is no place for this kind of filthy behavior and detestation in our town. We have policy differences with the Democrat party in Old Lyme, but those differences are characterized by respectful agreement to disagree. We respect their candidates' rights to present their positions without defacing of their campaign signs just as expect the same rights for our candidates.
We fully expect the Old Lyme Democrats are in lock step with Old Lyme Republicans in condemning such horrible and hateful behavior.
Old Lyme is better than that. We hope the perpetrators of these crimes will be found and arrested."