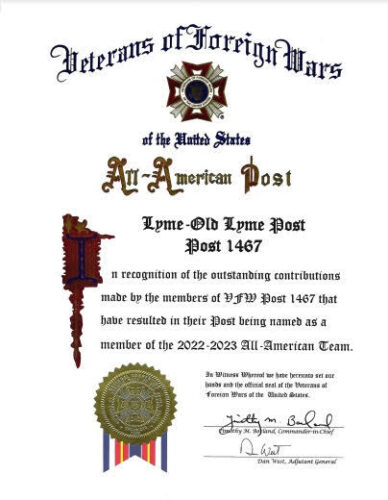 LYME-OLD LYME — The Veterans of Foreign Wars (VFW) Lyme-Old Lyme Post 1467 has been recognized for outstanding contributions made by its members that has resulted in the Post being named a member of the 2022-2023 All-American VFW team.
The All-American program exists to recognize exceptional leadership and teamwork, authentic accomplishments in membership growth and VFW core programs.
There are 88 VFW Posts in Connecticut and only seven have achieved this national VFW recognition.
Since 2015 there have been over 120 instances where the Lyme-Old Lyme VFW Post 1467 has provided needy veterans and their families with one-time temporary assistance services totaling over $150,000. Since the spring of 2023, Post 1467 helped over 10 veterans to spend over $11,000 to address a variety of issues, including homelessness.
The Lyme-Old Lyme Post 1467 holds its annual dinner dance this Saturday, Oct. 28, with the theme, We Still Serve.
Congratulations to Post 1467 — what an achievement!