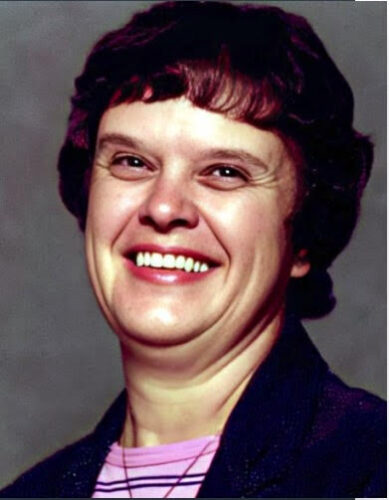 OLD LYME — Joan S. "Joanie" Bonvicin passed away at her home surrounded by her family Oct. 16, 2023, after a brief illness. She was born Sept. 1, 1939, in New London to Ellsworth "Babe" Green and his wife Kathryn "Kitty."
She leaves behind her husband Louis "Lou;" her son Rick and his wife Debbie; daughter Suzi McCormack and her husband Tom; and greatly loved grandchildren. Bailey Steele and his wife Lauren and Kristen Steele. She is also survived by her brother Donnie and his wife Cindy; and much-loved nieces, Melissa Seckla, her husband Tim and children, Maddie and Chris, and Heather Green, her fiancée Tommy and her daughter Delana. She was sadly predeceased by her brother Larry Green.
After working as a legal secretary, then for the Building and Zoning Inspectors of Old Lyme, she realized her true place and calling when she became the secretary for the Middle School of Lyme-Old Lyme. She was beloved and treasured by all the students and parents who met her and were greeted by her smile and experienced her kindness. Her love of holidays and candy dishes was legendary. Parents gave her notes and lunches for delivery. Students who had forgotten field trip or lunch money were always given what they needed by "Mrs. Bonvicin." As the face and the heart of the Middle School, her reach was wide; she formed treasured friendships with custodians, teachers and other administrative folks which lasted beyond her reluctant retirement after 44 years.
Her next adventure brought her to the Lymes' Senior Center as a volunteer for whatever needed to be done including one of her strengths: writing and sending birthday cards. She never forgot a birthday and always sent cards. More friendships were formed at the Senior Center, although she never stopped missing the Middle School and the kids.
A celebration of her life will take place at 2 p.m. Thursday Oct. 26, at the First Congregational Church of Old Lyme, 2 Ferry Road. A reception will follow in the adjacent fellowship hall. Please visit www.fultontherouxoldlyme.com for tributes and directions.
A scholarship is being established in her name for students exhibiting her character and qualities, and donations may be made to the "Mrs. Bonvicin (Joanie) Scholarship Fund" on GoFundMe.com (https://gofund.me/49f5d96e).