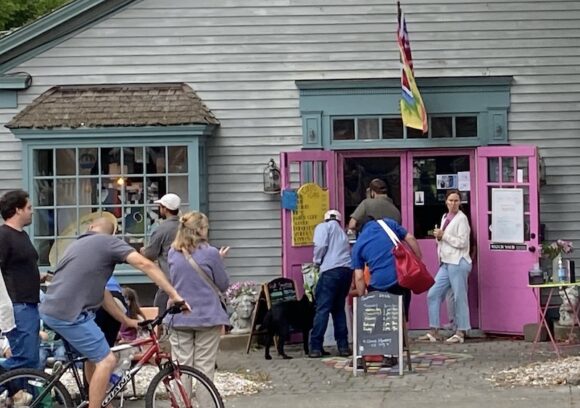 Author's Note: I recently spoke with Angie Reale, the owner of the Old Lyme Ice Cream Shoppe, by phone and she graciously answered my questions for more than an hour. We chatted at length about her time at the Shoppe and her previous employment at Lyme Academy College of Fine Arts, where she and I first met back in 2007.
OLD LYME – "I didn't realize I'd get this kind of fanfare. It's been a very humbling experience for me with all the kind comments that have been made."
Those were words of Angie Reale as she mused on the past month since she announced the Old Lyme Ice Cream Shoppe at 34 Lyme St. would be closing Aug. 31. She has owned and managed the ice cream store for a decade but is now certain that it's time for her to go.
Reale explains, "I turned 70 in July and it's just getting to be too much."
Reale is in remission from cancer and notes, "Last winter was very rough for me with radiation and chemo". She recalls fondly, "My customers were wonderful during the cancer treatments. They brought me gift cards and all sorts of things. These people, who started as customers, have become my friends."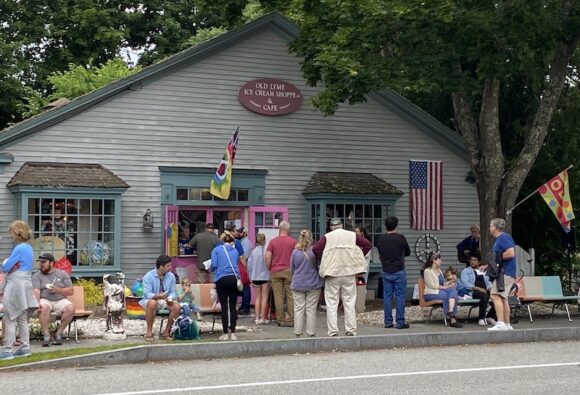 Reale continues with real passion in her voice, "It's all been a little overwhelming for me [referring to the kindness shown to her since she announced she was closing the store]," adding, "It's really very bitter-sweet. I'm going to miss my customers and the girls [who work at the store] so much, especially this new crop of girls."
She explains, "I do all the making of the ice cream myself. I'll miss the creative side of making ice cream," but she stresses with a chuckle, "Not the practical side!" highlighting that it is rather strenuous work.
She attributes the popularity of the store to the fact that she offers a remarkable range of – in several cases – award-winning flavors of ice-cream.Reale correctly points out, "This isn't a cookie-cutter ice-cream place. People will miss the uniqueness of the flavors."
Back in 2017, the Old Lyme Ice Cream Shoppe was declared the winner of Klavon's Ice Cream Parlor's National Small Ice Cream Shop Competition and Reale's Moroccan Rose ice cream flavor won a major award.
Asked what was next on her agenda after leaving the shop, her answer was surprising, "Get a job!" she said resolutely, adding, "I don't have any hobbies. I don't knit, I don't needlepoint. And I can't lay around the house doing nothing."
She elaborates, saying, "I'd really like a little job. I'll give a good 25 hours a week – I have a strong work ethic." Reale then comments, "I haven't had a paycheck in 10 years," adding with a hearty laugh, "It would be nice to get one!"
Alternatively – or perhaps in addition – she says "I'd really like to volunteer somewhere," asking "Why not give back something?"
Discussing the new owners, she describes the couple warmly as a, "Gift from the universe," who will likely open a gallery in the property – but in Reale's words, "Not your typical gallery" – and use the residential area as a weekend home.
She comments, "In my fantasy, I was hoping a younger couple would take over the business and keep it going," but she sold the property in two days, so has no complaints.
Talking of home, where is Reale planning on living now that she can no longer live right behind the shop with, as she laughingly describes, "A three-foot commute"?
Reale says she will be staying with a neighbor for a while, "But not long," she emphasizes, "… while I figure things out."
She sums up her life to date in the words of a friend, who has known Reale for well over 50 years. The friend told her, "Angie, you've always flown by the seat of your pants … but you've always managed to land safely," … and Reale says that is precisely what she intends to do in the future!
Editor's Note: Angie, Old Lyme will miss you – good luck wherever your future takes you, and to anyone out there who needs a professional chef/food manager/preparer, I can personally give her the highest recommendation – her creations are the best!