OLD LYME — On April 20, the local 911 office dispatched a call to Old Lyme Emergency Medical Services (OLEMS) with a report of someone experiencing chest pains.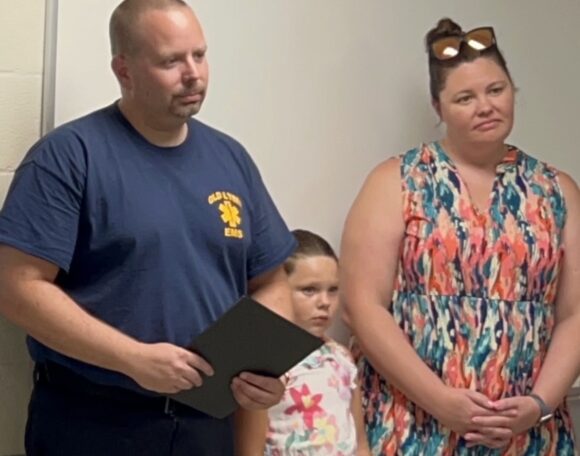 The day-crew member, Emergency Medical Technician (EMT) Carlos Diaz, pictured above, left immediately in the Old Lyme ambulance.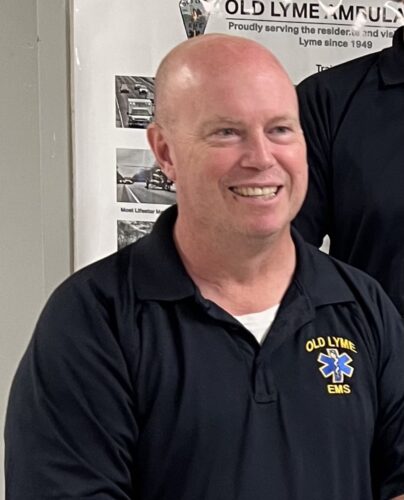 Dave Musto, who is also an EMT as well as OLEMS Deputy Chief, and two other OL First Responders — Thomas Moore and Archer Evans, who were Lyme-Old Lyme High School (LOLHS) seniors at the time and have since graduated from LOLHS in June — also traveled to the incident location in their own vehicles.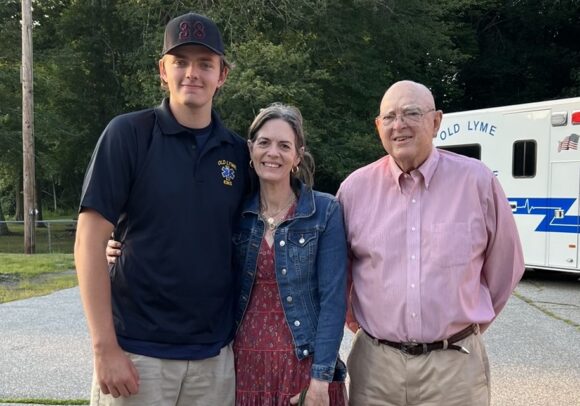 In addition, due to the nature of this call that required advanced life-saving support, Middlesex Health Paramedic Phil Coco was immediately dispatched by Valley Shore 911 to the patient's home.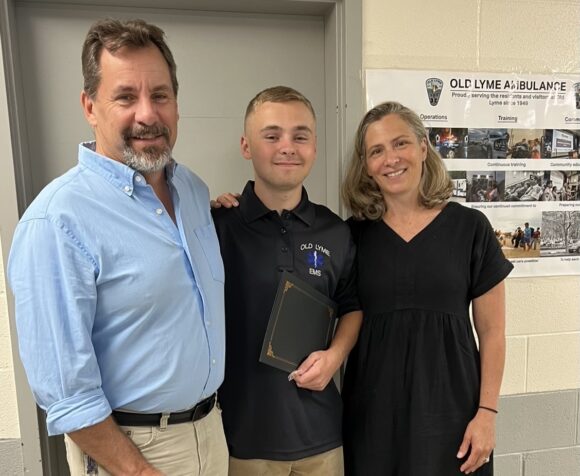 In a matter of minutes, all these EMS responders from a variety of locations arrived at the patient's home. This patient's chest pain soon turned into a cardiac arrest and automated external defibrillation (AED) and cardiopulmonary resuscitation (CPR) were initiated.
Thankfully, the patient was successfully revived in his home.
However, during his transport to the Emergency Room (ER) at L & M Hospital, the patient went back into cardiac arrest, but this time the AED machine did not detect a shockable rhythm. The crew immediately started CPR again and continued it for the whole journey to the hospital, where the ER technicians continued lifesaving measures.
The patient was kept in the hospital for several days, and ultimately survived the heart attack/cardiac arrest.
At the OLEMS recent business meeting, the patient attended with his wife and presented the crew, who likely saved his life, with American Heart Association HeartSafe Awards. These were much appreciated by the recipients, who, in the case of the two LOLHS seniors, have been friends since their earliest school days.
Both students also volunteer for the Lyme and Old Lyme Fire Departments. Evans's father, John, is a volunteer with the Lyme Fire Department as well. Archer Evans is taking a gap year before attending an engineering school in Boston. During the year, he will complete his Firefighter 1 training along with some additional training programs.
The patient wishes to remain anonymous.
Jane Bysko, who serves as OLEMS President, commented, "We are very proud of our young community members, who step up to the plate and volunteer their time [to the OLEMS]. They undertake continuous training under the guidance of our Training Officer Ray Belval, who is also the invaluable liaison with the Lyme-Old Lyme Schools."
She added, "If you are interested in joining OLEMS, call 860-434-0089. No experience is needed, just an interest in helping people in your community. We will help find a course for you."