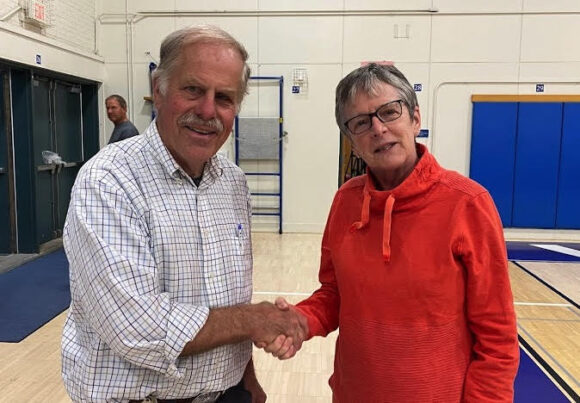 OLD LYME — Tuesday's in-person vote at Lyme-Old Lyme Middle School on whether to approve $4,158,407 for Old Lyme's share of the anticipated total costs for the planning, design and construction of an expansion of the Lymes' Senior Center saw an overwhelming majority support the proposal. The results were as follows:
YES: 385
NO: 54
The Yes vote represented 87.7% of the total vote.
Vote Registrar Mike Aurelia noted, "It was busier than expected … the vote brought out more voters than the recent school budget vote."
Asked how he felt after the result was announced, Old Lyme First Selectman Timothy Griswold said, "I think Old Lyme really wants the Center to have an improved Center. The [building] committee did an admirable job of bringing the needs of the Center to the attention of the voters." He added enthusiastically, "Onward to construction!"
On hearing the result, Jeri Baker, Chair of the Lymes' Senior Center Building Committee, gave a whoop of delight. Asked her immediate reaction, she said firmly, "Gratified. Totally gratified to see the support for this project."
She commented, "I am so grateful for this building committee. They are the best group I have ever worked with."
Baker concluded, "Now we are going to soldier on [with the next stage of the project] and hopefully break ground in the fall."
The Resolution that was passed Tuesday calls for the Town of Lyme to pay 25 percent of the proposed costs at $1,386,136 with the Town of Old Lyme responsible for the balance. That latter amount was approved by Tuesday's vote.
The Town of Lyme has already included their share of the costs in the 2023-24 Lyme Town Budget.