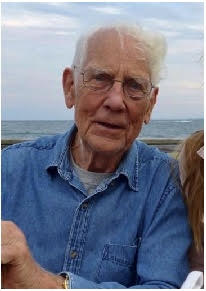 LYME — James Driscoll Griffin, aged 97, died peacefully around sunrise on Sunday, May 14th, 2023. He had been recovering at home on Grassy Hill Road in Lyme from a severe stroke a year earlier. He was surrounded by family.
Jim was the eldest of seven children, born in 1926 in West Lafayette, Indiana. The family soon moved to Evanston, outside of Chicago, where he attended Evanston High School. He joined the Navy in 1943, did officer training at the University of Notre Dame, and served in the Far East. Discharged in 1945, he returned to Notre Dame as part of the V12 program, completed his degrees, and won an NCAA tennis national championship along the way. After graduating, he continued as a part time member of the Navy Submarine division in Chicago.
He built a successful career in the international food business, and was a firm believer in the importance of good corporate citizenship, especially during the upheaval of the civil rights era. His work took him to many parts of the world where he established what would become lifelong friendships.
Soon after marrying Jane Bingham, New York City became home, and they raised four children in the public schools of Manhattan and Apartment 2M– an address memorized by scores of traveling friends and family across the years. In the late 1960s, through a serendipitous friendship with Francis Rosseau of Lyme, Grassy Hill Road offered Jim and Jane a verdant alternative for the next half-century.
Jim's Catholic faith was always a source of strength. He worshiped at Saint Vincent Ferrer in Manhattan and at Christ the King church in Old Lyme, and made many friends among his fellow congregants, and the community of priests and sisters. He believed in the important but unfulfilled role of the laity in governance of the church and was particularly committed to increasing and improving the role of women in the church. He served on the board of Union Theological Seminary where he was one of its first Catholic directors, and he was an early and active member of Voices of the Faithful, a global effort to bring the church into the 21st century.
The world of the arts, and especially choral and sacred music, was his passion, and he served on the board of Musica Sacra, one of New York's premier choral ensembles. He was a jazz aficionado, and it gave him great pleasure when Notre Dame, at his suggestion, conferred its highest honor, the Laetare Medal, to the legendary pianist Dave Brubeck in 2006.
Jim simultaneously eschewed and marveled at cell phones and I-Pads and modern gadgetry. In the end, he was a people person, and always preferred the landline, the mailman, and newsprint. Jim was a tireless optimist who believed deeply in our capacity for Good. His wife and four children, his daughters-in-law, his grandchildren and his siblings and extended family were integral parts of his daily thoughts and actions. 

He illuminated the room, and will be missed by many. A memorial gathering will be held at the Grassy Hill Congregational Church on June 24th at 11 a.m.  All are welcome. (In lieu of flowers, contributions will be gratefully received by Jim's favorite choral ensemble, Voices of Ascension.)