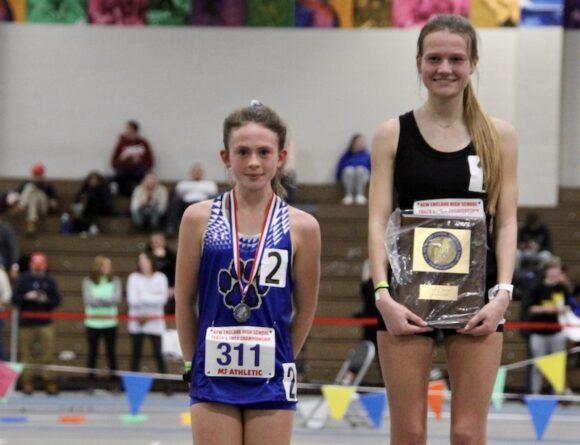 At Same Meet, Old Lyme 4 x 800 Girls Come In 4th, Sheehan Takes 11th Spot in Shotput
LYME/OLD LYME — On Saturday (March 4), the Lyme-Old Lyme Indoor Track and Field team achieved yet another remarkable set of results — this time in the New England Indoor Championship meet held at the Reggie Lewis Center in Boston, Mass.
Freshman Chase Gilbert came second in the girls' two-mile race, setting yet another school record with a time of 10:44.67. Moreover, this result places her overall standing at 14th in the country and also makes her the top-seeded freshman nationally.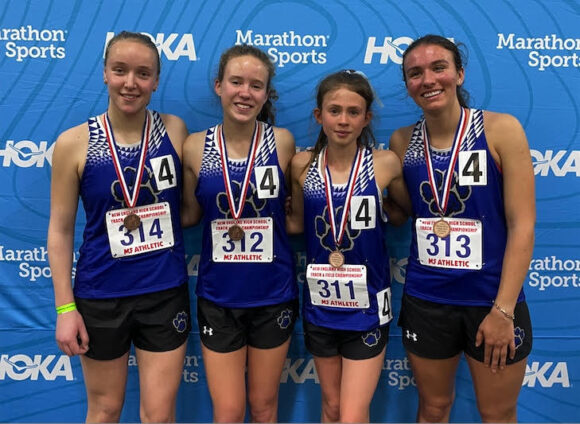 Gilbert also ran in the the Old Lyme girls' 4 x 800 relay team, which came in fourth place and set a new school record with a time of 9:30.55. Split times for the team were Maddy Morgado (2:24), Aggie Hunt (2:27) and Lyla Powers (2:25) — these three are all seniors. Gilbert's split time was 2:12.
Dylan Sheehan took 11th place in the shotput with a throw of 50 ft 9 inches
Next week Lyme-Old Lyme (LOL) High School has athletes competing in the Nike and New Balance Nationals.
Zoe Eastman-Grossell will run the 60-meter hurdles (emerging-elite) in the Nike Nationals.
The New Balance Nationals will see the following LOL athletes compete:
Chase Gilbert 2 mile and 5K (championship level for both)
Maddy Morgado, Aggie Hunt, Lyla Powers, and Chase Gilbert in the 4×800 (championship level)
Dylan Sheehan in the weight throw (championship level) and shot put (rising start)