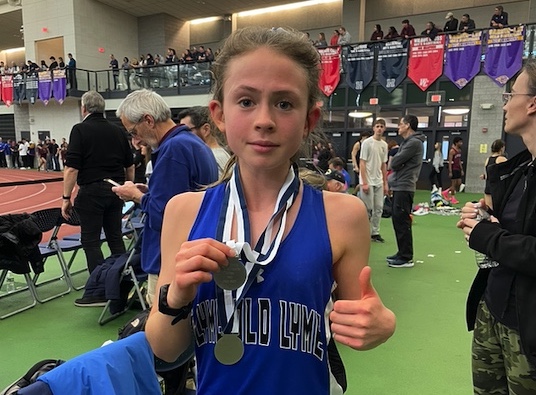 LYME/OLD LYME — On Saturday, the Lyme-Old Lyme High School (LOLHS) Indoor Track and Field Team achieved some remarkable results in the 2023 Connecticut State Open Championship Indoor Track Meet. The event was held in the Floyd Little Stadium at Hillhouse School in New Haven.
Several school records were broken and a number of athletes advanced to the New England Championship meet, which will be held on March 4.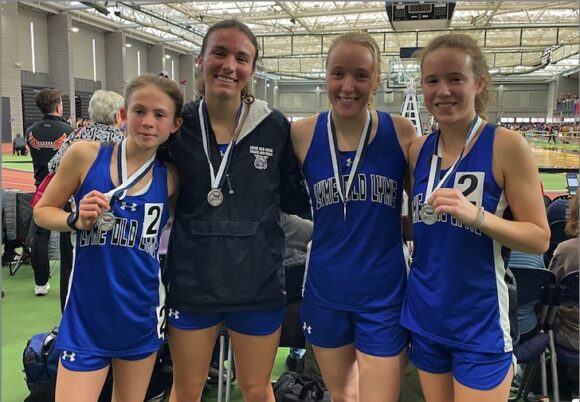 Freshman Chase Gilbert came second in the 3200 meter race with a time of 10:50:83 and was also a member of the 4 x 800 meter relay team, which similarly came second, recording a time of 9:44.30. Both times are new LOLHS school records. The other members of the relay team, pictured above, were seniors Maddy Morgado, Aggie Hunt, and Lyla Powers.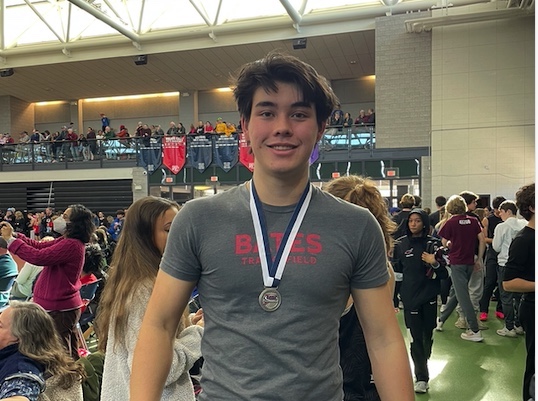 Dylan Sheehan, who is a senior at LOLHS, won second place in the boys' shot put competition with a throw of 52 ft 7.75 ins.
Sophomore Zoe Eastman-Grossel came in 9th place in the girls' 55 meter hurdles breaking the LOL High School's previous record with a time of 8.76.
The girls' relay team of Morgado, Hunt, Powers and Gilbert took 13th place in the 4 x 400 relay race, also creating a new school record of 4:19.31 in the process.
Maddy Morgado came in 14th place in the Girls 1000 meter race with a time of 3:16.78.
Editor's Note: Many congratulations to all these amazing athletes!