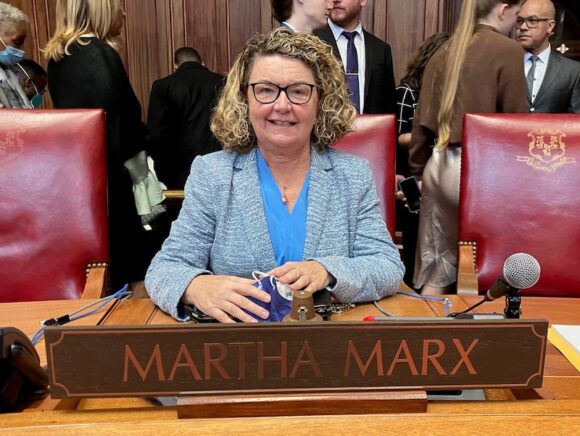 HARTFORD/OLD LYME — On Wednesday, Jan. 4, State Senator Martha Marx (D-New London) was sworn in, surrounded by her children, at the State Capitol for her first term as the State Senator representing the 20th Senate District, which includes Old Lyme along with New London, Salem, Bozrah, East Lyme, Waterford, Old Saybrook and Montville. Sen. Marx was elected to the Senate in November 2022 and is the first Democrat to hold the seat since Andrea Stillman in 2014.
"I could not be more proud to represent the people of the 20th Senate District, and today's ceremonies only reaffirm the importance in my mind of ensuring my constituents' concerns are heard," said Sen. Marx.
She continued, "As we enter the legislative session, I'm excited to hit the ground running and deliver on the issues I've worked so hard on, including health care reform and making Connecticut more affordable for us and future generations. As the Senate Chair of the Veterans Affairs Committee, I am committed to protecting and supporting those who have worked and sacrificed for our country. It's an honor to hold this seat and I will work my hardest in support of all of us."
In addition to her status as a newly elected State Senator, Sen. Marx has decades of experience as a visiting nurse and has also served as a New London city councilor and the union president for the AFT Local 5119.
Sen. Marx will serve as Senate Chair of the Veterans Affairs Committee, Senate Vice Chair of the Public Health Committee and as a member of the Aging, Appropriations, Government Administration and Elections and Insurance and Real Estate Committees.
Editor's Note: This article is based on a press release issued by Sen. Marx's office.