Behavioral economists report that Americans' attitudes about work and the workplace have gone through some remarkable changes.
News reports on CBS, both national and local, have presented several stories on one aspect of this change, "the rise of the side hustle". Another aspect, "quiet quitting", was addressed on 12/06/2022 in the comic pages in "Hi and Lois", by Mort Walker. Then, the "side hustle" received some additional coverage in the week of 12/19/2022 in two "Peanuts" comic strips in which Sally Brown pitched her patriotic Bicentennial souvenirs to her brother, Charlie.
Accordingly, I developed an interest in the topic and decided to do some research that extended even beyond CBS and the "funny papers." Note that "Peanuts" originally ran from 1950 to Charles Schulz's death in 2000, but continues in reruns; and so, all current "Peanuts" comic strips are repeats of those that have already been published. There is no "ghost cartoonist," and the two comics mentioned above were originally published during America's Bicentennial. I am impressed that "Peanuts" appears to stand the test of time.
This essay reviews some of the generational factors that impact our work expectations, defines a few of the trendy buzzwords that form the lexicon of this emerging work phenomenon, and touches on the longer-term impact that the pandemic had on the workplace.
I had several hours one-on-one over the holidays and holy days with my youngest daughter, "D"; who was willing to share both her insider-millennial's view, and provide me with a way to illustrate the topic.
Boomers vs. Millennials:
The "baby boomer" generation includes those born between the end of WWII and the mid-1960s; and named for the booming birth rate that occurred in the post-war period. This was the generation that started the families that Americans postponed during the war — and even earlier, during the Great Depression. They were promised the "American Dream" and enjoyed a sense of confidence that the coming era would be safe and prosperous. However, they experienced the tensions of the Cold War era, and many constructed backyard bomb shelters in preparation for a nuclear attack by the USSR.
Boomers are driven by loyalty, value stability and commitment. Many worked for the same company for long periods of time and were most comfortable when promotions and pay raises were earned by dedicating years of service to the organization. Forty percent of boomers stayed with an employer for at least 20 years, and 18 percent stayed for 30 years or more.
Baby boomers embraced the "automobile culture" and discovered the suburbs and "country life" in their 20s and 30s.
They were "digital immigrants" (see below), and needed to accept and adapt to new technologies that then became the tools essential for both work and life. Baby boomers are more comfortable with face-to-face than digital communication.
Millennials are generally considered as those born between 1980 and the mid-1990s, and are mostly the children of baby boomers. They grew up in in a hyper-connected society and became the first generation to be fully globalized online during adolescence and early adulthood. These "digital natives" experienced the internet, mobile devices, and social media from childhood onwards.
They surpassed the baby boomers as America's largest generation in 2019 when they comprised more than one-third of the American labor force. They are America's most racially diverse generation and are less likely to buy homes and get married in their 20s and 30s than their parents. They are the first generation to be happier living in larger, more urban environments than rural or suburban settings.
They are more willing than baby boomers to change jobs or work independently and are motivated to seek jobs where they feel that their work matters and has an impact.
Millennial women are much better educated than their mothers and grandmothers and have greatly increased their participation in America's workforce. The men are also better educated; but a greater share of this generation's women have a bachelor's degree than their male counterparts — a reversal from the past.
Millennials have higher levels of student loan debt and individuals are poorer, in real dollars, than their parents. However, more than one-half of U.S. households are now dual income; so, their total household income may not have changed as much. The events of September 11, 2001 shaped the millennial generation, much as the Cold War affected the baby boomers.
Significantly, millennials are more concerned than their parents with achieving a healthy balance between work and home; and the statement, "It's not supposed to be fun; that's why they call it work," would be anathema to them. They are health-conscious and are probably responsible for menu items like avocado toast.
The Lexicon:
As you might infer from the words, "act your wage" refers to accomplishing only the work for which you are paid and nothing more; and so, if you are making minimum wage, you would put in the bare minimum of effort.
Similarly, "quiet quitting" isn't really a resignation, since the worker doesn't actually leave their position and continues to collect a salary. Quiet quitters do their jobs and nothing above and beyond. They may not make themselves available for Zoom meetings after hours and are unlikely to take work home to deal with over the weekend.
Proponents of "act your wage" and "quiet quitting" view them both as just what's required to set firm, healthy boundaries in the workplace.
The "side hustle" may be easiest to understand because it seems to be just old-fashioned "moonlighting". It's the work you do outside your full-time or primary job and people typically engage in side hustles to supplement their income. It can be online, in-person, freelance, etc.
Finally, the "hybrid work model" has its roots in the pandemic, and refers to work arrangements that enable the employee to work remotely part of the week at home or somewhere off-worksite; and the remainder of the week in the physical office.
The Pandemic:
Business and government agency leaders had explored work arrangements like flex-time, telecommuting, job sharing, and work-from-home for years.
However, it was the rapid onset of the pandemic in the spring of 2020, when businesses closed and millions of workers were forced to adapt to new working arrangements that the transition to remote and hybrid work accelerated.
A few years later, restrictions were relaxed, and employers had to decide how to re-architect the post- pandemic workplace. Some companies (e.g., Goldman Sachs) required a fulltime return to the physical office. However, many employers still allow employees to work from home full- or part-time. Researchers at Harvard and Stanford have independently concluded that the hybrid work model may be the most reasonable solution going forward for both employers and their employees, who often want to continue to work remotely and be flexible in their schedules.
Of course, many jobs cannot be performed remotely and require that workers be physically present at their worksites.
Offices will look different with a hybrid workforce. Less space will be needed and every worker will probably not require a designated desk. Companies will need to manage technology in remote settings. Collaborative space in the office will become a priority for more team-focused work, while individual work will, of course, be done at home.
Case histories:
I am a baby boomer and digital immigrant. My first cell phone had a retractable antenna. My e-mail address ends "@AOL.com"; and keeping it has become an "embarrassment" for my middle daughter. I originally connected via a telephone modem. My personal computer was a DEC Rainbow and it was mouseless. I wrote my papers with an early release of "WordStar" and stored files on floppy disks. I still think of myself as an "early adopter", despite the e-mail address.
I was surprised at how closely our youngest daughter, "D" aligns with the above profile of her generation. She is probably our most millennial child. She announced to the family at age seven or eight that she was no longer eating meat; and she has remained a vegetarian thereafter, which we have all supported. She went on to NYU after graduating from Westminster School; and then, after that graduation, went on to Brooklyn College to pursue advanced training in some arcane computer science field.
Her first job was with an international "big data" company. She kept her Brooklyn apartment and worked from their Manhattan office and was very happy in that environment. Her colleagues were all young, smart, and high energy.
Her team included a group of engineers located in India and she had the occasion to meet with them in-person on the subcontinent
She now works with a large, international cyber security company. She works with a team of engineers located in Belfast from either Brooklyn or a second residence in Red Hook, NY on the Hudson River. Except for occasional meetings in her company's East- or West-coast hubs, she is totally remote. She visits us and her Connecticut nieces and nephew regularly, but not frequently. Her nieces and nephew, who are six years old and younger, all think of her as "Cool Aunty 'D'"
Author's Comments: If this evolution of attitude is at all surprising, it may be because we haven't been listening to the music; or perhaps, just been too focused on the beat and inattentive to the lyrics.
Harry Belafonte (1956): "Work all night on a drink of rum; daylight come and we want to go home".
Pete Seeger (1957): "I've been working on the railroad all the live-long day".
The Who (1965): "Why don't you all fade away; and don't try to dig what we all say".
Paul Simon & Art Garfunkel (1969): "Asking only workman's wages I come looking for a job; but I get no offers".
Joan Baez (1969): "Where workers fight and organize; it's there you'll find Joe Hill".
Bachman-Turner Overdrive (1973): "And if your train's on time, you can get to work by nine; and start your slaving job to get your pay".
Donna Summer (1983): "She works hard for the money; so you better treat her right".
Bob Dylan (2006): "It's a new path that we trod; and they say low wages are reality if we want to compete abroad".
Sources:
Fry, Richard, Patten, Eatten, Eileen; and Igielnik, Ruth. "How Millennials today compare with their grandparents 50 years ago". Pew Research Center. 03/16/2018.
Fry, Richard. "Millennials are the largest generation in the U.S. labor force". Pew Research Center. 04/11/2018.
Taylor, Stephanie. "Five major differences between the lives of millennials and baby boomers. Business Insider. 04/03/2019.
Vasel, Kathryn. "Two years later, remote work has changed millions of careers". CNN. 03/18/2022.
Kaplan, Juliana. "How to 'act your wage,' according to two millennials who did it.". Pew Research Center. 11/27/2022.
Auginbaugh, Alison and Rothstein, Donna S. "How did employment change during the COVID-19 pandemic?" Bureau Of Labor Statistics Supplement. Vol. 11/No.1. 01/ 2022.
Walsh, Colleen. "Hybrid work's sweet spot". Harvard Magazine. 01-02/2023.
Editor's Note: This is the opinion of Thomas D. Gotowka.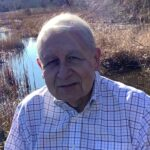 About the author: Tom Gotowka is a resident of Old Lyme, whose entire adult career has been in healthcare. He will sit on the Navy side at the Army/Navy football game. He always sit on the crimson side at any Harvard/Yale contest. He enjoys reading historic speeches and considers himself a scholar of the period from FDR through JFK. A child of AM Radio, he probably knows the lyrics of every rock and roll or folk song published since 1960. He hopes these experiences give readers a sense of what he believes "qualify" him to write this column.