Editor's Note: We are publishing several of the late Lee White's Thanksgiving recipes today both to honor her memory and once again share her culinary wisdom with our readers.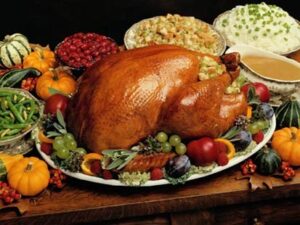 Let's start with Lee's favorite recipe for cooking a turkey.
Turkey
1 14- to 16-pound turkey
salt
1 stick butter
½ (one-half) cup good white wine
Gravy
¼ (one-quarter) cup all-purpose flour
cold water
Gravy Master (optional)
salt and pepper to taste
Remove giblets from turkey (I don't use them; instead, I boiled them for the kitties, less bones). Rinse and dry turkey inside and out. Rub salt inside cavity of bird. Fill cavity with cold stuffing made the night before or early morning. Place bird in a rack (or upside glass pie pan) atop a large, heavy-duty roasting pan. Place in a 350-degree oven.
Add butter and wine in a saucepan, bring to a boil, then simmer for about 10 to 15 minutes. Open oven, pour wine-butter over turkey and close oven. Every half hour baste liquid over turkey. Bake until turkey is done (when the thermometer plunged into the thickest part of the thigh registered 175 to 180 degrees, 10 to 12 minutes per pound if not stuffed or 12 to 15 minutes stuffed).
Turn off the oven, remove turkey from the oven, Place the turkey on a platter and spooned the Stuffing into a bowl; cover each with aluminum foil and return both to still-warm oven. (Extra stuffing can be heated in a casserole dish; it is not as tasty but if you spoon some juice on the dish before heating, it's pretty good.)
Remove grease from roasting pan. and place the pan on the stove. Turn heat to medium. In a large jar, add all-purpose flour and about 2 cups of water. Screw jar cover and shake. When the brown bits are hot, add flour-water mixture and, over medium-high heat, whisk constantly. If you need more water, add some. Once the gravy is ready, add and stir in Gravy Master to taste (optional). Add salt and pepper to taste.
CRANBERRY, GRAPE AND APPLE SAUCE
From Cooking Light, November 2018
Serves 12
Cooking spray
2 cups seedless black grapes (about 10 ounces)
1 and three-quarter cups chopped Honeycrisp apple (or Gala or ????)
2 tablespoons chopped scallop
1 cup fresh or frozen whole cranberries
1 and one half tablespoons unsalted butter
3 and one-half teaspoons pure maple syrup
One-eighth teaspoon kosher salt
One-quarter teaspoon fresh thyme leaves or sprigs (optional)
Preheat oven to 325 degrees. Lightly coat a rimmed baking sheet with spray. Place grapes, apple and shallot on prepared baking sheet and lightly coat with cooking spray. Bake until shallots begin to soften, about 5 minutes.
Add cranberries to baking sheet. Bake at 425 degrees until cranberries burst, apple is tender and grape skins are beginning to burst, about 20 more minutes. Remove from oven and transfer mixture to a medium bowl. Stir in butter, maple syrup and salt. Cool completely, about one hour. Sprinkle with thyme, if desired.
STUFFING
I make the stuffing at least the day ahead because it should be cold when you put it in the turkey, which is also cold. This is probably more stuffing you will use. You can put the rest in a casserole and bake for Thanksgiving, or freeze it for another turkey or chicken dinner.
I large Pepperidge Farms herb-seasoned stuffing mix
6 to 8 tablespoons butter
1 cup onions, minced
1 cup celery, minced
1 small can of diced mushrooms
1 cup walnuts, chopped (I chop it with my hands because I don't want it chopped fine)
salt and pepper, to taste
Bell's seasoning, to taste
Make Pepperidge Farms stuffing according to package instructions.
In a skillet, add butter and melt over medium heat. Add onions, celery, mushrooms and walnuts. Saute for about 10 minutes. Add salt, pepper and Bell's seasoning to taste. Add to stuffing mix and stir. Refrigerate until cold (I often put the stuffing in a large plastic bag and put it in the porch, since I rarely have much space in my refrigerator.)
OLD-FASHIONED SPICE CAKE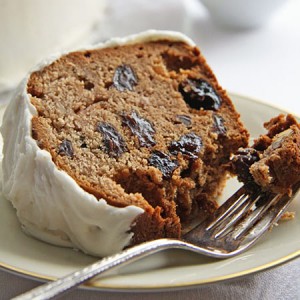 Adapted from Linnea Rufo of San Miguel de Allende, Mexico
Yield: serves 10 to 12 people

1 cup sugar
one-half cup (1 stick) butter
one-half cup currants or raisins or dried cherries (optional)
one-half cup candied ginger, chopped
2 eggs
2 tablespoons molasses
2 cups flour
1 teaspoon baking soda
1 teaspoon cinnamon
one-quarter teaspoon cloves
one-half teaspoon ginger
one-teaspoon salt
1 cup milk
Preheat oven to 350º F. Grease a 10-inch tube pan.
Cream butter and sugar until light and fluffy. Beat in eggs, one at a time, blending well after each addition.
Whisk together flour, baking soda, cinnamon, cloves, ginger and salt. Stir dry ingredients into egg mixture alternately with milk, beginning and ending with dry ingredients.
Pour batter into prepared tube pan. Set on the middle rack of the oven and bake for 1 hour and 5 minutes, or until cake pulls away from sides of pan and a tester inserted in the center comes out clean.
Cool cake in the pan, set on a rack, for 10 minutes. Remove cake from pan and spread on icing at once, while cake is still warm.
Espresso Icing
1 and one-half cups of confectioners' sugar
1 tablespoon of espresso (use a teaspoon or so of cold coffee)
1 tablespoon milk
Whisk icing ingredients together.
TURKEY HASH SALAD
From Julee Rosso and Sheila Lukins, The New Basics Cookbook (Workman, New York, 1989)
Yield: 6 to 8 servings
Preheat oven to 400 degrees.
5 teaspoons Dijon mustard
one-half cup red wine vinegar
1 cup light olive oil (or other good vegetable oil)
12 small red potatoes
one-half teaspoon kosher or sea salt
2 teaspoons coarsely ground black pepper
12 large cloves garlic
8 ounces bacon cut into one-half-inch pieces
one-half cup finely chopped red onion
one-quarter cup chopped fresh flat-leaf parsley
3 cups coarsely shredded cook turkey
1 bunch arugula, rinsed, trimmed and patted dry
2 bunches watercress, rinsed, trimmed and patted dry
Whisk mustard and vinegar together in a small bowl. Slowly pour in three-quarters of the oil, whisking constantly. Set the vinaigrette aside.
Prick the potatoes all over with the tines of a fork. Combine remaining one-quarter oil, salt and 1 teaspoon of the pepper in a bowl. Add potatoes and toss until well coated with the mixture. Place the potatoes in a shallow roasting pan and bake, uncovered, for 1 hour, turning occasionally.
Remove potatoes from the oven and allow them to cool. Then cut them into one-half-inch slices and place in a large bowl.
Place the garlic cloves in a small saucepan. Cover with water, bring to a boil, lower the heat and simmer for 10 minutes. Drain, allow to cool. Then peel.
Saute bacon in a heavy skillet until crisp. Transfer bacon to paper towels to drain, reserving the fat.
Add garlic cloves to bacon fat in the skillet and cook over low heat for 2 minutes. Remove with slotted spoon. Discard the fat.
Add red onion, parsley, remaining teaspoon of black pepper and the vinaigrette to the potatoes. Toss gently.
Add turkey, bacon and garlic cloves. Gently fold all ingredients together.
Arrange the arugula and watercress on a large serving platter and place the salad on top. Serve immediately.

About the author: Lee White wrote about restaurants and cooking for almost 50 years. Her columns and recipes were extensively published in LymeLine.com, Shore Publishing & Times newspapers, the Worcester (Mass.) Magazine, The Day, Norwich Bulletin, and Hartford Courant.