OLD LYME — There were smiles everywhere on Saturday afternoon when Lyme Academy of Fine Arts opened its doors and grounds to the community to celebrate the season.
Asked after the event how she felt this inaugural event had worked out, Mora Rowe, Executive Director of Lyme Academy told LymeLine, "Our first annual tree lighting was the picture of holiday cheer, with families and friends of all ages gathered on the Academy grounds. Hands were warmed around a bonfire, perfect for homemade s'mores, and hearts were made merry through the festive sounds of caroling and local bands.
Michael Duffy, chairman of the Lyme Academy Board of Trustees, addressed the large crowd from the steps of the Sill House (above).  State Representative Devin Carney (R-23rd) to his left followed suit …
The Lyme-Old Lyme Middle School Band cheerfully played …
Many local non-profit organizations participated and the Duck River Garden Club (DRGC) was an especially popular stand …
… where people spent time enjoying their 'Tussie Mussie' handiwork …
… and the ladies working behind the stand were clearly enjoying themselves too!
Pollinate Old Lyme! was kept busy educating folks on the importance of pollinators and selling beautiful medallions …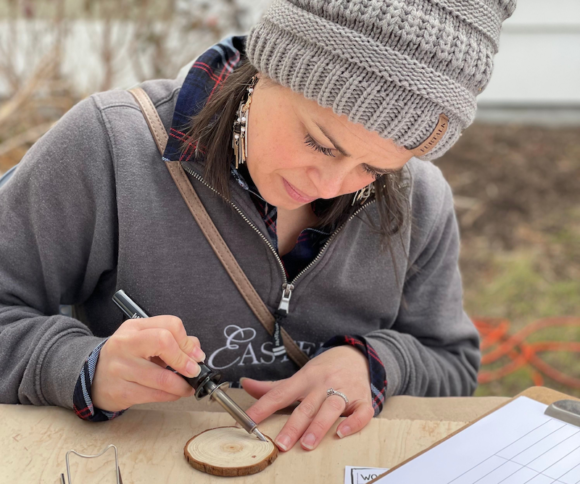 Rowe continued, "Our arts and crafts stations ensured that gift-able goodies would find their way under the tree – thank you to our own Academy students and faculty for their creativity and help with that!"
Old Lyme First Selectman Timothy Griswold (center in blue baseball hat) and newly-elected Region 18 Board of Education Chairman Steven Wilson (second from left facing camera with dark-colored jacket) were two of the hundreds of local residents enjoying the festivities …
… as were these DRGC ladies and their 'customers.'
These three local dignitaries, Michael Duffy (Lyme Academy Board Chairman), Tim Griswold (Old Lyme First Selectman) and Devin Carney (R- 23rd District State Representative) took a few moments out from all the fun to take a smiling selfie.
The Lyme Academy Cafe did a brisk business in Apple Cider Donuts and hot chocolate …
A sparkling Christmas tree was lit, carols were sung, and a thoroughly good time was had by all.
Rowe summed up the whole event with these words, "The afternoon was a reflection of the wonderful community we have here in Old Lyme and surrounds, and was the jolliest and most special way to begin the holiday season," adding enthusiastically, "May all days be so merry and bright!"