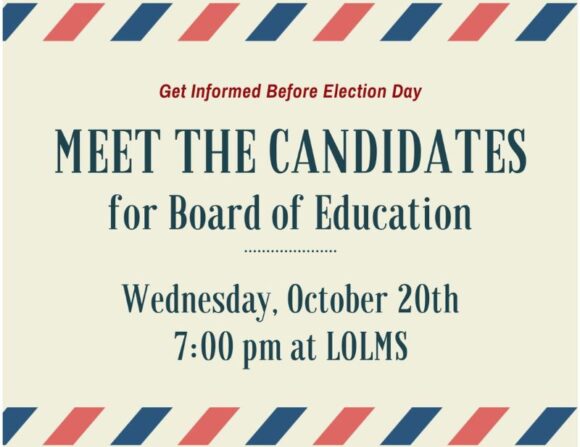 LYME-OLD LYME — Lymes' Youth Service Bureau (LYSB) and the Lyme-Old Lyme Chamber of Commerce are hosting a 'Meet the Candidates for Board of Education' event on Wednesday, Oct. 20, starting at 7 p.m. at Lyme-Old Lyme Middle School. All are welcome.
The eight candidates running for the Old Lyme open seats on the Region 18 Board of Education (BOE) will give prepared statements and answer questions posed by the Event Moderator, Attorney John A. Collins III of Suisman Shapiro Attorneys at Law.
Readers are invited to submit questions for possible inclusion in the event by one of these options:
All questions will be treated anonymously in terms of the name of the sender and also maintained confidential, i.e., they will not be shared with the candidates in advance. The deadline for receiving questions is 5 p.m. on Monday, Oct. 18.
Three Old Lyme incumbents on the current Region 18 BOE — Chair Diane Linderman, Treasurer Jean Wilczynski and Rick Goulding — have chosen not to seek re-election. Old Lyme incumbent Martha Shoemaker is seeking reelection.
Lyme incumbent Stacey Leonardo (D) is also not seeking re-election.
The eight candidates running for the four, four-year-term Old Lyme seats are:
Marisa Calvi-Rogers, (D)
Mona Colwell, (U) Endorsed by Old Lyme Republicans
Laura Dean-Frazier, (U) Endorsed by Old Lyme Republicans
Jason Kemp, (D)
Alexander Lowry, (D)
Michael Presti, (R)
Martha Shoemaker, (D), incumbent
Christopher Staab, (R)
Anna James (D), who is unable to attend the event, is running uncontested for the open Lyme seat.
The event planning committee will be solely responsible for selecting the questions asked at the event.  There will not be any questions taken from the floor.
The program will be livestreamed on the Region 18 BOE YouTube channel: Lyme-Old Lyme Board Of Education Region18 – YouTube. It will be recorded and posted at the same link for future viewing.
Election Day is Tuesday, Nov. 2.
LymeLine.com is proud to sponsor this event.
For further information, contact Mary Seidner at mseidner@lysb.org or 869-434-7208.