OLD LYME — In the latest update from Old Lyme First Selectman Timothy Griswold, residents were asked to place a colorful heart on their door as a way to support local front-line workers. The update was posted on the Town website April 3, and also e-mailed the same day to everyone subscribed to receive updates from the town.
Within 20 minutes of Griswold's update being sent, residents started sharing photos of their heart creations on Facebook.
Griswold said in his update, "I want to take a moment to thank every Old Lyme resident on the frontlines of the COVID-19 pandemic." He added that he wished to give, "A heart-felt thank you to our emergency services personnel (EMS, fire, police), to all our healthcare workers, our grocery store workers, and everyone else who is helping to keep essential services running during this time of crisis."
Griswold concluded his message of gratitude with the words, "We thank you for your dedication, commitment, and bravery."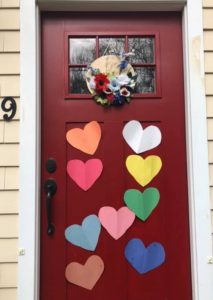 The idea of decorating doors with hearts came from Michelle Noehren, Senior Manager of Administration in the First Selectman's office and Chair of the Town's Kindness Committee. After seeing other communities develop ways to spread positivity, she was inspired to create a way for Old Lyme residents to show their support of those who are unable to stay home because their jobs or volunteer positions are essential.
Noehren explained her motivation to start the "Hearts Project" further to LymeLine, saying, "Those on the front lines right now deserve so much respect and support. These workers are caring for our loved ones or keeping essential functions operating with tremendous bravery and at great risk to their own health. They are truly heroes. I hope they smile as they drive through town and see how many residents are participating in our hearts campaign."
She mentioned that residents are welcome to pick up a laminated heart outside Town Hall at any time if they wish to participate in the project or , of course, to create their own.
Editor's Note: Photos of decorated doors or mailboxes can be sent to selectmansoffice@oldlyme-ct.gov for use on the Town Facebook page.