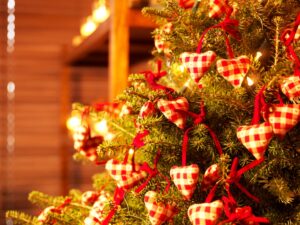 OLD LYME — The annual 'Elephants in Winter' Christmas Sale in the Fellowship Hall at the First Congregational Church of Old Lyme (FCCOL) at 2 Ferry Rd. will be held Saturday, Dec.7, from 9 a.m. to 2 p.m. and Sunday, Dec. 8, from 9 a.m. to 1 p.m. This is the Christmas version of the extremely popular White Elephant Sale hosted annually by the church in July.
The Sale features Christmas decorations, artificial trees, garlands and wreaths,lights,window candles, holiday china and glassware, baskets and cookie tins, tree ornaments, stuffed animals and toys,gently used, all at bargain prices.
Find new unique gifts for your Christmas list – original works of art from Haiti and lovingly sewn or knitted creations from our Ladies Who Stitch: beautiful mittens, hats, scarves, shawls, throws, totes and more.
Items will also be on sale from several more of the FCCOL mission partnerships such as the Lakota Reservation at Green Grass on the Cheyenne River in South Dakota, and from Palestine.
Coffee and doughnuts will be available.
Enjoy some holiday shopping for a great cause at this event.