Lyme-Old Lyme High School's (LOLHS) Commencement Ceremony is scheduled for this evening, Tuesday, June 19, at 6 p.m.  It will be held on the field between the middle and high schools starting at 6 p.m.
Entry to the field is open and the public is welcome to attend the event.
Congratulations to the Class of 2018!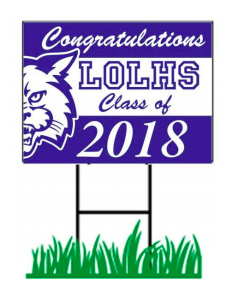 The LOLHS Class of 2019 is running a fundraiser to involve the community in saying goodbye to the Class of 2018. The Class is selling lawn signs for $15 that say "Congratulations LOLHS Class of 2018."
Whether you know a senior or just want to support the students in their future endeavors, these lawn signs are an excellent way to congratulate the seniors on all the hard work they have done in their high school years and wish them luck in the future.
For more information on ordering and picking up signs, email Caroline Sagristano at sagristanoc@region18.org
The Class of 2019 has solicited the help of LymeLine.com to try and find a way to reach community members, who aren't directly connected to our school … and of course, we're glad to assist!