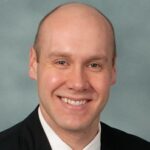 OLD LYME — State Rep. Carney (R-23rd) offers residents of Lyme and Old Lyme another opportunity to meet with him on Tuesday, May 24, in Old Saybrook at Acton Library from 5 to 6 p.m.
He will be available to discuss the recently concluded 2022 legislative session and any questions you may have about state issues.
For more information about Tuesday's Office Hours, visit this link.
Those who are unable to attend but would like to contact Rep. Carney may do so by email at Devin.Carney@housegop.ct.gov.