When:
April 11, 2021 @ 3:00 pm – 4:30 pm
2021-04-11T15:00:00-04:00
2021-04-11T16:30:00-04:00
LYME — The featured speaker at the annual meeting of the Friends of Whalebone Cove (FOWC) will be Margot Burns, who serves as an Environmental Planner for the Lower Connecticut River Valley Council of Governments (RiverCOG),
In the last three years, underwater invasive hydrilla vines have been spreading rapidly throughout the Connecticut River, choking its coves, bays, and tributaries and making them almost impassable for kayaks, canoes, motor boats, and many fishermen.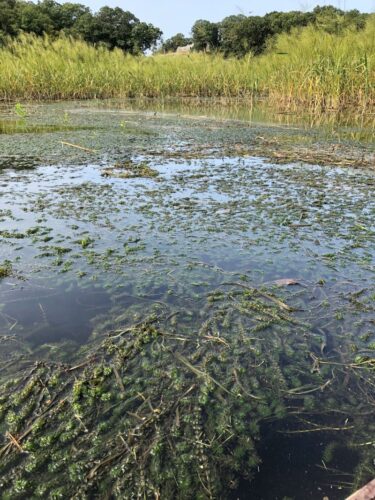 Last September an inspection of Whalebone Cove found 60 to 70 percent of the waterways clogged with hydrilla vines. (See picture above.)
Burns will discuss the worrisome spread of hydrilla and what steps need to be taken to mitigate its effect on the Connecticut River watershed and prevent its spread elsewhere in the State.
Membership of FOWC is: Single – $15; Household – $25. To renew or become a member, send payment to FOWC, PO Box 333, Hadlyme, CT 06439.For more information about membership, volunteering, or FOWC goals & mission, send email to: [email protected]