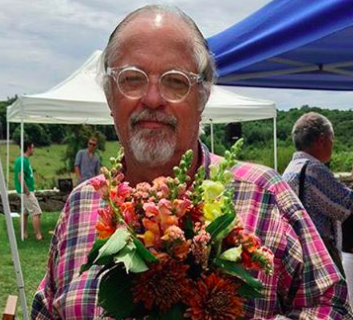 UPDATED 12/12: There is now a wonderfully appropriate commentary on Chip's passing at this link, written (we presume) by his children.
We are deeply saddened to hear the news of Chip Dahlke's passing this past weekend.  Chip, who founded the Lyme Farmers Market back in 2001 — or thereabouts, was a larger-than-life character with an even bigger heart.
There have been numerous Facebook tributes at this link recalling Chip's friendship, wit, kindness, and the fact he was "one of a kind."  One writer said wistfully — undoubtedly expressing a sentiment shared by many — that, "Summer Saturdays will not be quite the same."
We do not have any details of his obituary or services at this time, but will publish both as soon as they are received.
Mary Stone, who was intimately involved in the continuation of the Market once Chip decided to move into the background of the operation, told LymeLine, "Chip loved his children and Ashlawn Farm. He regarded the farm as a town treasure to be shared with all of us at concerts in the field, farm-to-table dinners, the Tour de Lyme, and the Lyme Farmers Market."
She added, "Chip ran the Market out of his back pocket, where any paperwork resided. For 14 years, he coordinated vendors and musicians and publicity with little apparent effort. The Market had been started as a way to draw more customers to the coffee shop, but it soon became apparent that the coffee shop drew people to the field. In the Market newsletter, he gained many fans with his curmudgeonly skewering of trends, fads, local vendors, and a reliable rant against over-pampered pets and kale in any form."
Stone summed up Chip beautifully in these words, saying, "He was a true original, a devoted father and friend, who loved to share his home and land."
A Note from our Publisher: On a personal note, we would like to add that Chip was an early and fervent supporter of LymeLine.com.  Back in 2004, he summoned me to Ashlawn Farm to explain in his own inimitable way that he respected our efforts and wanted to know how he could help. 
He started contributing a monthly financial column and then continued to advertise the Lyme Farmers Market with us (when he didn't really need to!) for many years. 
His support when we were just a fledgling business was not only extremely generous but also incredibly important to us in terms of convincing us that we were doing something worthwhile. We will be forever indebted to Chip for giving us such tangible — and intangible  — support.
We send our sincere condolences to Chip's family on his passing and agree with so many others that the world will just not be the same without him.