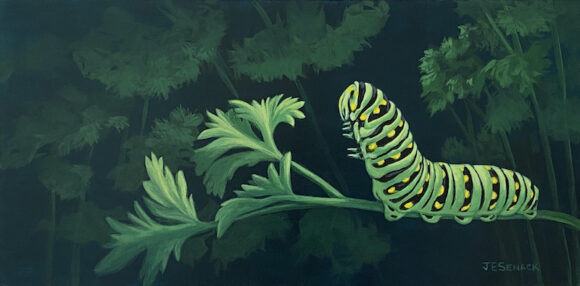 OLD LYME — The Lyme Art Association (LAA) hosts three new shows for this year's holiday season, which are on view now through through Sunday, Dec. 31. 
In the festive exhibition Deck the Walls, visitors will discover an array of fine art in various themes, sizes and mediums in this show that returns each year during the holidays, just in time for gift-giving. 
The juror for Deck the Walls will be Alonzo Clarke, a New Hampshire-based artist, who is a Signature Member of the New England Watercolor Society and has exhibited widely. Clarke is best known for his light-filled watercolors depicting scenes from his travels and his observations of daily life.
Artists explore our relationship to the environment in Our Fragile Planet, considering both the beauty and fragility of the world around us. This show draws artists and visitors into conversations on environmental preservation, sustainable living, and the responsibility we all share in protecting our habitat.
The juror for Our Fragile Planet will be Mark Shasha, award-winning artist, author and educator. Shasha is not only a renowned artist, who focuses on light and texture in the natural world, but also a children's book author. His books include the beloved Night of the Moonjellies.
Finally, artist Catherine Puccio's solo show All Things Great and Small will feature her love for animals and her pursuit of truth in nature. Puccio, who won first place in last January's Associate Artist show at the LAA, is now being honored for her award through this special exhibition.
Deck the Walls and Our Fragile Planet are generously sponsored by Enterprise Construction and Point One Architects. Artist awards are sponsored by the Parthenon Diner and Caliber Computing.
Founded in 1914 by the American Impressionists, the LAA continues the tradition of exhibiting and selling representational artwork by its members and invited artists, as well as offering art instruction, lectures, and other public programs to the community.
The Lyme Art Association is located at 90 Lyme Street in Old Lyme, CT, in a building designed by Lyme colony artist and architect, Charles Adams Platt, and located within the national historic district.
Admission is free with contributions appreciated. Gallery hours are Wednesday through Sunday, 10 to 5 p.m., or by appointment.
For more information on exhibits, purchase of art, art classes, or becoming a member, visit the LAA website or call (860) 434-7802.