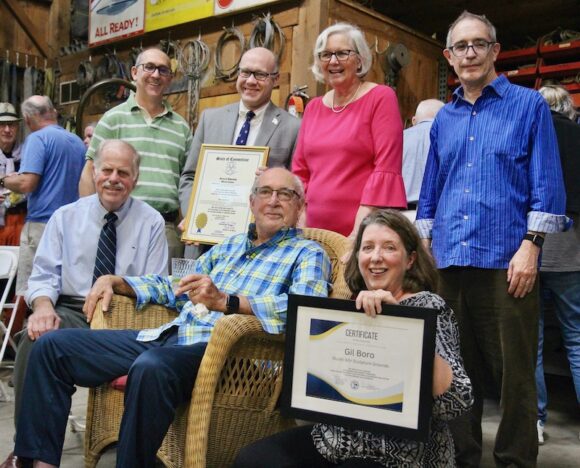 OLD LYME — In the early evening of Saturday's brilliant weather, friends and family gathered at Studio 80 + Sculpture Grounds for the 2023 Summer Sculpture Showcase Closing Reception and to celebrate the artistic legacy that founder and artist Gilbert Boro brought to the Old Lyme location.
Throughout the evening Boro was surrounded by well-wishers on his upcoming retirement when the Sculpture Grounds close to the public at the end of 2023. Although the grounds will be closed, Bryan Gorneau, who has served as lead fabricator and studio manager for more than 15 years at Studio 80, will still be available for custom fabrication services.
During the reception, a surprise presentation was made to Boro of both a Connecticut Official Citation and a Town of Old Lyme Certificate of Recognition.
Connecticut State Representative Devin Carney (R-23rd) presented the Citation on behalf of State Senator Martha Marx (D-20th), who was unable to attend, and himself. Old Lyme is included in both Carney's and Marx's legislative districts.
Carney shared before the presentation, "Congratulations Gil on your much deserved retirement. I remember when I first ran for office, my predecessor gave me a list of people I should meet … and you were on that list."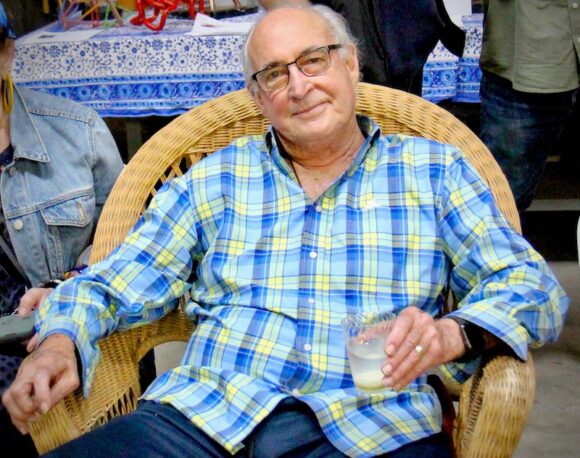 Carney then read the Official Citation signed on Saturday at the State Capital by the CT Senate President, Speaker of the House, and Secretary of State:
"Be it hereby known to all, that the Connecticut General Assembly hereby offers its sincerest congratulations to Gil Boro in recognition of your retirement and years of service to the Town of Old Lyme. For close to two decades, you provided a free sculpture garden to the public seven days a week. The sculpture garden has been a beloved addition to the Old Lyme Arts District and certainly a draw for the Town's cultural tourists. We thank you and wish you all the best on your much deserved retirement. The entire membership extends its very best wishes on this memorable occasion and expresses a hope for continued success."
Also in attendance were Old Lyme (OL) First Selectman Timothy Griswold, OL Selectwoman Martha Shoemaker, and OL Economic Development Commission Chair Cheryl Poirier, who together presented a Certificate of Recognition to Boro for contributions to the arts in Old Lyme.
In presenting the certificate, Poirier shared with the attendees, "My favorite story that Gil's ever told me is about 'Don't Touch the Art.' Gil and his wife would go to museums in New York and he'd want to touch every sculpture." She joked with Gil, "And how many security people said to you, 'Stop touching the art!'?
Poirier explained that Boro's response to this 'no-touch' rule was, simply "I'm going to have a place where not only I can touch the sculpture, but everyone else can touch the sculpture too."
Poirier then noted to ripples of enthusiastic laughter, "And how lucky are we that he chose Old Lyme to do that!"
The Midnight Anthem entertained the attendees throughout the rest of the evening, which included a very successful silent auction of some of Boro's sculpture.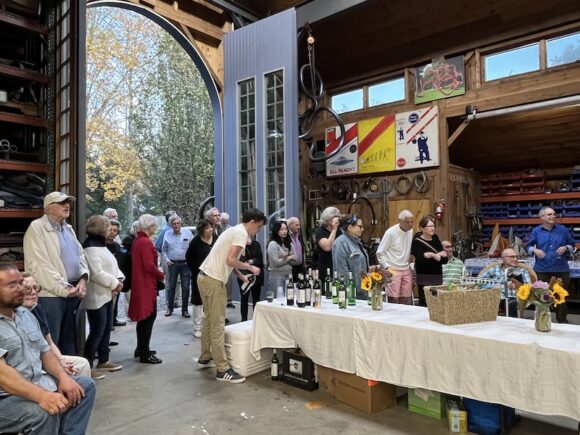 Asked by LymeLine after the event how he felt about the award, Boro responded, "I am deeply grateful to the [Old Lyme] Economic Development Commission (EDC) and our state and town representatives for their thoughtful presentations."
He continued, "I am humbled and honored to have been a part of this exceptional artistic community," adding, "It is indeed with a heavy heart that we have announced the forthcoming closure of Studio 80 + Sculpture Grounds, but I warmly welcome the community and art enthusiasts to visit us during our final months of operation."
Studio 80 + Sculpture Grounds issued an official statement after the event saying, "We extend our sincere appreciation to State and Town representatives, and the Old Lyme EDC for their steadfast support of Gilbert Boro's artistic endeavors and his dedication to cultivating a generous and creative artistic community. Their recognition of the invaluable role Gilbert has played in the development and enhancement of public art has been truly inspiring.
Throughout his years at Studio 80 + Sculpture Grounds, he has been privileged to witness the transformative power of art and the positive impact it can have on individuals and communities alike. It is this sense of public service that has fueled his artistic vision, and he is immensely grateful for the opportunities and support he has received.
Studio 80 + Sculpture Grounds welcomes everyone to visit before Dec. 31, 2023 to experience Gilbert Boro's remarkable sculptures firsthand. The profound beauty and thought-provoking nature of his works will continue to inspire and captivate visitors until our closure.
Again, we thank the Old Lyme EDC, state representatives and this wonderful community for their unwavering support of Gilbert Boro and Studio 80 + Sculpture Grounds. Together, we have fostered a vibrant and creative artistic environment that will forever be cherished."