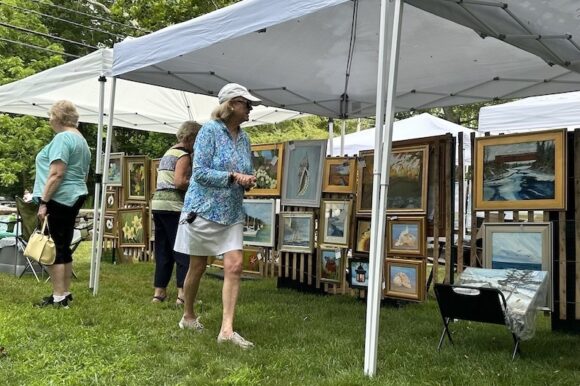 Editor's Note: We would like to express sincere thanks to our onsite photographers who contributed all these wonderful photos:- Michele Dickey, Cheryl Poirier and Suzanne Thompson.
OLD LYME — Humidity may have been high but so were people's spirits at Saturday's Old Lyme Midsummer Festival.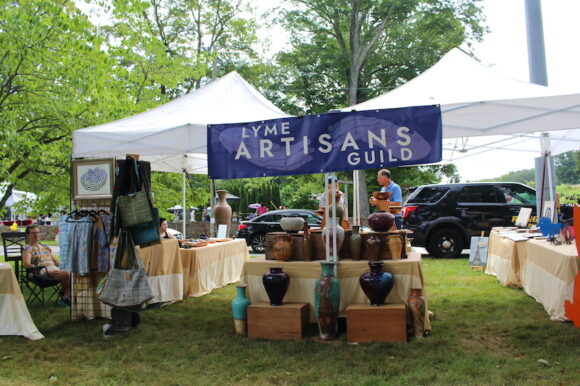 Artisans of all types were out on the grounds of the Lyme Art Association.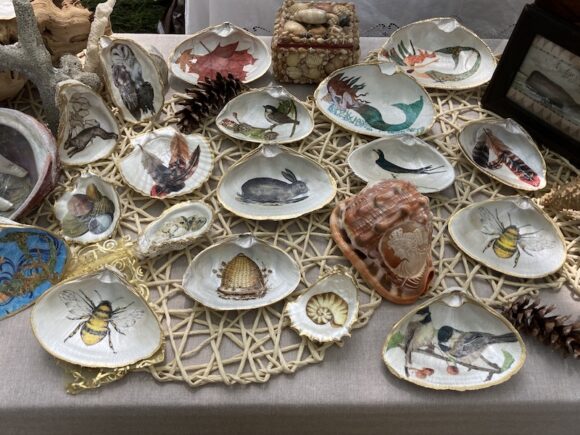 Some sold painted shells — these beauties are by Pinky Murphy, who collects the shells along beaches all the way from Old Lyme to Cape Cod, and then hand-paints them.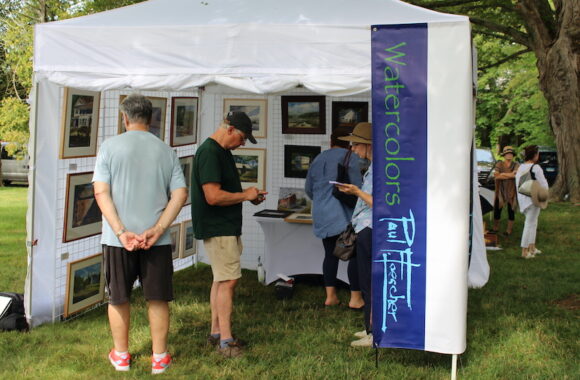 Others sold their paintings …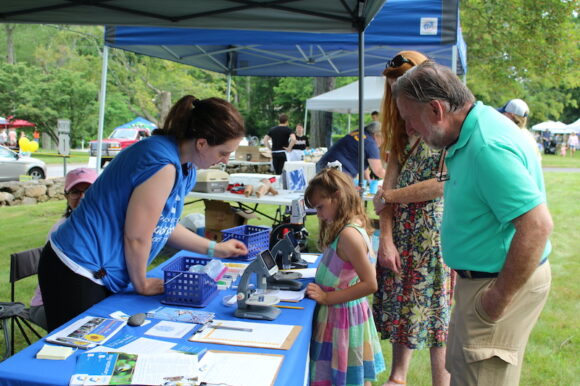 Intellectual abilities of all ages were challenged at the Hands On-Minds On event at the Old Lyme Inn. The photo above shows Heather Corbula of CT Audubon engaging with a young visitor.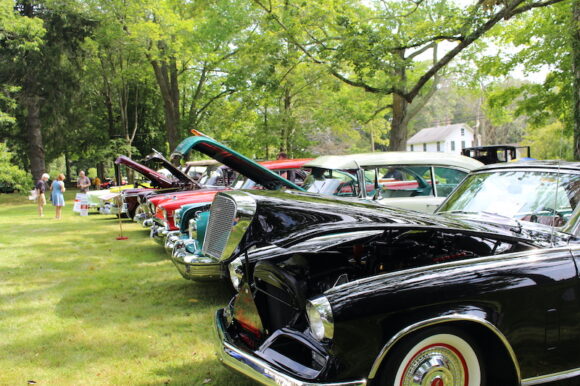 The Car Show hosted by the Lyme-Old Lyme Lions at the Roger Tory Peterson Estuary Center, formerly the Bee and Thistle Inn, was a major attraction of the Festival.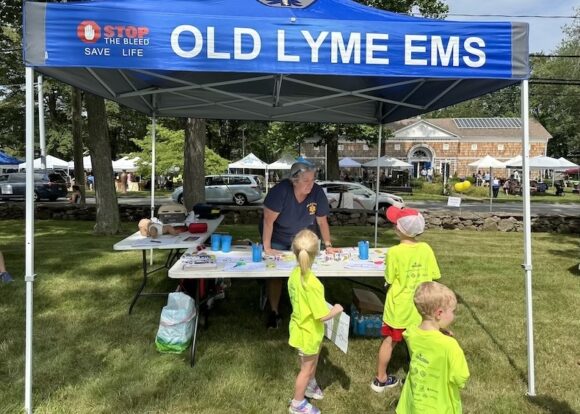 Tisha Kirk of the Old Lyme EMS discussed the vital role of the organization — and much more — with folk of all ages.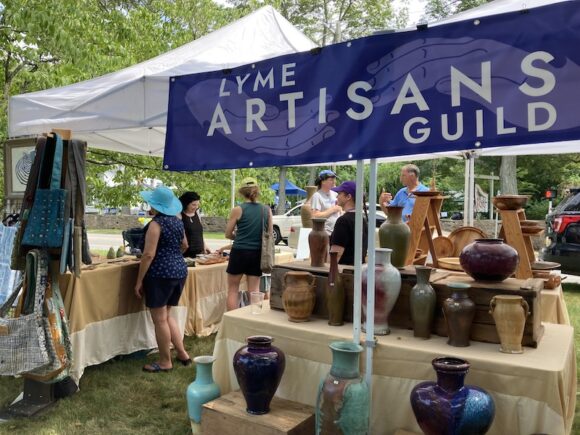 The newly-formed Lyme Artisans Guild drew a great deal of interest throughout the day. Michaelle Pearson, who stands behind the table at left, was selling her beautiful, handmade silver jewelry.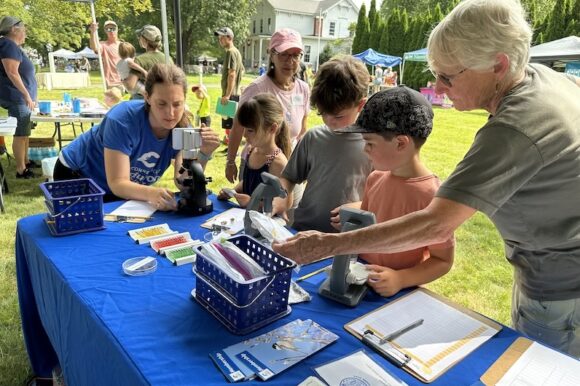 Heather Corbula of CT Audubon was kept busy at the Hands On-Minds On event with a constant stream of young visitors.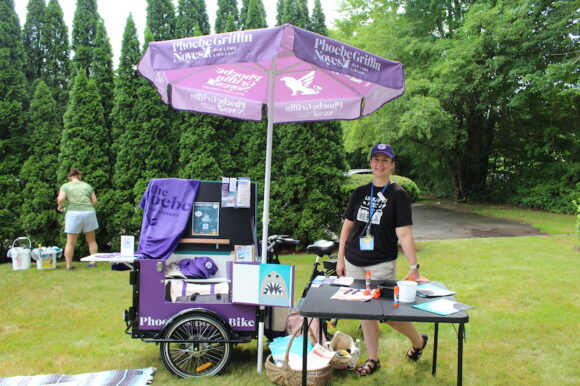 Old Lyme Phoebe Griffin Noyes Library Director Katie Huffman cheerfully greeted participants during the Hands On-Minds On event.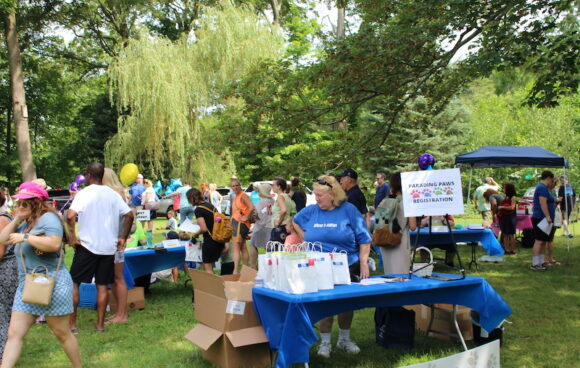 The Florence Griswold Museum's Parading Paws event drew a large crowd of both participants and onlookers.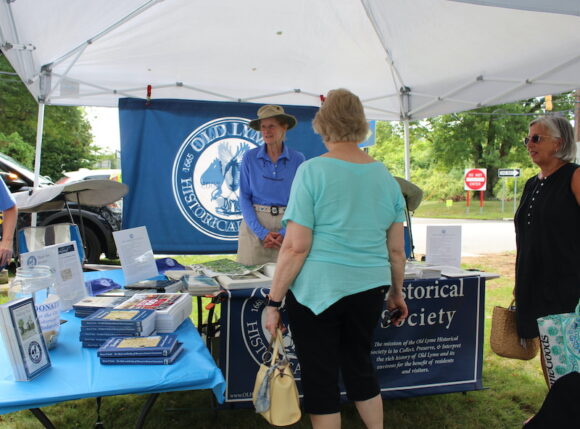 Most local non-profit organizations were represented at the Festival.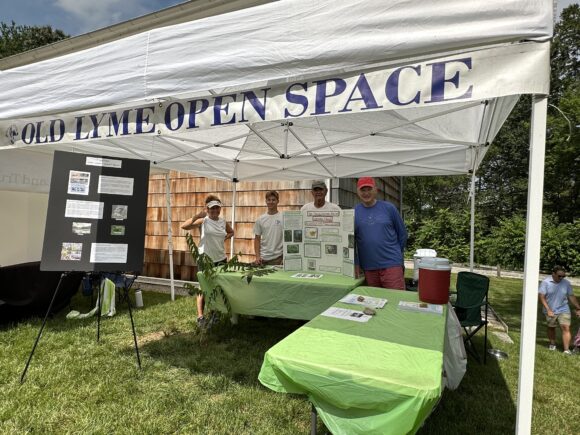 Volunteers at the Old Lyme Open Space tent had plenty of useful information to share with visitors.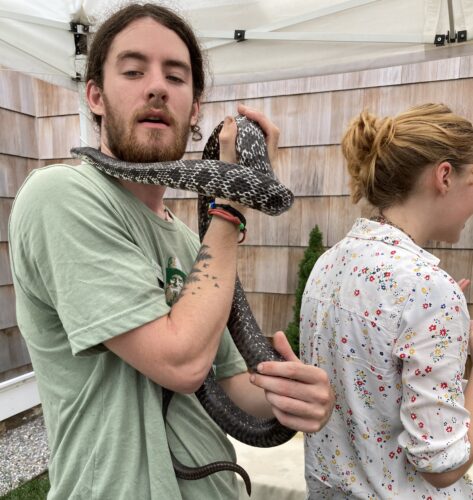 And just in case you thought the Festival was all about arts and crafts, check out this rat snake named Colby! He was featured at the Old Lyme Land Trust's tent in front of the Lyme Art Association.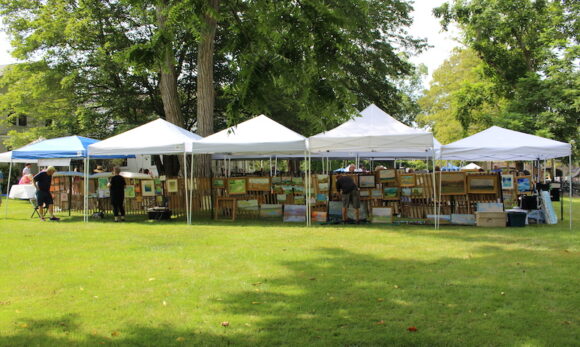 Here's a long-distance view of the Fence Artists on the lawn of the Old Lyme Inn, which captures an iconic view of this very special Festival.
And let's end with a sincere word of thanks to all those, who gave innumerable hours of their time to plan and organize the event, and all the additional volunteers, who ultimately made it happen. You know who are … THANK YOU!