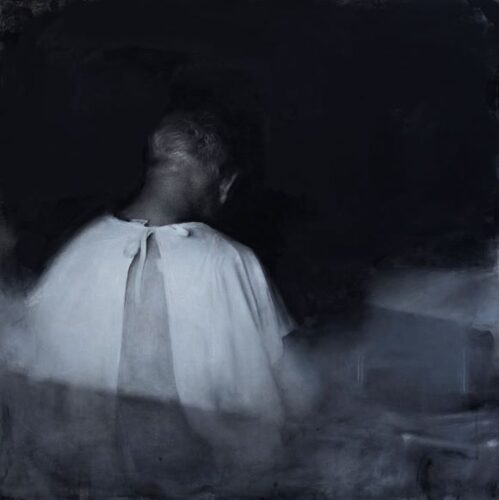 OLD LYME — The Lyme Academy of Fine Arts presents Monochrome, a new exhibition featuring contemporary figurative artists' search for expression and meaning within a single-color or limited palette. Free and open to the public, the exhibition will be displayed in the Academy's Chauncey Stillman Gallery between Nov. 11, 2022 and Feb. 19, 2023, with select works for sale starting at $400. 
With more than 30 artworks in a variety of media, Monochrome is the third in a dynamic series of original exhibitions curated by Academy Co-Artistic Directors Amaya Gurpide and Jordan Sokol, and the first of the 2022-2023 season. The mixed media drawing above, 'Paenitentia' by Amaya Gurpide, is one of the signature works of the exhibition.
Programming associated with Monochrome begins on Friday, Nov. 11, with a free, public lecture by renowned artist and exhibition participant Michael Grimaldi. The event will be held in the Academy's Southwick-Keller Studio at 5 p.m., with hors d'oeuvres and refreshments to follow between 6:30 and 8 p.m. Works from the exhibition will be available for purchase at this time, and through the close of the exhibition.
Complementing an impressive roster of internationally-recognized figurative artists, including Steven Assael, Chris Gallego, Michael Grimaldi, Amaya Gurpide, Jefferson Hayman, Yuriy Ibragimov, and Alex Kanevsky, is an important grisaille painting by the 19th-century American artist Edwin Lord Weeks (1849-1903), on loan from the Salmagundi Club in New York. Known primarily for his vibrantly-colored scenes of Indian architecture and culture, Weeks's painting provides a striking example of the beauty of a monochromatic palette, and its enduring appeal.
"It's interesting to see the use of monochrome today in art, film, and photography." comments Amaya Gurpide, Co-Curator of Monochrome and exhibition participant, "It has become an aesthetic choice that does not necessarily respond to a particular time in history or reflect a lack of technology, but rather is being explored as a distinctive narrative tool."
She adds, "In my own work, I find a monochromatic palette allows me to place a stronger focus on the psychological and emotional impact of my subjects and encourages me to think more carefully about the importance and potential of abstract design."
The formal concept of monochrome, or single-color, painting was established for religious or monastic purposes in the 12th century ACE, but reached the zenith of its popularity as an independent art form in the early Renaissance period. An oil painting technique called grisaille (literally, "grayness") dominated the Northern European art world at this time, inspiring a range of representational works.
It was the Modernists, however, particularly after 1915, who discovered monochrome's abstractive potential, as they challenged themselves to develop an original language for visual expression.
Today, and despite the color-saturated intensity of our technicolor existence, artists have continued the legacy of monochrome, choosing to explore their reality in a manner that sets up new abstract paradigms. This exhibition acknowledges those practices, and the psychological and conceptual impact of a monochrome palette, through a selection of works, which both engage with its distinctive properties and reveal new possibilities within traditional monochromatic media.
Proceeds from Monochrome will support student scholarships at the Academy, which continues its commitment to preparing the next generation of representational artists.
The mission of the Lyme Academy of Fine Arts is to teach the foundational skills of drawing, painting, and sculpture in the figurative tradition. By its commitment to training students in these skills and an engagement with contemporary discourse, the Academy will empower a new generation of artists. Through its programs, the Academy is committed to enriching the cultural life of the community. As an extension of its programming initiatives, the Academy has recently announced the opening of de Gerenday's Fine Art Materials and Curiosities, a new shop offering fine art materials and giftable objects from around the globe.
Learn more by visiting www.lymeacademy.edu.
The Chauncey-Stillman Gallery is located on the Lyme Academy campus in Old Lyme, Conn., and is open seven days a week, between 10 a.m. and 4 p.m.